FreeRoll to play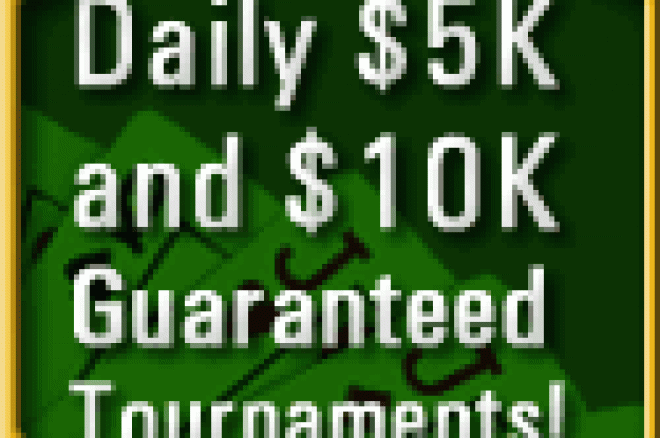 PokerNews.com ima to zadovoljstvo da objavi da će 1. član koji stigne do kraja osvojiti World Poker Crown sa fondom nagrada od $ 3.000.000 kroz Freerool turnir koji je u pokroviteljstvu LuckyAce poker.
Svi oni koji pristupe/registruju se u ovom turniru su automatski počastvovani da igraju Freeroll krajem aprila, gde će 1.-vo plasirani učestvovati u on-line finalu WPC-a u vrednosti od $1.000+$50
Ova soba nudi bonus od 25% do 100$ kreditirano automatski sa prvim depozitom i u slučaju minimalnog depozita koji je 30$ nudi povlasticu u vrednosti od $99,95 www.pokerbility.com
Freeroll $400 (samo za članove Lige Zvezda Meseca)
Datum: Sreda 24 april
Vreme: 21:00 Server Time
Naziv Turnira: Hold'em> Tournaments> POKERNIKA
Turnir: Hold'em NL
Buy-In: Freeroll (Besplatno)
Nagrade: $400 Nagrada
Password: Igrači registrovani na pokerpt.com do 17/03
Download LuckyAce Poker
Ovi turniri su ekskluzivno za članove koji kliknu na link ili baner PokerNIKA.com odLuckyAcepoker.com da bi otvorili svoj račun i nick-name registrovan na pokerpt.com
World Poker Crown je Super Turnir, sa fondom od $3 Miliona dolara, sa on-line satelitima i Finalom uživo od 8 igrača na Castelo Peralada!!! (Španija)
Sa garantovanom sumom od USD$1.000.000,00 za pobednika, ulaz za turnir je $1.000 + 50.
Najboljih 8 se pozivaju na učešće Velikog Finala uživo, u Kazinu Peralada, koji se održava od 6-10 Maja.
Ovih 8 srećnika će osvojiti sledeće:
Let do Barselone
Smeštaj 5* Arts Hotel u Barseloni
Transfer helikopterom do Castelo de Peralada
Žurka dobrodošlice na jahti Porto de Peralada
Smeštaj u hotelu 5* na Peraladi
Beach party i dan na jahti
WPC u Castelo de Peralada
Ovaj program će biti prenošen preko sledećih medija: Telecinco, Sky Sports, Fox Sports i Das Vierte.
Download: LuckyAce poker - Bonus od25% momentalno do $100