Dan 6 WPT Championship Bellagio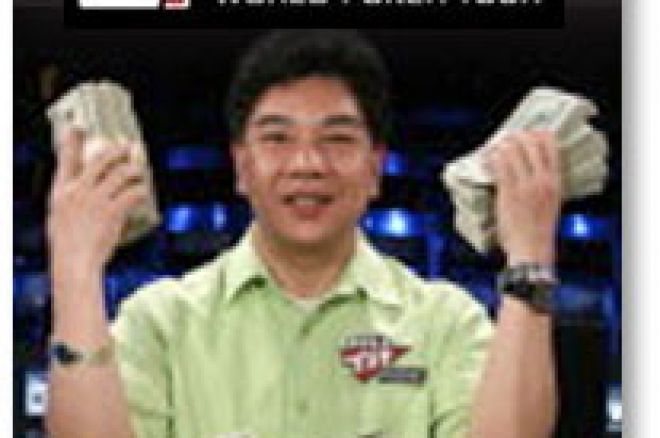 WPT je gotov,a David Chiu je novi Šampion!
David Chiu je napravio neverovatan povratak i uspeo da sistematski uništi Gus Hansen-a. Bio je u zaostatku 6:1 u čipovima u odnosu na Hansena u toku heads up-a.
U prelomnoj ruci Blindovi su bili: $150,000/$300,000, Gus je podigao na $750,000 pre flopa, a Chiu je bez razmišljanja zvao. Flop je izašao
, Chiu čekira, a Hansen diže za $900,000, opet ga je Chiu platio. Na turnu izlazi
, na to je Chiu odmah podigao za $1.2 miliona, Gus je podigao za još$8.675 miliona. Chiu se nije dugo razmišljao, samo je rekao" TO JE TO MOMCI " i ispratio Hansenov ulog. Chiu je imao
, a Hansen
.
River je izašao
!!!
Chiu je od sreće uleteo u publiku i umotao se u kinesku zastavu, a njegovi verni navijači se bili u euforiji!
Za pobedu David Chiu je odneo kući $3,389,140, Novu WPT narukvicu i buy-in za sledeću godinu od $25,000 WPT Season 7 Championship. Hansen je zaradio $1,714,800 I nekoliko meseci besanih noći.
Sve čestitke obojici finalista!
Prvih 6 je isplaćeno po sledećem redosledu:
1.David Chiu $3,389,140
2.Gus Hansen $1,714,800
3.John Roveto $923,355
4.Cory Carroll $593,645
5.Tommy Le $395,725
6.Jeff King $263,815