Grant Hinkle pobedio na #2 Event-u WSOP-a 2008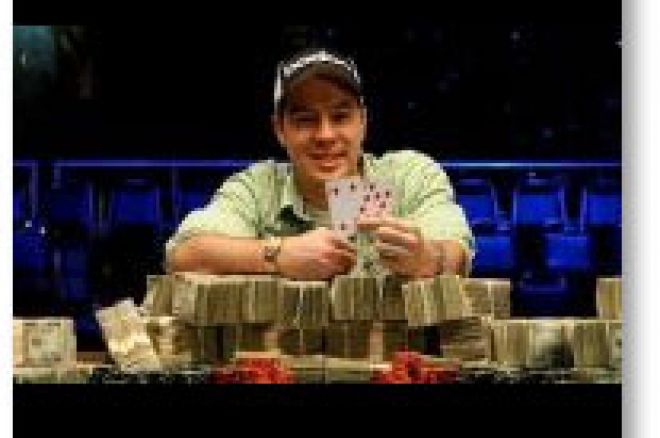 #2 Event World Series of Poker 2008, $1.500 limit Hold`em, postao je četvrti po veličini turnir svih vremena. Rekordnih 9,929 igrača i maraton u trajanju od 3 Dana. Uprkos relativno niskom buy-in-u, od ukupnog prize-pool-a uspelo je da se rezerviše neverovatnih $831,279 za pobednika dogadjaja.
Pored pobednika, Grant Hinkle-a, sve čestitke Chris Jesus Ferguson-u, koji je stigao 27 put do finalnog stola naWSOP dogadjajima. Žrtva
i na trećem mestu, je Englez James Akenhead. Pored odličnog plasmana Jesus Ferguson-a, #2 dogadjaj i ovaj put dokazuje i opravdava moć online pokera, kako su dva mlada igrača dostigli finalni heads up, heads up koji je trajao više od 50 ruka.
Grant Hinkle je dostigao finalni duel kao čip-lider (7,595,000 protiv 4,235,000 čipova), ali je uskoro Akenhead uspeo da izbalansira borbu, ne dopuštajući da ga zaplaši presija lidera. U odredjenom momentu Akenhead je skoro imao značajnu prednost nad Hinkle-om, ali je to trajalo samo nekoliko ruka kada je Hinkle odlučio da zaustavi otpor, ulagajući 350,000 čipova na pre-flop-u imajući
, Akenhead na osnovu svojih
odlučuje da podigne za 1,2 miliona na koje Hinkle demonstrirajući svoju jačinu pravi all-in. Akenhead bez razmišljanja prati.
Poslednja ruka demonstrira da svim igračima pomalo sreće takodje pomaže, Akenhead dobija gadan udarac u flopu od
, i sledeća potvrda sitže u turn-u
i Hinkle pokerom osvaja svoju prvu narukvicu.
1º Grant Hinkle $831,279
2º James Akenhead $520,219
3º Chris Ferguson $388,287
4º Theo Tran$327,148
5º Mike Ngo $268,154
6º Aaron Coulthard $211,842
7º Melvin Jones $158,211
8º David Bach $117,988
9º Joe Rutledge $83,128