PokerStars APPT Macao: Edward Sabat odnosi titulu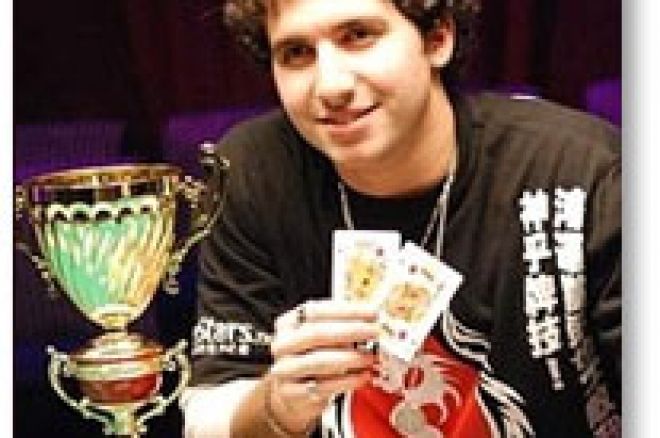 Amerikanac Edward Sabat najmaldji igrač PokerStars-a na Pacific Poker Tour Macau Main Event-u, je igrač koje je drugim po veličini stackom ušao na finalni sto. Finale je trajalo skoro 12 sati pre nego sto je Sabat uspeo da pobedi runner-up-a Charles Chua i osvoji svoj prvi veliki turnir i novčanu nagradu od $453,851.
Raspored sedenja i stanje čipova na finalnom stoliu je izgledalo ovako:
Mesto 1: Edward Sabat (USA) - 1,001,000
Mesto 2: So Myung Sim (South Korea) - 118,000
Mesto 3:Tian Chen (China) - 768,000
Mesto 4: Kuok Wai Will Cheong (Macau) - 334,000
Mesto 5: Jeppe Drivsholm (Denmark) - 863,000
Mesto 6: Mikael Rosen (Sweden) - 361,000
Mesto 7: Javed Abrahams (UK) - 215,000
Mesto 8:Diwei Huang (Singapore) - 1,046,000
Mesto 9: Charles Chua (Malaysia) - 617,000
Watch APPT Macau 08: Edward Sabat - Winner
Igralo se dosta pažljivo u početku, i posle nekoliko kruženja back-and-forth manevrisanja, So Myung Sim postaje prva žrtva na finalnom stolu. Sim igra all in u preflop-u sa
, a Tian Chen ga prati sa parom 10,
na bordu ništa od pomoći za Sim-a i on završava takmičenje na 9. mestu ($22,692).
Charles Chua izbacuje Javed Abrahams-a koji završava takmičenje na 8. mestu ($30,797). Tian Chen je sledeći koji je pao i to od rukeEdward Sabat-a. Akcija se desila kada Sabat na small blind-u podiže dovoljno da Chen stavi all in sa big blind-a. Chen je zvao sa
, a Sabat pokazuje
. Flop je bio dobar za Chen-a
, ali spade na turnu i riveru donose Sabat-u flush i Chen je eliminisan na 7. mestu ($42,143).
Sabat ruši i Kuok Wai Will Cheong-a na 6.mestu ($56,730). Sabat odigrava raise u preflop-u a Cheong ide all in. Sabat ima
, bolji od Cheong-a sa
. Flop donosi gutshot straight draw za Cheong-a
, ali zato
ne pomaze nijednom igraču.
na river-u ne sastavlja straight koji je Cheong čekao i lokalac je poslat kući. :)
Jeppe Drivsholm završava takmičenje na 5. mestu sa $81,044. Posel Sabat-ovog raised preflop-a sa
, Drivsholm ide all in over the top sa parom 4. Na flopu
,
na turnu i
na riveru i tu je bio kraj za Jeppe Drivsholm-a.
Mikael Rosen je odigrao all in preflop sa
a Chuia zovesa big blinda. Chua je bio u prednosti sa
ali posle flopa
Rosenu je trebao K, J, 10 ili club da ga dobije. Turn i river su bili
i Rosen završava takmičenje na 4. mestu sa$108,600.
U jednom deljenju na bordu je
, Sabat ima
a Huang
. Diwei Huang je ispao na 3. mestu sa $153,984.
Heads-up počinje. Chua ima prednost u chipovima sa 3.2 miliona protiv Sabatovih 2.1 miliona. Sabat ubrzo duplira svoje chipove u odnosu 4:1.
U odlučujućem deljenju, Chua raise preflop sa buttona a Sabat call sa big blinda. Sabat chekira
flop, a Chua diže. Sabat ide minimalan check-raise, a Chua all in. Posle malog razmišljanja, Sabat odlučuje da isprati i pokazuje
za overcard i flush draw. Chua ima
za dva para i treba mu K ili diamond da preuzme voč'stvo.
na turnu doneo je Sabatu dodatne out-e a
je rešila sve dileme. Sabat je dobio flush i izbacio Chua na2. mestu sa $291,871.