John Juanda osvaja World Series of Poker Europe!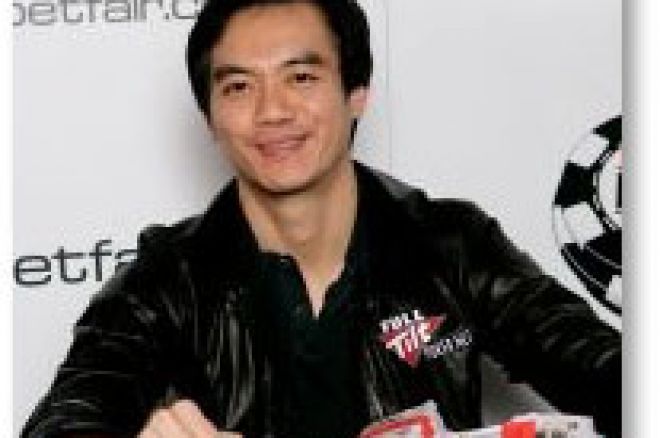 Više od 20 SATI igre. Finalni Heads-Up je trajao 7 SATI. Ovo krajnje putovanje na World Series of Poker Europe 2008 može biti definisano samo jednom rečju: epika! U finalu dobili smo novog kralja Evrope: John Juanda, osvojio je narukvicu i £868.800 za osvojeno prvom mesto!
Otprilike oko1.108.000 € koštalo je priličnog truda John Juanda-u. Kada je izbacioIvan Demidov-a (jednog od November 9 WSOP-a) na 3. poziciji, ulazi u Heads-Up protiv Stanislav-a Alekhin-a. Juanda sa4.420.000 čipova protiv 2.850.000 čipova Rusa. Tada je počeo finalni dvoboj koji je do kraja ispao prilično naporan.
Porast i pad količine čipova svakog igrača je bio konstantan, sve dok nije počelo da biva čisto u sledećem potezu: Juanda pravi raise za 165.000 i Alekhin plaća. Flop izlazi:
Alekhin ulaže 325.000, Juanda odgovara sa all-in-om i Alekhin neoklevajući prati:
Juanda:

Alekhin:
Turn
i River
nisu ostvarili projekat Alekhin-a iJuanda prelazi u prilično vodjstvo sa6.6 miliona čipova naspram 700.000 Alekhin-a.
Nakon toga, nije trebalo mnogo da se dodje do poslednje ruka zore (već je jutro, da budemo precizniji) u ovom potezu, Alekhin ide all-in na button-u i Juanda prati:
Alekhin:

Juanda:
Na board-u izlaze
i John Juanda odnosi turnir sa POKEROM, odličan način za finish!!!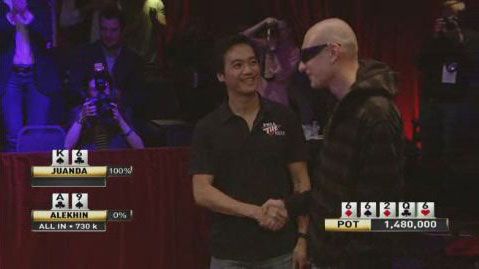 Ovo je postavka Finalnog Stola Main Event-a World Series of Poker Europe 2008:
1. John Juanda 868.800£
2. Stanislav Alekhin 533.950£ 3. Ivan Demidov 334.850 £
4. Bengt Sonnert 271.500£
5. Daniel Negreanu 217.200£ 6. Scott Fischman 171.950 £ 7. Robin Keston 135.750£ 8. Toni Hiltunen 108.600£ 9. Chris Elliott 81.450£