PartyPoker Monthly Million - $1.000.000 Guaranteed svake prve Nedelje u mesecu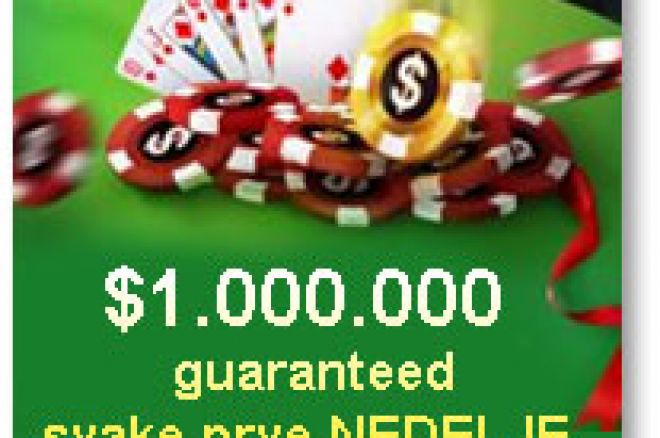 Uskoro, već od 1. Februara, partypoker nudi svake prve nedelje meseca turnir sa zagarantovanim nagradnim fondom od $1.000.000. Ovaj turnir će se zvati partypoker i za učešće je potrebno odvojiti $600+$40, ili osvojiti ulaz za turnir putem mnogobrojnih satelit turnira koji se već održavaju u partypoker sobi.
Satelitski turniri su dostupni za svačiji ukus i džep, raznih formata, Turbo turniri, Rebuy turniri od kojih je najmanja cifra koja je potrebna za učešće samo $1.
Dnevno će se održavati partypoker od $64+$6 sa 18 zagarantovanih mesta, od nedeljnih periodičnih turnira mogu se igrati turniri $1M: Mega Fiday Satellite i $1M: Super Satellite Saturday. The Friday Tournament će imati buy-in od $50 + $5 i na njemu će biti ponudjeno 30 zagarantovanih ulaza, a već za Subotu turnir sa buy-in-om od $35 + $3 sa 25 zagarantovanih mesta.
The partypoker počinje 1. Februara u 17:45 GMT za stolovima partypoker[B]sobe.