Joe Cada osvaja Main Event World Series of Poker!
PokerNika.com Team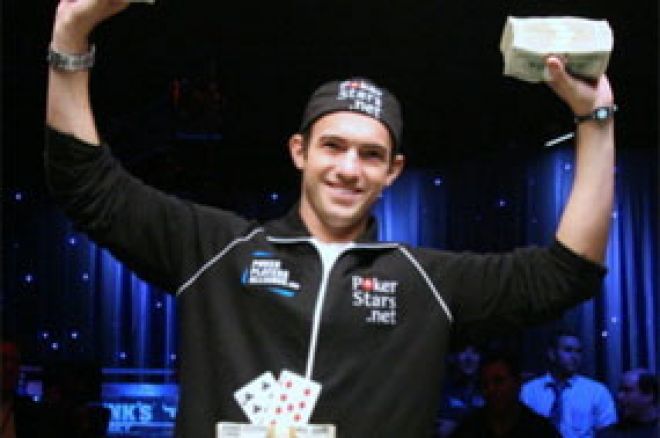 Joe Cada je najmladji igrač ikada koji je osvojio Main Event World Series of Poker. Za nešto manje od 10 dana on će napuniti 22 godine, a već je osvojio $8.5 Miliona i najprestižniju narukvicu na svetu!
Heads-up igra je započeta sa masivnom prednošću Joe Cada u čipovima (135.950.000) u odnosu na Darvin Moon-a koji je u svom posedu imao 58.850.000. Ipak, pokazalo se da je Darvin Moon bio vrlo konkurentan u ovom meču!

Čip lider se menjao iz ruke u ruku, ali su dve najbitnije odluke za svakog igrača sponzorisanog od PokerStars-a došle u kombinaciji sa (ne)zgodnim boardom.
Kada je izgubio poziciju čip lidera, Joe Cada je napravio najbolji call na finalnom stolu:
"Cada pravi raise na 3 miliona, Moon prati.
Flop:
. Cada check, Moon check.
Turn:
Moon check, Cada pravi raise na 3 miliona i Darvin ide all-in (150 miliona, što je 3x više nego što je Cada imao u tom trenutku). Nakon nekoliko minuta tišine i razmišljanja, Joe Cada prati!
Moon pokazuje
, Joe otkriva

River:
, ćorak za oba igrač i Moon tada ostaje na 108 miliona u čipovima što mu daje samo blagu prednost."
Drugi put kad su igrači otišli all-in, Joe Cada je već bio čip lider:
"Joe raise-uje na 3 Miliona, Darvin Moon 3-bet-uje. Ovog puta mladi igrač ne pokazuje znak slabosti i ide all-in. Darvin Moon bez oklevanja prati i karte se otkrivaju:
Joe
(52% šansi za pobedu) protiv Moon-a
(48% šansi za pobedu)
Flop:
Turn:
River:
Dobijamo novog najmladjeg pobednika World Series of Poker!"
| | |
| --- | --- |
| | · Bonus: 100% do $600 ·Marketing Kod: POKERNIKA; ·Bonus Kod: STARS600 |
| | ·Sunday Millon: turnir sa zagantovanim fondom od $1.500.000·Sateliti za live turnire·Lider po prometu igrača·$2k Ekskluzivni Cash Freerolls do kraja godine. |
Ne zaboravi da nas posetiš na

-u i
-u za najnovije vesti iz sveta pokera!