Isildur1 je nezaustavljiv za High Stakes stolovima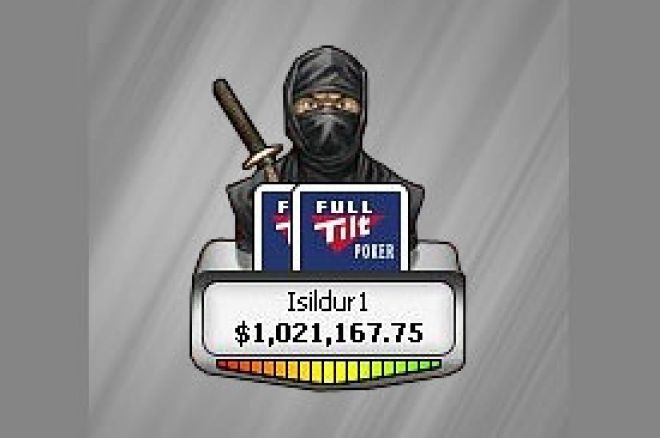 Isildur1 je šokirao za high stakes stolovima na Full Tilt Pokeru u poslednjoj četvrtini 2009. Nakon što je potonuo i nestao, ovaj anonimni igrač se sada vraća u formu, sa jednom odličnom sesijom odigranom u Utorak.
Već dva uzastopna dana se Isildur1 pojavljuje za stolovima, prvi put se suočio sa Justin Zee Justin Bonomo u Ponedeljak pa odmah nakon toga u Utorak. Ovog puta švedski poker igrač je seo za stolove $200/$400 i $300/$600 i nakon 2734 odigrane ruke zaradio je oko $833.000 profita!
Osveta se servira hladna i izgleda da se Isildur1 pripremio za to. U sesiji sa kojom se sastao sa Brian Hastings-om, već je poznato da je izgubio $4.2 miliona, a sada je za stolovima PLO uspeo da povrati $450.000.
Nova Poker zvezda pronalazi vreme da napravi celih $132.000 od Ilari "Ziigmund"Sahamies-a u samo 1100 ruka!
Ali dolazi finalni sukob, kada se suočio sa najtraženijim neprijateljem, durrrr-om, koji je nedavno pisao o Isildur1. U ovom duelu Tom durrrr Dwan je već gubio kao što ni ovog puta nije bio izuzetak! U nekoliko ruka na PLO $300/$600, durrrr je ostavio $200.000 za stolom. Isildur1 je izgleda bio pripremljen za No Limit Holdem da je predložio da nastave igru za NL stolovima...
Evo kako je tekao razgovor:
durrrr: huh?
Isildur1: lets just play 6 tables 3 6 nl instead ?
durrrr: lol
durrrr: ur too annoying to deal with
durrrr: play for hours then the second u get up u want new game
durrrr: thats ridic
Isildur1: lol, like i just to quit playing
Isildur1: wtf
Isildur1: i play plo with u all even tho i dont want
durrrr: i wanna play here obv
Isildur1: i been waiting for u at nl and u say u comming but never show up
durrrr: its obv terrible timing right after u win 250k pot
Isildur1: thats annoying
durrrr: i came to play 4
durrrr: but had 4 other games
durrrr: u hav too many rules w/e
Isildur1: ye ok
durrrr: im stuck 500 ill play here
durrrr: dont wanna move tho
durrrr: i lost a lot to gus before u came
Isildur1: ok sry to hear that
durrrr: n said to friend on aim that i hoped u didnt win early or ud quit and ask me for NL
durrrr: its k we can play another time or w/e
Isildur1: i dont use to quit plo when im winning
durrrr: ok lets play then?
Isildur1: thats just bs
durrrr: lets play then?
Isildur1: i need 5 mins then i know after
Isildur1: plo
durrrr: ok
Ovih poslednjih par dana, Isildur1 je osvojio oko $1.6 miliona, i kako god bilo, vratio se i obećava borbu! Ako želite da učestvujete ili posmatrate ove duele, napravite download/instalciju i otvorite račun na Full Tilt Pokeru, a ne zaboravite da Vam račune preko pknk linka obezbedjuje pristup specijalnim promocijama kao i bonus od 100% do $600. Iskoristi Bonus Kod: POKERNIKA