WSOP igrač diskvalifikovan zbog varanja!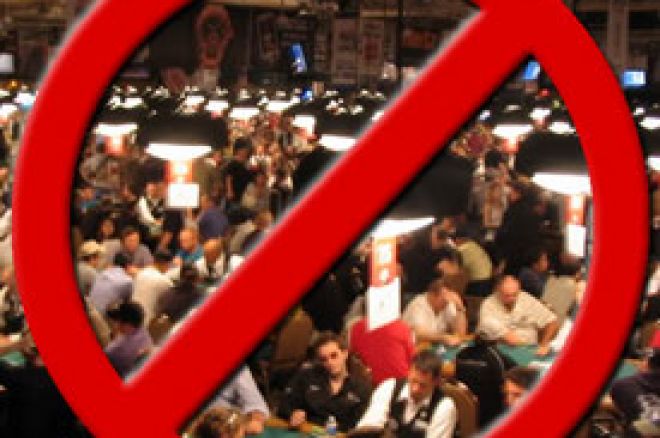 World Series of Poker je počeo i već imamo neke od najnovijih kontroverzi. Jedan igrač je trajno udaljen saWSOP-a nakon što je pokušao da pokrade čipove drugih igrača za stolom.
Računajte na psovke poker blogova na kom "čovek od oko 50 godina starosti, sa sedom kosom i kapom, ispraća tri čoveka obezbedjenja Amazon Harrah's nakon što je uhvaćen u varanju."
Incident se dogodio tokom dana 1A na $1k NLHE Event u subotu popodne.
Prema rečima direktora turnira, Jack Effel-a, banovan igrač je bio umešan u ruci, baš pre pauze od 20 minuta. Igrač koji nije učestvovao u ruci napustio je sto i otišao na pauzu. Igrač koji je banovan, osvojio je pot, i sa jednom rukom povukao je čipove ka sebi. Izgleda to nije bilo dovoljno pa je sa drugom rukom odlučio da "povuče" još nešto od čipova sa gomile igrača sa strane koji je ustao sa stola, dok diler nije gledao.
Nakon toga, turnirsko osoblje je pregledalo snimak i potvrdili su ono što se dogodilo, što je rezultiralo udaljavanjem igrača sa mesta dogadjaja i trajne zabrane učešća na World Series of Poker.
Za komentare i diskusije oWSOP 2010 posetite FORUM . I ne zaboravite da još uvek postoji mogućnost da se osvoji učešće na ovom prestižnom svetskom dogadjaju preko pokernika.com i neverovatne promocije igrom na Full Tilt Pokeru > pročitaj detalje ovde.