WSOP 2010 - Men The Master Nguyen osvojio $10K 7 Card Stud Championship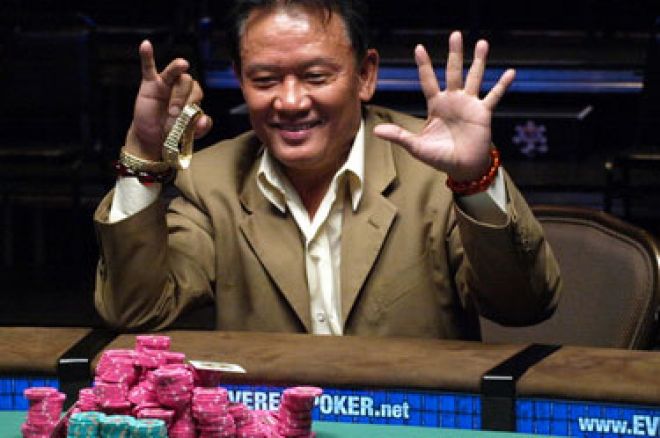 Men The Master Nguyen je osvojio sedmu World Series of Poker narukvicu na Eventu #10: $10.000 Seven Card Stud Championship.
Nguyen se suočio sa Brandon Adamsom u HeadsUp igri ali pre nego što su došli do tog dela, oba igrača su nailazila na poteškoće. Tačnije, oba igrača su se nalazila shortstacked i u obavezi da naprave uspešna all-in ulaganja. Agresivnost igrača se smenjivala kako su se nalazili u poziciji da eventualno nadoknade svoje čipove, svaki na svoj način: Adams odmereno i tight, sa solidnim i dobro iskorištenim imidžom, a Nguyen neumoran i agresivan za finalnim stolom.
Bilo je tu momenata u kojima je delovalo da Nguyen ulazi u tilt, ali nakon svega on je ipak The Master i radi ono što zna najbolje: osvojio je narukvicu i zaradio više od $394,800.
Finalna ruka je bila odlučena pre nego što su pogledali karte. Men Nguyen je bio komitovan na all-in zbog blinda, i Brandon Adams sa samo 350.000 čipova isto. Brandon pokazuje
/-
. Nguyen pokazuje
/
i korida je počela.
Adams je pokupio jednu Damuza par i njegov board je ispao:
/
/
Na boarduNguyen ima:
/
. Falila je jedna karta koja je bila otvorena polako.
mu donosi top par i pobedu na ovom eventu.
Brandon Adams je završio na 2. poziciji i zaradio $243.958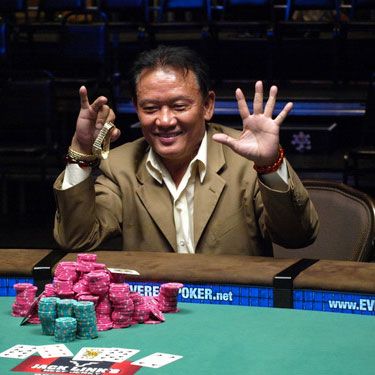 Finalna klasifikacija za Event #10: $10.000 Seven Card Stud Championship:
Men Nguyen $394,800
Brandon Adams $243,958
Steve Billirakis $152,788
Nikolay Evdakov $110,629
Joe Cassidy $86,461
Michael Mizrachi $68,949
Vladimir Schmelev $55,991
Sirious Jamshidi $46,206
Dan Heimiller $38,676
Todd Barlow $38,676