WSOP 2010: Philips Carter osvojio Event #16, još malo pa Trostruka Kruna!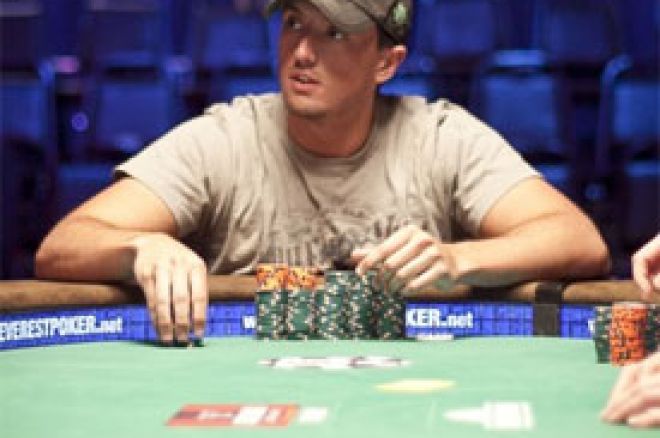 Upravo tako, dvadesetjednogodišnjem Amerikancu fali samo pobeda naWorld Poker Tour kako bi postao jedan od retkih poker igrača sa Trostrukom Krunom. Samo dva igrača se mogu pohvaliti takvim uspehom, a to su Gavin Griffin i Roland de Wolfe.
Trostruka Kruna označava pobedu na World Poker Tour, European Poker Tour i naravno osvajanje World Series of Poker narukvice. Nakon pobede naEvent-u #16 (No Limit Hold'em Six Handed), Carteru fali samo WPT pobeda.
Carter je 2009 godine osvojio EPT Barcelona turnir, a tada još uvek nije mogao da igra LIVE poker u svojoj domovini, jer još uvek nije napunio 21. godinu. Ovo je njegovo prvo učešće na World Series of Poker, a ujedno i prva pobeda na turniru od1663 učesnika. Nagradni fond je dostigao cifru od $2.245.050 i Carter je stigao do prvog mesta.
U poslednjoj ruci, Carter je pobedio Gerber-a:
Gerber raisuje na 100.000, Carter 3betuje na 275.000, Gerber ideall-on što Carter prati.
Carter pokazuje
, a Gerber
Flop:
Turn:
River:
[VIDEO]http://c.brightcove.com/services/viewer/federated_f9/3230433001?isVid=1[/VIDEO]
Nakon ove pobede, Carter planira da učestvuje na što većem broju WPT turnira, ali ističe da su muprioriter EPT turniri: "Moj glavni cilj je da nakon ove pobede budem prvi igrač koji je osvojio dve EPT titule."
Carter Phillips-$ 482.774
Samuel Gerber - $298,726
Craig Bergeron - $189,661
Hugo Perez - $124,690
Russell Thomas - $84,256
David Diaz - $58,483
Thong Tran - $41,645
Mikhail Lakhitov - $41,645
Alexander Wilson - $30,420
Mark Flowers - $30,420
Iskoristite FaceBook i Twitter kako bi dobijali najsvežije informacije sa World Series of Poker 2010!