Novi Durrrrov izazivac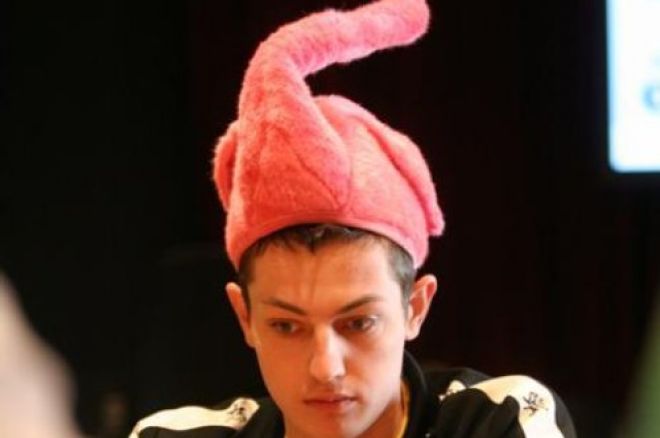 Tom "durrrr" Dwan i Patrik Antonius, FullTiltovi profesionalci, i dalje su u akciji zvana Durrrr Challenge. Medjutim mnogo je igraca koji samo cekaju u redu kako bi se ukljucili i sami i pokupili dio kolaca. Tako je za vrijeme 'manje' igre na $100/$200 no-limit hold'emu, durrrr predlozio izaov igracu koji se zove jungleman12.
durrrr: ok gg
jungleman12: gg
durrrr: y dont u take challenge (zasto ne pristanes na izazov?)
durrrr: since u never lose to me (obzirom da nikad nisi izgubio protiv mene)
jungleman12: i will prob (pretspostavljam da hocu)
jungleman12: maybe (mozda)
jungleman12: isnt bt next or something? (nije li BT sljedeci na redu?)
durrrr: i can do 2 at once (mogu primiti dva odjednom)
durrrr: ship ivey 500k n we will work out details (posalji iveyu 500k i sredit cemo detalje)
durrrr: get my aim from someone ( potrazi moj msn kod nekog)
jungleman12: ok
durrrr: i wanna crank out at least 2 of em before london if poss (zelim srediti barem dvojicu prije londona ako je ikako moguce)
jungleman12: ill talk to you over aim before doing it (ok cujemo se preko msna prije toga)
durrrr: we could obv play in like 2 weeks (ocito mozemo igrati za 2 tj)
jungleman12: k
durrrr: kk gg
durrrr: gl
Samo vrijeme ce reci kada ce se ova igra dogoditi ali zajamceno nece nedostajati uzbudenja i akcije.