Ziigmund razorio Gus Hansena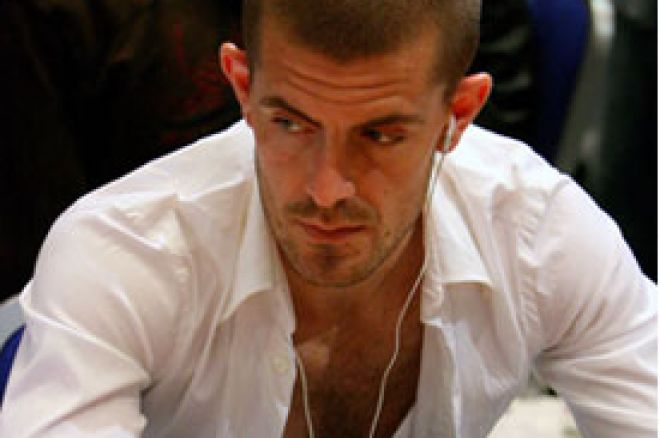 Verovatno najbolja nedelja u 2010. za Gus Hansena je završena...iznenada! Osvajanje zlatne WSOP narukvice na WSOPE, praćeno sa online uspehom na High Stakes stolovima je vratilo osmeh na Hansenovo lice...Dok nije došao Ziigmund...
Hansen je igrao isključivo na $500 / $1.000 PLO Cap stolovima Full Tilt Pokera i to protiv Ilari Ziigmund Sahamiesa, Cole Southa i Skjervøy-a.
Pored gubitka za svakim stolom, sesija protiv Ziigmunda je bila najgora, gde je Hansen izgubio preko $600.000. Ako na to dodamo $100.000 minusa u igri protiv Southa i $97.000 protiv Skjervøy-a, Hansenov bankroll je pretrpeo gubitak od ogromnih $900.000 u samo 1.187 deljenja!
Pogledajmo dva najveća pota u sesiji protiv Ziigmunda:
Gus Hansen $ 371,412.25
Ziigmund $128.498,00
BTN/SB Gus Hansen $500
BB Ziigmund $1.000 BB
Gus Hansen raise $3.000
Ziigmund reraise $9.000
Gus Hansen reraise $27.000
Ziigmund call
Flop:
(Pot = $ 54,000)
Ziigmund bet $13.000
Gus Hansen call
Turn:
(Pot = $ 80,000)
Ziigmund check
Gus Hansen check
River:

Ziigmund check
Gus Hansen check
Ziigmund

Gus Hansen

Ziigmund osvaja pot od $ 80,000
--
Gus Hansen $ 117,879.75
Ziigmund $381,963,50
BTN/SB Ziigmund $500
BB Gus Hansen $1.000
Ziigmund raise $2.000
Gus Hansen call
Flop:
(Pot = $ 4,000)
Gus Hansen bet $4.000
Ziigmund call
Turn:
(Pot = $ 12,000)
Gus Hansen bet $12.000
Ziigmund call
River:
(Pot = $ 36,000)
Gus Hansen bet $22.000
Ziigmund call
Gus Hansen

Ziigmund mucks
Gus Hansen osvaja $ 80,000

Gus Hansen je sada u minusu $2.5 miliona u 2010. godini, ali poznajući njega i varijaciju koja prati PLO Omahu, moguće je da će se povratiti do kraja godine.
Gus Hansen i Ziigmund igraju svakog dana High Stakes Poker - na Full Tilt Pokeru! Želiš da zaigraš sa njima? Napravi download Full Tilt Pokera i započni svoju poker avanturu odmah!