Jonathan Duhamel je pobedik WSOP Main Event-a 2010! ($8.944.310)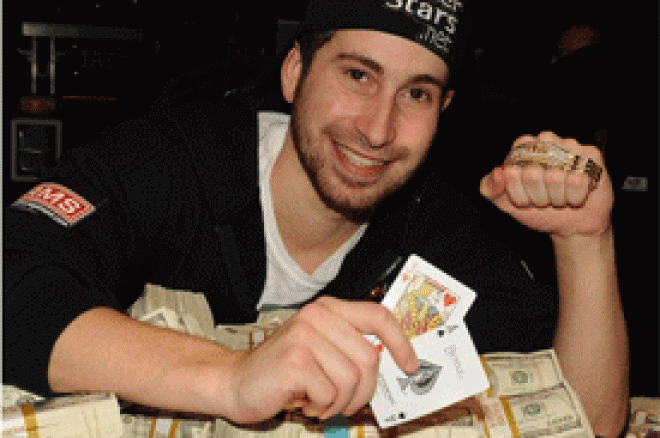 Jonathan Duhamel je upravo ušao u istoriju kao prvi Kanadjanin koji je osvojio World Series of Poker Main Event. Duhamel je odneo nagradu od$8.944.310 za prvo mesto, a uspeo je da preživi polje od 7.318 igrača!
Broj učesnika na ovogodišnjem WSOP Main Eventu je drugi po veličini ikada, a turnir je započet 5. Jula i završen danas, četiri meseca kasnije u 5:30 ujutru po našem vremenu nakon skoro 3 sata igre!
U 1995. KanadjaninHoward Goldfarb je završio na drugom mestu WSOP Main Eventa kada je izgubio u heads-up-u protiv Dan Harringrona, a u 2007. Tuam Lam iz Kanade je izgubio na isti način protiv Jerry Yeanga. Ovog puta, Duhamel je uspeo da pobedi Amerikanca i osvoji titulu.
Jonathan je seo za finalni sto kao igrač sa najviše čipova, otprilike1/3 ukupnog broja čipova za stolom. Duhamel je tokom igre u Subotu izgubio dobar deo svog stacka koji je otišao Mizrachiju. Medjutim, The Grinder je ispao na petom mestu što je omogućilo Duhamelu da izbaciJosep Cheonga na trećem mestu.
Finalna heads-up borba je bila rezervisana za danas i uprkos pritisku, Duhamel je mogao samo da bude nasmejan sa svojom prednošću od 6-1 u čipovima! John Racener je sada jedini koji mu stoji na putu do titule.
Tokom heads-up igre, Racener je uspeo samo jedanput da se duplira i nije uspeo da skupi više od 40 miliona u čipova, a u tom trenutku jeDuhamel imao 170 miliona!
Finalna ruka:
Duhamel je na buttonu, a zbog velikih blindova i veličine protivnikovog stacka, Duhamel se odlučuje za all-in. Ovog puta, Racener prati!
Duhamel:
vs. Racener:
Duhamel je za sada favorit da postane novi WSOP šampion
Flop:
Duhamel igra medju svojom publikom dok Racener gleda na sto i čeka sledeću kartu
Turn:
Talon još uvek nije pomogao ni jedno ni drugom...River može odrediti novog WSOP Šampiona...
River:
Gotovo! Jonathan Duhamel je najnoviji World Series of Poker Main Event Šampion!
Konačni rezultat Novembarske Devetorke:
Jonathan Duhamel - $8,944,310
John Racener - $5.545.955
Joseph Cheong - $4.130.049
Filippo Candio - $3.092.545
Michael Mizrachi - $2.332.992
John Dolan - $1.772.959
Jason Senti - $1.356.720
Matthew Jarvis - $1.045.743
Soi Nguyen - $811.823
Želiš da se i ti jednog dana nadješ u Novembarskoj Devetorci? Bitno je krenuti pravim putem i poštovati bankroll menadzment. Prijavi se za PokerNika Školu i počni sa izgradnjom bankrolla već danas!