Daniel jungleman12 Cates pobedjuje na durrrr Challenge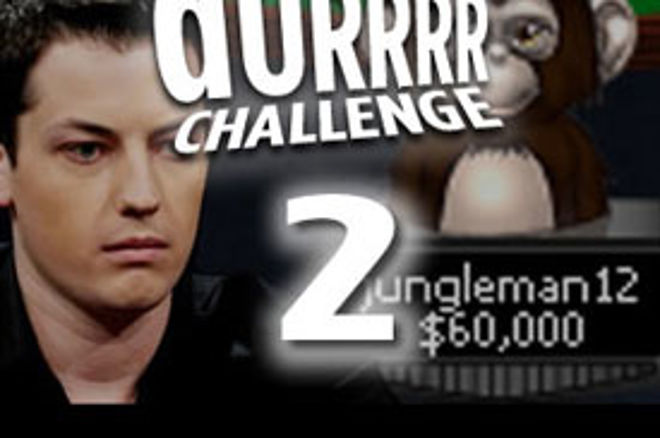 Durrrr Challenge izmedju Tom durrrr Dwana i Daniel Jungleman12 Catesa nastavlja na Full Tilt Pokeru, gde durrrr pokušava da povrati svoje gubitke. Poslednja odigrana sesija je bila prilično kratka ali je Cates ponovo završio sa pozitivnim balansom nakon 346 ruka.
Da se ne bi gubili medju toliko odigranih ruku, sesija i dolara evo kratkog pregleda ovog izdanja durrrr Challenge-a:

durrrr
Ukupan gubitak - $757.542
Osvojene ruke - 3.904
$/ruka - $2.226.64
Jungleman12:
Ukupan dobitak - $755.612.000
Osvojene ruke -6.161
$/ruka - $1,558.42
Durrrr Challenge:
Odigranih ruka - 10.129 od 50.000
Stake - $60.288.086
Sesije - 9
Vreme igre - 16 sati i 29 minuta

Sa 20% predjenog challenge-a, Cates je uspeo da ostvari i održi značajnu prednost od oko $800.000. Ali ponovo, Dwan se žali da Cates može da igra samo kada je ovaj umoran nakon već dužečasovne igre.
durrrr: gg
durrrr: play another time when im not dead tired
durrrr: plo games broke
jungleman12: gg
durrrr: how much u win?
jungleman12: well now you can play 6 tables
jungleman12: over 100
durrrr: 110?
jungleman12: something like that
jungleman12: 120
durrrr: ur allowed to wanna play when im up <15hrs too =)
jungleman12: lol….
jungleman12: no comment
jungleman12: i hope youre not implying that im stalking you again
durrrr: think the lol counts as a comment but i never got to the reporting part of school
durrrr: =)
durrrr: ima slepe gl
jungleman12: it does
jungleman12: ok
jungleman12: gl
Želiš da se pridružiš izazovu i gledaš uživo duel izmedju ova dva igrača, otvori račun na Full Tilt Pokeru i pronadji njihov sto za kojim igraju. Takodje preuzmi beneficije koje ti PokerNews.com nudi ukoliko ovde napraviš download Full Tilt Pokera, bonus od 100% do $600 i ostale ekskluzivne promocije.