Sutra Winner Poker Deposit Only 100 Token Freeroll Turnir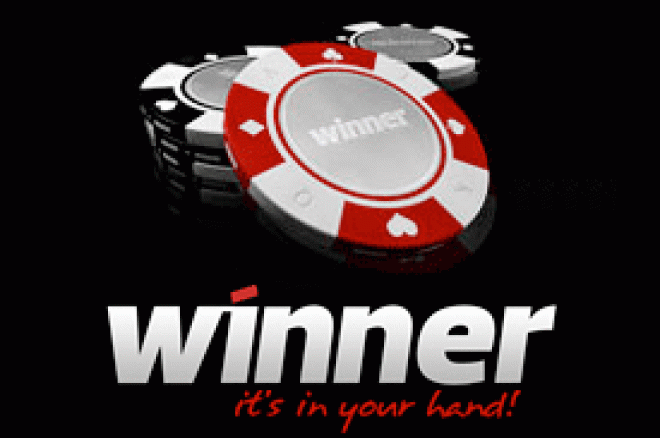 Napravi račun na Winner Pokeru, depozit od $20 i zaigraj na 100 Tournament Token turniru 28. Februara / Veljače.

Finalni freeroll u mesecu punom freeroll turnira na Winner Pokeru je već sutra. U Ponedeljak 28. Februara / Veljače u 20h po našem vremenu održaće se $1650 Tournament Token Freeroll Turnir, ekskluzivan za PokerNews igrače. Podeliće se 100 x $15+$1.50 turnirskih karata za prvih 100 igrača, koje mogu biti iskorišćene za buy-in na turnirima istovetne vrednosti.
Turnir se nalazi u Freeroll odeljku Winner Poker lobija.
Kvalifikacije ne mogu biti lakše, jer sve što treba da uradiš je da napraviš download Winner Pokera preko PokerNews-a , depozit od $20 i upišeš bonus kod PNIKA prilikom kreiranja računa. Postojeći Winner Poker PokerNews igrači su takodje pozvani na učešće, ako su ikada u životu napravili depozit od minimalno $20 na Winner Pokeru.
Obrati pažnju da registracija počinje tek 7 sati pred početak turnira.
Ovo je poslednji freeroll turnir na Winner Pokeru ovog meseca tokom kojeg je podeljeno preko $6.000. Winner Poker je bio vrlo velikodušan sa freerll ponudama, tako da se unapred radujemo budućim Winner Poker besplatnim turnirima.
*** Winner Poker nije otvoren za igrače iz Srbije ***

Napravi download Winner Pokera odmah, uplati samo $20 i to je to - kvalifikacije ne mogu biti lakše.