Viktor Blom porazio Katchalova na SuperStars Showdown IV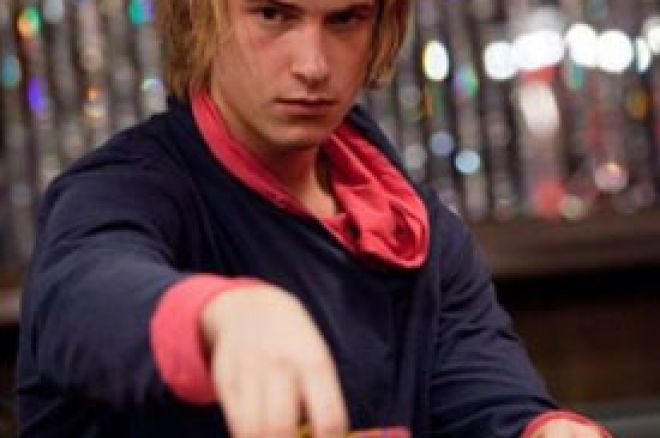 Viktor Blom, Isildur1, je sinoć zaigrao četvrti SuperStars Showdown. Protivnik je ovog puta bio Eugene MyRabbiFoo Katchalov, pobednik PokerStars Caribbean Adventure High Roller eventa.
Kao i uvek, igrači su seli za četiri No-Limit Hold'em sa $50/$100 blindovima. Ukupno je odigrano 2.500 deljenja, a Švedjanin je uspeo da se završi meč sa profitom od $111.750. Kada se ova cifra doda na dosadašnji profit od SuperStars Showdown izazova, dolazimo do zavidnog profita od $165.525.
Jedan od najvećih potova u meču je odneo Katchalov. Ukrajinac je otvorio pot sa raisom od $200, a Blom je samo ispratio sa BB pozicije. Na flopu izlazi
Blom se odlučuje za check, dok Katchalov betuje dodatnih $300, a Blom check-raisuje na $1.000. Katchalov prati.
Nakon
na turnu, Isildur1 stavlja $1.600 na sredinu stola, a MyRabbiFoo prati bez oklevanja.
Na riveru izlazi
i Blom ide all-in sa preostalih $7.400. Katchalov instant-calluje i pokazuje
za boju. Blom pokazuje
za set.
Ubrzo nakon toga, dolazimo i do sledeće ruke:
MyRabbiFoo otvara pot sa raisom od $200 i Blom opet samo prati sa Big Blinda. Flop je
, i kao prošli put, Isildur1 se odlučuje za check-raise na c-bet protivnika, ali ovog puta Ukrajinac odgovara sa re-raisom. Blom se ne da uplašiti i odlučuje se za 5bet na šta Katchalov odgovara all-in akcijom. Blom prati.
Blom:
Katchalov:
Turn:
River:
Blom kompletira fullhouse i nosi pot od $29.900.
Kako su prolazili minuti, tenzija je rasla za stolom. Kao rezultat toga, Blom je odneo pot od $62.500.
Katchalov je raisovao pre flopa standardnih $300 i naišao na 3bet Isildur1 od $1.100. Ukrajinac 4betuje na $2.800, a Blom 5betuje na $5.450. Katchalov prati.
Na flopu izlazi
, Blom gura još $3.850 u sredinu. MyRabbiFoo plaća da vidi
na turnu. Blom ne popušta, ovog puta sa betom od $5.650 i Katchalov calluje.
River donosi
i Blom ide all-in sa preostalih $16.300, a Katchalov plaća i shvata da njegov set devetki nije dovoljno dobar za set kraljeva njegovog protivnika.
Igrači su završili Challenge sa prijateljsim chatom:
MyRabbiFoo: well played ... you've obviously played very well
Isildur1: I tied like a madman, if there is no 8 in the river when we were matched
Isildur1: I think I would have defeated
MyRabbiFoo: yes I had a couple bad plays, but you kept on playing well
Isildur1: thanks, you too
Isildur1: good to play with you
MyRabbiFoo: you too, good luck in the coming duels
Pogledaj akciju na PokerStarsu uživo! Napravi download najveće online poker sobe na svetu i upiši marketing kod POKERNIKA i bonus kod STARS600 za bonus od 100% do $600 na prvi depozit.