PokerNews vas vodi na WSOP sa 888 Pokerom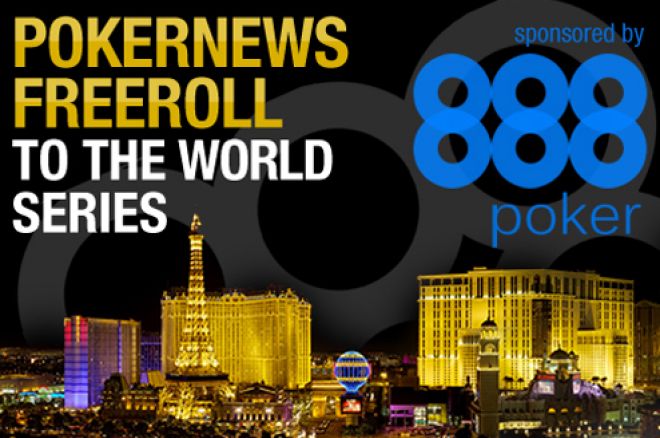 Zaigrajte ekskluzivnu seriju freeroll turnira na 888 Pokeru i uzmite jedan od dva World Series of Poker paketa u vrednosti od $4,500! Kvalifikujte se putem svakodnevnih besplatnih turnira koji se održavaju dva puta u toku dana, sa garantovanim nagradama za finalni turnir koji se održava 28. Maja / Svibnja na kome će se podeliti 2 x $4,500 WSOP paketa! Za učešće u ovoj seriji vam je potreban 888 poker račun preko PokerNews-a, dok depozit nije neophodan!
PokerNews i 888 Poker vas vode na World Series of Poker potpuno besplatno. Na finalnom turniru 28. Maja / Svibnja u 19h će se podeliti 2 x $4,500 paketa za World Series of Poker Side Event, a kvalifikacije su dostupne svakog dana do 28. Maja / Svibnja, sa zagarantovanom kartom za finalni turnir za pobednika.
Kvalifikacije su trenutno na pola puta, tako da ako još uvek niste krenuli sa igrom, sada je pravo vreme!
Dnevni Freeroll turniri od 20. Aprila / Travnja do 27. Maja / Svibnja
10h po našem vremenu
19:30h po našem vremenu
WSOP Bez Rizika
Svaki od $4,500 Paketa uključuje:
Buy-in od $1,000 za WSOP Event #54 2. i 3. Jula / Srpnja
$1,000 za putne troškove
8 noći u Palazzo Hotelu
888 Poker Live Event odeća i aksesoari
Specijalni VIP event 7. Jula / Srpnja
Potražanja za World Series of Poker side turnirima je porasla u poslednje vreme, a razumljivo je i zašto je tako. Paketi ovog tipa su svojevrstan odmor, a osam noćenja će vam omogućiti odličan provod u svetskoj prestonici zabave.
Jedini zahtev za učešće na ovoj seriji je da imate 888 Poker nalog preko PokerNews linka. Depozit nije neophodan za učešće, ali ako ga napravite dobićete bonus od 100% do $888 pri prvom depozitu.