2011 World Series of Poker: Upoznaj Svoj November Nine Deo 2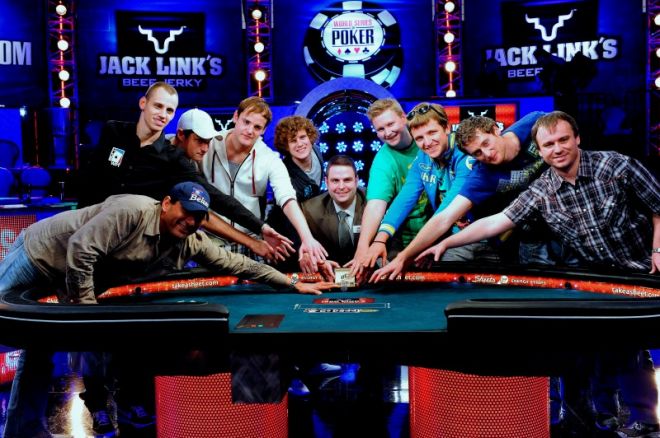 Juče smo vam predstavili prvi deo "Upoznajte svoj November Nine". U drugom delu, predstavljamo vam preostale igrače medju Novembarskom Devetorkom. Pregledajte video ispod kako biste stvorili bolju sliku o igračima i onome o čemu su razmišljali nakon što su uspeli da udju na prestižni finalni sto.
Sam Holden
Sam Holden, 22 godine, napravio je svoj WSOP debi u 2011. Pre Main Eventa, ovaj engleski pro je keširao $11,311 - Sve u U.K. On seda za sto kao short stack u Novembru - 12,375,000 - i to na mestu 6.
Phil Collins
Phil Collins će sedeti na mestu 4. u Novembru sa stack-om od 23,875,000. 26-godišnjak iz Las Vegasa ima nekoliko keširanja na live turnirima ali je poznat najviše po svojim online poker rezultatima.
Matt Giannetti
Matt Giannetti, 26 godina iz Las Vegasa, ima blizu $500.000 u karijeri plaćenih pozicija pre ovog učešća na 2011 WSOP Main Eventu. On seda sa stack-om od 24,750,000 za finalni sto, u Penn & Teller Teatru u Novembru i zauzeće mesto jedan.
Anton Makiievskyi
Anton Makiievskyi, 21-godišnjak iz Ukrajine, ovog leta prvi put uzima učešće na WSOP-u ikada. On bi mogao postati peti Ukrainac koji je osvojio WSOP narukvicu ove godine, što bi izjednačilo Ukrajinu sa Kanadom za druge po broju narukvica od strane neke zemlje za ovu godinu. On je takodje prvi igrač iz Ukrajine koji je ikada uspeo da dostigne Main Event finalni sto. On će sedeti na mestu pet sa stack-om od 13,825,000.
Ako računate, znate da smo vam doneli samo osam videa u delovima 1 i 2 o November Nine, ali nismo nikoga propustili. Eoghan O'Dea, 26 godina, nije uspeo da se pojavi u medijskom studiju. On je sin poker proa Donnacha O'Dea, koji je član European Poker Players Hall of Fame. Eoghan O'Dea je izjavio da je učio da igra poker preko tv šoa "Late Night Poker". Kada se igrači pojave u Novembru, on će sedeti na mestu tri iza 39,925,000 čipova.
Možete biti sigurni da će PokerNews biti u Riu u Novembru da Vam prenese sva dešavanja iz Penn & Teller Teatra. Do tada, pratite nas na
Twitter-u i Facebook-u.