Tristan Wade Šampion Eventa #4: €3,200 No-Limit Hold'em Shootout (€182,048)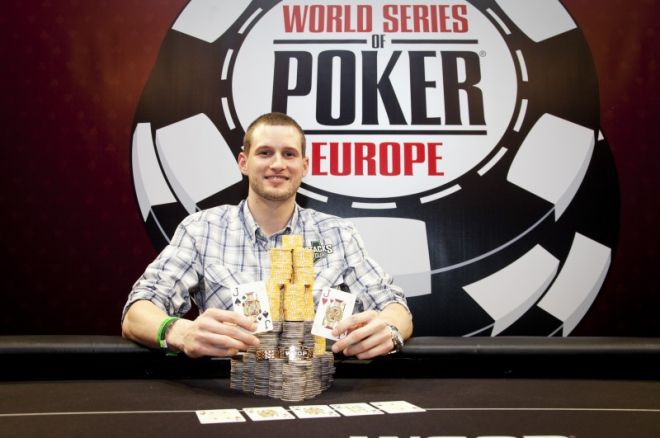 Tristan Wade je postao četvrti šampion koji je osvojio zlatnu narukvicu ove nedelje. Napravio je dobru strategiju, i na početku dana sebi omogućio da ostane sa strane, ne dovodeći se u opasnu zonu, gledajući i proučavajući ostale igrače
Kada se završila pauza za večeru, počeo je da primenjuje svoju strategiju, a tada se igralo 5-handed i to je bio totalno drugi igrač za stolom. Njegov VPIP procenat se udvostručio i počeo je sa eliminacijama, da bi do kraja ostao sa, Michael Watsonom, i njega pobedio za titulu. Osvojio je ključnu ruku protiv Max Silvera kada je akcija bila na 4-handed (KK vs 44) to mu je omogićilo da izbaci opasnog Britanca koji je imao poziciju nad njime. Isto tako donelo mu je neophodne čipove kako bi bio ravnopravan sa Watsonom, koji jebio čip lider u tom momentu.
Kada je Richard Toth eliminisan na 3.mestu, Wade je ubacio u još veću brzinu agresivne igre. Nameračio se na svog protivnika iz Kanade i vrlo brzo nadoknadio deficit u čipovima i izgadio značajnu prednost u istim. Jedna ključna ruka u heads-up igri, kada je uspeo da natera Watsona da se povuče iz ruke i odnese veliki pot, kada je na boardu
čini se da je u tom trenutku Watson izgubio svaku nadu u pobedu.
Watson je ipak uspeo da napravi double-up kada su
bili bolji od Wadeovih ručnih žandara
, ali samo nekoliko ruku kasnije opet je bio u all inu protiv
.
Ruku je otvorio Watson sa 60,000, da bi 3-betom Wade predigao do 144,000, na to Watson gura all in što Wade odmah prati, showdown:
Wade:

Watson:

Board:
donosi titulu Amerikancu
Wade je pokazao izuzetno dobru igru tokom 3 dana, kao na samom stolu tako i van njega. Bio je jako ljubazan za saradnju i manirima doprineo da bude jedan od uočljivijih igrača, zaslužio je pobedu, iskrene čestitke.
OVDE vidite isplate finalnog stola
Da li nas već pratite na Twitter-u? Trebalo bi. I kad smo već kod toga, lajkujte nas na Facebook-u.