Andrew Robl izgubio $2.000.000 u Makau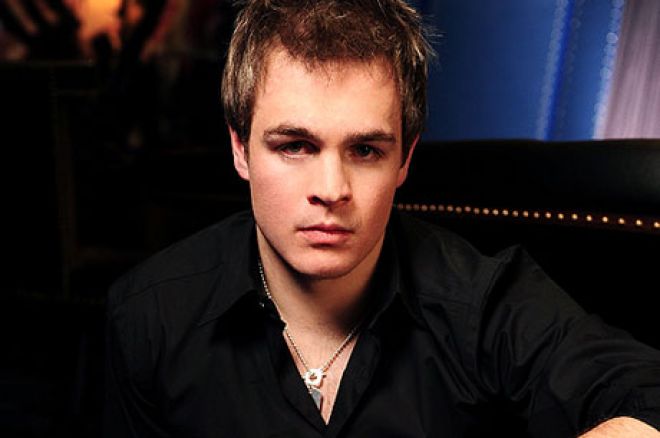 Na jučerašnju temu, na čemu smo sve zahvalni, pridružuje se i Adrew Robl na svom twitter-u i pored njegovog gubitka, čovek je ipak zahvalan. To se zove zdrav duh iako je cifra o kojoj je reč mnogima zabrinjavajuća.
Sve spram standarda i svako ima svoje stavove, ali ono što je najbitnije je da smo svi mi zavhalni na onome što imamo, šta god to bilo za svakog pojedinca. :)
Neki ljudi porede poker igrača sa pecarošem, samo govore šta su osvojili/ulovili, i koliko je ono što je pobeglo/fold-ano bilo dobro. Andrew robl uleće u ovaj kliše i sumira da je osvojio i odmah izgubio značajnu količinu novca.
Robl je u Makau i kao što znamo, cifre koje se vrte u igrama Makaa su ne-zdrave.
Evo šta je Robl izjavio na Twitter-u: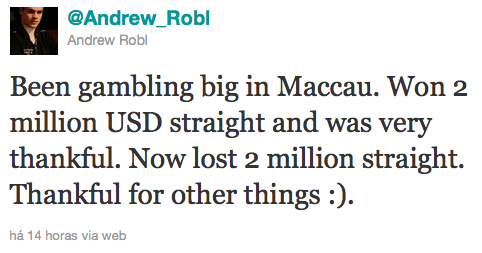 Ako dodamo imena kao što su Guy Laliberte, Peter "GARFIELD25″ Chan, Phil Ivey, Tom Dwan, Johnny Chan, Sam Trickett i još nekoliko lokalnih igrača, $2,000,000 neće biti mnogo.