WSOPE Objavljuje Raspored Turnira za 2012. Godinu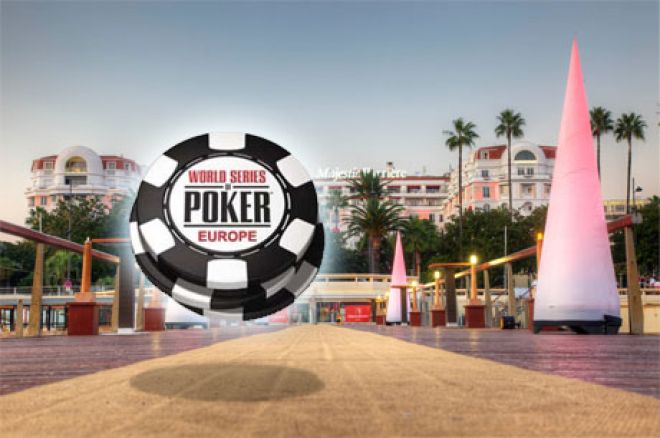 photo courtesy of Jonathan Boncek
WSOPE je zakazan za 21. Septembar i trajaće do 4. Oktobra u Kanu, Francuska.
Nedavno proglašen "Najboljim Eventom Godine" od strane European Poker Awards, World Series of Poker Europe Predstavljen od strane BarrierePoker.fr je finiširao svoj raspored turnira za 6. Izdanje World Series of Poker Europe u Kanu.
Igrači će biti ugošćeni u luksuznim postavkama Casina Barriere de Cannes Croisette i hotelu Majestic Barriere u scenskom francuskom gradu Kanu, dve nedelje prepune evenata koji će sigurno premašiti rekorde proteklih izdanja.
2012. WSOPE će nositi sedam turnira za narukvicu ove godine - isto kao i prošle 2011.
"Sa velikim nestrpljenjem čekamo da se vratimo na Azurnu Obalu u 2012" izjavio je WSOP potpredsednik Ty Stewart. "Pomerili smo raspored nekoliko nedelja da bi iskoristili prednost lepšeg vremena u Kanu. Pitajte bilo koga ko je prisustvovao prošle godine. Ovaj turnir je sada sertifikovan kao glavni šampionat i predstavlja neverovatno iskustvo. Mediji su već špekulisali oko 1.000 igrača za Main Event, a mi ćemo biti spremni na njih."
Ceo WSOP raspored za zlatne narukvice je identičan kao i prošle godine i više od četiri desetine side evenata će takodje biti uključeni tokom dvonedeljne Poker Serije.
Six-handed No Limit Hold'em event će se igrati u Petak, 21. Septembra i imaju € 2,500 + € 200 buy-in i 3-dnevnu strukturu.
"Zadovoljstvo nam je da ugostimo ponovo ovaj dogadjaj u Kanskom Barriere Odmaralištu", izjavio je Alain Fabre, direktor Barriere Croisette Casina. "Prvo izdanje WSOPE u Kanu je bio veliki uspeh, nagradjeni dogadjaj na koji smo vrlo ponosni. Unapred se radujemo što ćemo ponovo ugostiti igrače i trudićemo se da ovaj "poker festival" učinimo još zanosnijim."
Ostali eventu uključujući i No Limit Hold'em, No Limit Hold'em Shootout, Pot Limit Omaha, Six-Handed Pot Limit Omaha, Mixed-Max No Limit event i €10,000 + €450 buy-in No Limit Hold'em Main Event. (Napomena: francuski zakon dozvoljava samo Holdem i Omaha igre).
Igrači će dobiti specijalne cene smeštaja tokom njihovog boravka u Kanu. Postoje dva različita hotela u kojima su obezbedjene specijalne cene, Majestic i Gray d'Albion. Detalji za rezervaciju će biti dostupni 1. Maja, 2012.
Ovih sedam turnira će biti sankcionisani eventi zlatne narukvice. Non-stop keš gejm i drugi dogadjaji će takodje biti na rasporedu tokom turnira, kao i gomila satelitskih turnira.
2012 World Series of Poker Europe će imati televizijski prenos širom sveta. U 2011, WSOPE programi su prenošeni na Direct8, RTL9 i Lucky Jack u Francuskoj, i ESPN mrežama širom sveta. WSOPE ostaje jedini evropski poker turnir koji je prenošen u SAD.
U nastavku možete konsultovati raspored turnira WSOPE 2012:
| | | | | |
| --- | --- | --- | --- | --- |
| Date | Day | Event # | Tournament | Buy-In |
| 9/21/2012 | Friday | 1 | Six Handed No Limit Hold'em - Day 1 (3 Day Event) | €2,500 + €200 |
| 9/22/2012 | Saturday | 2A | No Limit Hold'em – Day 1A (5 day event) | €1,000 + €100 |
| 9/22/2012 | Saturday | 1 | Six Handed No Limit Hold'em - Day 2 | |
| 9/23/2012 | Sunday | 2B | No Limit Hold'em – Day 1B (4 day event) | €1,000 + €100 |
| 9/23/2012 | Sunday | 1 | Six Handed No Limit Hold'em - Final Table | |
| 9/24/2012 | Monday | 2 | No Limit Hold'em – Day 2 (Combined Field 1A + 1B) | |
| 9/24/2012 | Monday | 3 | Pot Limit Omaha (3 day event) | €5,000 + €300 |
| 9/25/2012 | Tuesday | 2 | No Limit Hold'em – Final Table | |
| 9/25/2012 | Tuesday | 3 | Pot Limit Omaha (Day 2) | |
| 9/25/2012 | Tuesday | 4 | No Limit Hold'em SHOOTOUT (3 day event) | €3,000 + €250 |
| 9/26/2012 | Wednesday | 3 | Pot Limit Omaha - Final Table | |
| 9/26/2012 | Wednesday | 4 | No Limit Hold'em SHOOTOUT – Day 2 | |
| 9/26/2012 | Wednesday | 5 | Mixed-Max – No Limit Hold'em – Day 1 (4 Day Event) | €10,000 + 450 |
| | | | | |
| | | | Day 1 plays 9-handed | |
| | | | | |
| | | | Day 2 plays 6-handed | |
| | | | | |
| | | | Day 3, play Heads Up | |
| 9/27/2012 | Thursday | 4 | No Limit Hold'em SHOOTOUT - Final Table | |
| 9/27/2012 | Thursday | 5 | Mixed-Max – No Limit Hold'em – Day 2 (6-handed) | |
| 9/27/2012 | Thursday | 6 | Six-Handed Pot Limit Omaha (3 day event) | €1,500 + €150 |
| 9/28/2012 | Friday | 5 | Mixed-Max – No Limit Hold'em – Finals – Heads Up | |
| 9/28/2012 | Friday | 6 | Six-Handed Pot Limit Omaha – Day 2 | |
| 9/29/2012 | Saturday | 7A | Main Event – No Limit Hold'em – Day 1A (5 day event) | €10,000 + €450 |
| 9/29/2012 | Saturday | 6 | Six-Handed Pot Limit Omaha – Final Table | |
| 9/30/2012 | Sunday | 7B | Main Event - No Limit Hold'em - Day 1B (4 day event) | €10,000 + €450 |
| 10.1.2012 | Monday | 7 | Main Event - No Limit Hold'em - Day 2 (Combined Field 1A+1B) | |
| 10.2.2012 | Tuesday | 7 | WSOPE Main Event Championship Day 3 | |
| 10.3.2012 | Wednesday | 7 | WSOPE Main Event Championship - Day 4 | |
| 10.4.2012 | Thursday | 7 | WSOPE Main Event Championship – Final Table | |