2012 World Poker Tour Beč Dan 1b: Darko Stojanović Ubedljivi Čip Lider!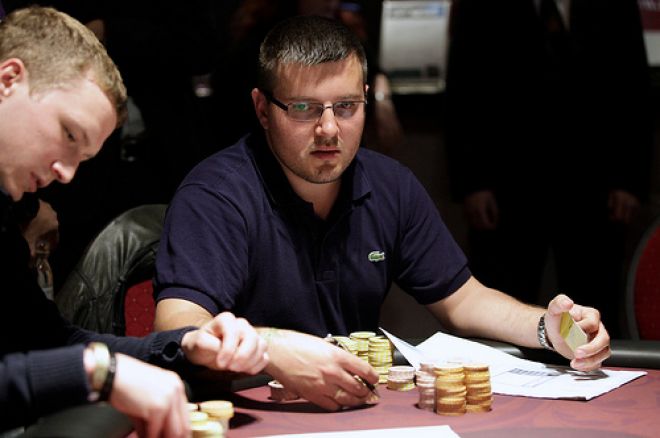 2012 World Poker Tour Beč se nastavio sa igrom u Sredu sa Dan 1b. Nakon Dan 1a, David Breitfuss je poveo sa 185,500 u čipovima, ali je taj broj pao na četvrto mesto nakon što su Darko Stojanović (naš igrač ;)) (320,000), Carsten Jeppe (206,400) i Jan-Peter Jachtmann (190,600) svi prikupili više čipova.
Broj čipova koje je Stojanović prikupio nisu za zanemariti. On je dobrano preko 100,000 čipova više od Jeppe-a na drugom mestu i poneće ovaj veliki chip lead u Dan 2. U jednoj od poslednjih ruka, Stojanović je poslao bivšeg WPT šampiona McLean Karra u publiku.
Prema WPT Live Updates Timu, blindovi su bili na 9 nivou od 400/800/100. Informacija iz druge ruke od Andy Blacka je bila da je Karr flopnuo točak sa
protiv Stojanovićevih
na
flopu. Karr je ispaljivao celim putem, prenosi Black, ali Stojanović se nije povlačio. Nakon što je drugi mak pao na riveru, Stojanović je sastavio jači flush i Karr šavuje što je odmah call-ano. Stojanović je izašao kao pobednik i šalje Karra prema vratima.
Karr nije jedini bivši WPT šampion koji je eliminisan tokom Dan 1b. Scott Seiver, Mike Watson, Guillaume Darcourt i Sean Jazayeri su mu se takodje pridružili. Ako izgleda da se nekoliko ovih imena stalno spominje, tako i jeste. WPT Beč ima re-entry format i dosta igrača koji su eliminisani tokom Dan 1a su se vratili u akciju na Dan 1b.
Sledeći eliminisani na Dan 1b uključuju Govert Metaal, Arnaud Mattern, Ana Marquez, Tristan Wade i Sorel Mizzi.
Od onih koji idu u Dan 2, Sam El Sayed je prikupio 182,700 u čipovima i Yevgeniy Timoshenko je završio svoj dan sa 69,400. David Peters, Michael Tureniec, Steve O'Dwyer i Andre Akkari su se svi pomerili unapred.
WPT Beč Dan 1b Top 10 Chip Counts
| Mesto | Igrač | Chips |
| --- | --- | --- |
| 1 | Darko Stojanovic | 320,000 |
| 2 | Carsten Jeppe | 206,400 |
| 3 | Jan-Peter Jachtmann | 190,600 |
| 4 | Sam El Sayed | 182,700 |
| 5 | Ferenc Gal | 114,600 |
| 6 | Vincenzo Gomez | 106,200 |
| 7 | Faraz Jaka | 103,400 |
| 8 | Anton Wigg | 91,000 |
| 9 | Stanislaw Kretz | 86,600 |
| 10 | Toby Lewis | 85,800 |
Drugih 233 igrača su dodati u plje na Dan 1b da bi ukupno polje igrača bilo sastavljeno 396 ulaza. Od tih, 182 se vraća na Dan 2, koji se igra dana, četvrtak 13:00 CET. Uverite se da proverite PokerNews za pregled dogadjaja.
*Photo courtesy of the World Poker Tour.
Ostanite u toku sa dešavanjima u poker svetu - pratite nas na Twitter-u i lajkujte na Facebook-u.