2012 PokerStars.com EPT Barcelona Main Event Dan 2: John Juanda, Ilari Sahamies Vode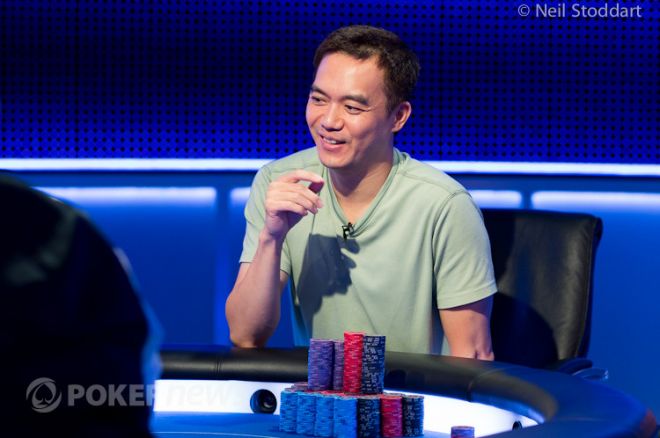 2012 PokerStars.com European Poker Tour Barcelona Main Event, koji je privukao 1,082 runnera, nastavili su u Utorak sa preostalih 600 igrača koji su se spakovali u Casinu de Barcelona za još šest nivoa akcije. Do kraja dana, oko 215 je preživelo, sa John Juanda i njegovim stekom od 732,400 kako predvodi polje.
Juanda je bio na feature stlom većinom dana, ali je rekao PokerNewsu o ruci koja ga je gurnula na vrh. Prema njemu, to se desilo kada je igrač sa rane pozicije limpovao, button je raise-ao do 6,600, small blind calluje, i Juanda call-a sa big blinda. Limper call-uje takodje i beše to 4-way akcija i sledi
rainbow flop. Small blind ispaljuje za 12,500, Juanda call-uje sa
, i igrač sa rane pozicije raise-uje do 28,000. Nakon što su dva igrača foldala, Juanda 3betuje do 100,000 i njegov protivnik gura all-in sa
za 300,000. Juanda snap-call-uje i njegov donji set se održao, donoseći mu masivan pot.
Dok je za Juanda Dan 2 izgledao lako, nije baš tako bilo za sve. Jedan od igrača koji je imao težak posao je bio 2011 World Series of Poker Main Event šampion Pius Heinz. Na nivou 12, akcija je foldala do Heinza na hijack, i on raise-uje do 3,400. Liya Gerasimova, devojka Team PokerStars Proa Ivana Demidov i nedavni pobednik EPT Barcelona Ladies Eventa, call-a sa big blinda.
Gerasimova ispaljuje 4,200 na
flopu, Heinz raise-uje do 10,800, Gerasimova gura all-in, i Heinz brzo call-a za oko 50,000.
Showdown
Mladi Nemac je imao over-par sa open-ended-straight-draw-om, ali je bio u zaostatku naspram flopnutog nutsa Gerasimove. Ni
na turnu niti
na riveru pomaže Heinzu, i eliminiše ga sa turnira.
Još jedna eliminacija je bila Season 7 EPT Barcelona šampiona Kent Lundmarka, koji je callao držeći
sa button-a, na boardu koji je čitao
. Na njegovu nesreću, Saab Rachad je držap
i njegove nade za drugom EPT titulom su došle do svog kraja.
Drugi koji nisu uspeli da prežive dan su Jason Mercier, Rino Mathis, Jude Ainsworth, Faraz Jaka, Gus Hansen, Tristan Wade, Davidi Kitai, Dermot Blain, Dominik Nitsche, Sami Kelopuro, Kyle Julius, Terje Augdal, Marcin Horecki David Vamplew, Ville Wahlbeck, Andy Frankenberger, Veldhuis, i bivši šampion Martin Schleich.
Dok mnogi nisu uspeli da prežive, nekoliko njih je uspelo da napreduje. Team PokerStars Pro Daniel Negreanu jeli je onda ulovio svoju priliku na kraju večeri. U jednoj ruci, Frederic Bussot-Fuentes šavuje sa rane pozicije za 47,600 i Marco Sposito call-a za oko 16,000. Negreanu razmišlja kratko i pravi call takodje.
Showdown
| | |
| --- | --- |
| Negreanu | |
| Bussot-Fuentes | |
| Sposito | |
Diler spaljuje kartu i okreće
flop, dajući Negreanu vodjstvo sa parom kečeva i kraljem kickerom.
na turnu ne menja ništa, a ni
na riveru. Negranu je prikupio pot i poslao dva protivnika napolje. On je veče završio sa 248,600.
Ostali koji se vraćaju na Dan 3 sa money bubble pozicijom koja se približava su online senzacije Ilari Sahamies; Bachar Brothers, Ziv i Guy; šampion 5 Sezone Sebastian Ruthenberg; World Series of Poker pobednik Ronnie Bardah; The 2012 PokerStars i Monte-Carlo® Casino EPT Grand Final šampion i runner-up, Mohsin Charania i Lucille Cailly respektivno; i Team PokerStars Pros Barry Greenstein (18,700), João Nunes (87,000), Matthias De Meulder (123,700), Juan Manuel Pastor (147,200) i Henri Pinho (160,000).
Neki od najpoznatijih igrača - Chip Counts Dan 2
| Player | Count |
| --- | --- |
| John Juanda | 732,400 |
| Ilari Sahamies | 523,500 |
| Samuel Rodriquez | 455,800 |
| Guy Bachar | 448,000 |
| Marcos Fernandez | 403,400 |
| Lucille Cailly | 360,700 |
| Jonathan Karamalikis | 317,600 |
| Alejandro Perez Torres | 302,900 |
Dan 3 2012 PokerStars.com EPT Barcelona Main Eventa je postavljen za 12:00 CET (06:00 EST), i kompletnu akciju sa stolova možete pratiti detaljno na Stranici za Live Izeštaje.
Ostanite u toku sa dešavanjima u poker svetu - pratite nas na Twitter-u i lajkujte na Facebook-u.