Josh Hale Osvojio 2012 World Poker Tour Legends of Poker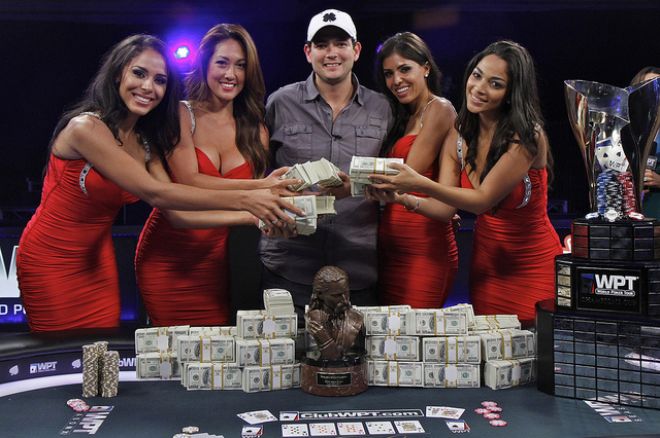 U Sredu, nakon četiri dana borbe u Bicycle Casinu u Los Angelesu, Kalifornia, finalnih šest igrača se vratilo za Dan 5 World Poker Tour Legends of Poker. Josh Hale hje držao vodeće mesto po čipovima sa preko 7.3 miliona čipova. Njegov najbliži takmičar, Greg Mueller, počeo je dan sa skoro 3.5 miliona čipova.
WPT Legende Pokera Finalni Sto

| Mesto | Igrač | Čipovi |
| --- | --- | --- |
| 1 | Max Steinberg | 1,020,000 |
| 2 | Jeff Madsen | 1,030,000 |
| 3 | Raouf Malek | 3,130,000 |
| 4 | Greg Mueller | 3,490,000 |
| 5 | Josh Hale | 7,325,000 |
| 6 | Ali Eslami | 2,900,000 |
Prema World Poker Tour Live Report timu, 20-ta ruka finalnog stola, akcija je foldala do Max Steinberga, koji call-a sa small blinda. Jeff Madsen, koji je imao najmanji stek za stolom, gura all-in sa big blinda. Steinberg call-a sa
, dominirajući Madsenove
. Zatim flop turn i river donose
, eliminišući Madsena na šestom mestu za $75,400.
U ruci #56, treća ruka Nivoa 30 (50,000/100,000/10,000), Mueller gura all-in UTG za oko 2 miliona. Akcija folda do Steinberga na small blindu i on zahvaljuje pre šava all-in. Raouf Malek je predao svoj big blind i ruke su okrenute u klasičnu situaciju tre sa Mullerovim
nešto u prednosti od Steinbergovih
, i
flop je održao Muellera u prednosti. Turn
, medjutim, daje Steinbergu bolji par i
kompletira board. Muller je eliminisan na petom mestu i nagradu od $97,100.
Četiri ruke kasnije, Malek se duplira preko Ali Eslamia, ostavljajući ga sa samo 120,000 čipova (manje od dva big blinda). Akcija startuje kada Hale raise-uje do 210,000 sa UTG. Eslami call-a sa buttona, i Malek gura all-in za oko 2.4 miliona sa big blinda. Hale fold-uje, i Eslami call-a. Eslamijeve
su dominirane od Malekovih
, i board donosi
.
Čudo, u sledećih šestu ruka, Eslami se duplirao, triplirao i onda ponovo duplirao, lansirajući svoj stek na preko 1.5 miliona čipova. U sedmoj ruci od kada je oštećen, Eslami efektivno 3betuje (ostavio je jedan čip iza kao card protector) preko raise-a Maleka i call-a Hale-a. Malek folduje, Hale brzo call-a, i Eslamijeve
su se našle daleko ispred Haleovih
. Board donosi
, i odjednom je Eslami osvežen sa 3.4 miliona čipova (34 big blinda).
Hale, koji je bio dominiran je pao na 6.5 miliona čipova, i u #74 ruci gubi još jedan priličan pot od Eslamia. Po prvi put za finalnim stolom, Hale nije bio čip lider.
Haleov stek je nastavio da pada, i on je čak bio u rizičnoj situaciji u all-inu u #87 ruci protiv Maleka. Haleove
su nadigrale Malekove
nakon izlaska
na boardu, dajući Haleu vodjstvo u čipovima i to ponovo. Malek je tu pao ali se kasnije triplira preko Hale-a i Eslamia dve ruke nakon što su oba igrača držala kraljeve! Malekovi
nisu bile u zavidnoj situaciji ali kako pogadja keca na turnu ostaje živ.
Konačno, skoro 40 ruka nakon što je Muller eliminisan na petom mestu, Eslami izleće na četvrtom. Hale limpuje sa button-a na blindovima 60,000/120,000/20,000, i Eslami gura all-in sa small blinda. Steinberg traži obračun, i zatim re-šavuje sa big blinda. Došlo je do nove trke sa Eslamijevim
i Steinbergovim
. Došao je kralj na flopu
dajući Steinbergu vodjstvo, a turn i river izlaze
,
, respektivno. Eslami je eliminisan ali je zaradio $133,700 za svoj trud.
Malek, Hale, i Steinberg su varirali gore dole 3handed, ali je Steinberg preuzeo vodjstvo po čipovima. U ruci #119, Malek otvara do 300,000 sa buttona, a Steinberg je branio svoj blig blind. Flop je izašao
, Steinberg check-ira, Malek nastavlja za 325,000. Steinberg call-a. Turn je bio
, i oba igrača check-iraju.
kompletira board, i Steinberg ispaljuje 900,000. Malek raise-uje do 3 miliona, a Steinberg gura all-in. Malek call-a sa
za K-high straight, ali Steinberg okreće
za Broadway, eliminišući Maleka na trećem mestu ($192,400).
Heads Up Chip Counts

| Igrač | Chips |
| --- | --- |
| Max Steinberg | 14,150,000 |
| Josh Hale | 4,550,000 |
U #13 ruci HU igre, nakon što se malo načipovao, Hale dolazi do monster dupliranja. Blindovi su bili 100,000/200,000/25,000 kada Steinberg raise-uje do 500,000 sa buttona. Hale call-a, i flop dolazi
. Hale check-ira, Steinberg ispaljuje 550,000, i Hale gura all-in za nešto ispod 5 miliona. Steinberg call-a sa
za desetke i šestice, i Hale šavuje
za goli glush draw. Turn je bio crven, ali
nije bila pomoć Hale-u.
sviće na riveru medjutim, Hale odnosi pot sa flešom, preuzevši 2-1 vodjstvo u čipovima.
Hale više nije gledao unazad, i u ruci 145 je sve bilo gotovo. Hale raise-uje do 550,000 sa blindovima 125,000/250,000/25,000. Steinberg brzo gura all-in za 3.25 miliona, Hale odgovara. Hale oreće
, i Steinberg pokazuje
. Board izlazi
, i Hale je šampion 2012 WPT Legends of Poker.
WPT Legends of Poker Isplata Finalnog Stola

| Finiš | Igrač | Nagrada |
| --- | --- | --- |
| 1 | Josh Hale | $500,000 |
| 2 | Max Steinberg | $293,490 |
| 3 | Raouf Malek | $192, 400 |
| 4 | Ali Eslami | $133,700 |
| 5 | Greg Mueller | $97,100 |
| 6 | Jeff Madsen | $75,400 |
Zajedno sa pola miliona dolara, Hale je zaradio mesto na 2013 WPT World Šampionatu. Ovo uključuje PokerNews' izveštaj sa WPT Legends of Poker. Vidimo se sledeći put u Aviation Club u Parizu, Francuska.
Ostanite u toku sa dešavanjima u poker svetu - pratite nas na Twitter-u i lajkujte na Facebook-u.
Zahvalnost za foto i detalje WorldPokerTour.com.