PokerStars.net EPT Prag Dan 4: Warrington Vodeći od Preostalih 21 igrača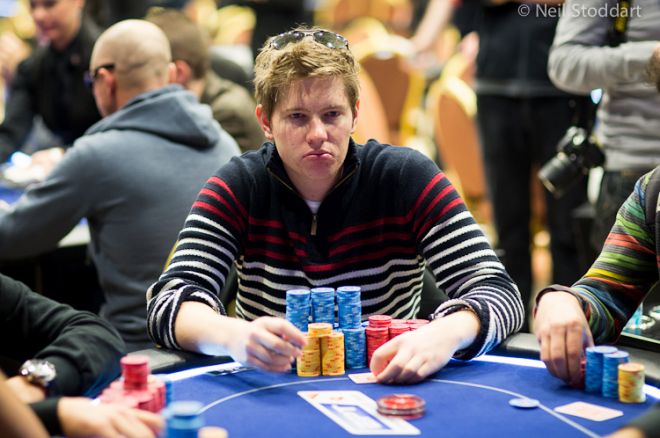 Dan 4 na PokerStars.net European Poker Tour Sezone 9 Prag Main Eventa počeo je sa 55 igrača. Posle samo tri odigrana levela polje je svedeno na svega 21 igrača, a čip lider je Ben Warrington. On je tokom dana izgradio stack od 2.618 miliona čipova, a samo je još jedan igrač, Holandjanin David Boyaciyan, završio dan sa više od 2 milion čipova.
EPT Prag Top 10 Zaliha
| Rank | Igrač | Zaliha |
| --- | --- | --- |
| 1 | Ben Warrington | 2,618,000 |
| 2 | David Boyaciyan | 2,469,000 |
| 3 | Ramzi Jelassi | 1,975,000 |
| 4 | Sergio Aido Espina | 1,792,000 |
| 5 | Andreas Berggren | 1,619,000 |
| 6 | Mariusz Klosinski | 1,524,000 |
| T7 | Sotirios Koutoupas | 1,450,000 |
| T7 | Aleh Plauski | 1,450,000 |
| 9 | Diego Gomez Gonzalez | 1,433,000 |
| 10 | Mads Amot | 1,250,000 |
Ako želite das pogledate sve čipovne zalihe, posetite Live Reporting stranicu klikom OVDE.
Dan je započeo sa mnoštvom eliminacija, a desila se na startu masivna ruka u kojoj su bili Jorma Nuutinen, Luca Giovannone i Jason Helder. Giovannone open-shovuje sa svojih 65,000 sa UTG na blindovima 5,000/10,000/1,000, Helder prati sa hijack pozicije, a Nuutinen radi 3-bet do 122,000 sa cutoff. Helder gura all in za ukupno 564,000, a Nuutinen to prati i dovodi sebe u rizik.
Giovannone:

Helder:

Nuutinen:
Nuutinen je bio dobar posle boarda
, a eliminisao je Giovannone i skoro izbacio Heldera.
Pred kraj prvog levela Dana 4, Team PokerStars Pro Johnny Lodden bio je počašćen sa neobično velikim poklonom. Lodden otvara do 20,000 sa cutoff mesta, Robert Kokoska 3-bet do 48,000 sa buttona, i Lodden prati. Flop
, Lodden checkira, a Kokoska nastavlja betom od 40,000. Lodden min-raiseuje do 80,000, Kokoska gura all inza oko 400,000, a Lodden prati.
Kokoska:

Lodden:
Lodden je ostao bolji posle
i
koji su kompletirali board, čime svoj stack izgradjuje do 1.275 miliona čipova.
Level 21 pripao je Mariusz Klosinskom. Poljski džentlmen osvojio je 3 značajne ruke i svoj stack sa 300,000 pretvorio u 1.3 milion. Prvo je osakatio Marian Kulifaja sa ručnim kraljevima, dok je on držao
. posle par ruku na blindovima 6,000/12,000/2,000, Rami Hajiyev open-shovuje 175,000 sa cutoff pozicije. Dominik Paus re-shovuje do 441,000 sa buttona, a Klosinski instant re-shovuje takodje sa small blinda. I karte se okreću:
Klosinski:

Paus:

Hajiyev:
Board
, šalje i Hajiyeva i Pausa prema vratima, izvan sale, eliminisani su.
Fabrice Soulier je rizikovao i radio 5-bet all in sa
. Mark Herm je to ispratio sa
, a Soulier je na flopu imao nadu
. Turn (
) i the river (
) daju dva srca, i kako to biva, Hermu ni krivom ni dužnom daju nuts. Soulier je bio eliminisam dok je Herm svoj stack tad izgradio na 1.4 miliona čipova.
U sledećem levelu, imali smo najveći pot do sada na turniru. Sa blindovima 8,000/16,000/2,000, Warrington otvara do 35,000 sa buttona. Lodden radi 3-bet do 68,000 sa small blinda, a Warrington prati. Diler okreće
, a Lodden ispaljuje 65,000. Warrington raisuje do 130,000, Lodden re-raisuje do 215,000, a Warrington opet uzvraća do 360,000. Lodden shovuje za ukupno 1.18 miliona čipova, što Warrington snap calluje.
Lodden:

Warrington:
Turn i river
,
daju Warringtonu pot i poziciju čip lidera koju do kraja dana nije ispuštao.
na 24.mestu turnir je napustio Italijan Enrico Tau. Tau je dan započeo sa svega 6 big blindova, a u poslednjoj ruci bio je all in sa
. Boyaciyan ga je ispratio držeći
a board je doneo
.
Manuel Bevand, imao je impresivan hero call na Danu 3 i flopnut nuts za double up na kraju Levela 22, je bio pretposlednji eliminisani igrač na Dan 4. Bevand 6-bet shovuje za 700,000 preko 5-beta od strane Boyaciyana, a Boyaciyan snap calluje sa
. Bevand je bio iza sa
, i biva eliminisan nakon što je board doneo
.
Poslednji eliminisani igrač na Danu 4 bio je Australijanac Nicholas Galtos. Galtos open-shovuje svojih poslednjih 198,000 sa UTG na blindovima 10,000/20,000/3,000, a Sergey Kuzminskiy ga je ispratio sa cutoff pozicije.
Galtos:

Kuzminskiy:
Board
, daje eliminaciju Galtosa na 22. mestu.
Poslednjih 21 igrač Dan 5 počeće od 12:00 sati u Petak. Roberto Romanello, koji je dan završio sa 341,000 čipova, još ima šanse da osvoji svoju drugu EPT titulu u Pragu. Boyaciyan je bio na finalnom stolu prošle godinei završio kao drugi iza šampiona Martin Fingera, i sasvim sigurno je da i on cilja u najmanju ruku isti plasman kao i prošle godine, što nam obećava sigurno dobru akciju na Danu 5.
Vi se pobrinite da Ispartite PokerNews Live Reporting Tim za akciju na dlanu sa lica mesta kako sa ovog tako i sa drugih EPT Main Eventova.
Hoćete i Vi da zaigrate na EPT? Možete se kvalifikovati još danas, posetite PokerStars stranicu, napravite download sobe i započnite akciju!