Sergio Aido je Osvojio 2013 UKIPT London Main Event za £144,555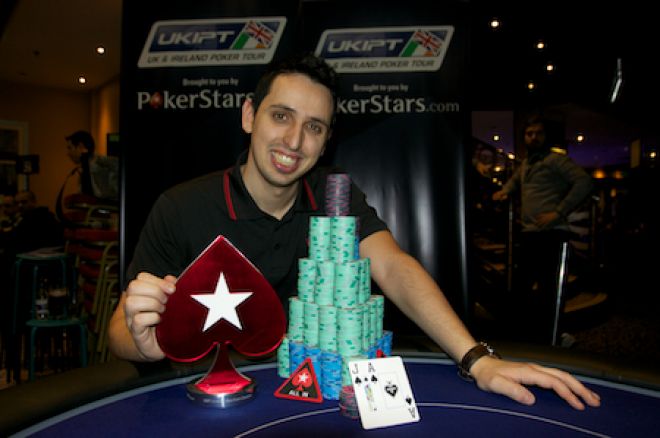 Španac Sergio Aido je pobednik UKIPT Season 3 London Main Eventa koji je završen u Nedelju, on je kao nagradu za prvo mesto osvojio £144,555 i tako naplatio svoju agresivnu igru i taktiku na finalnom stolu.
On je osvojio i World Poker Tour National Series u Barseloni prošlog Oktobra, tako da Aido ima iskustva a i znanja kako da dodje do titule. Aido je finalni sto počeo kao 6.- ti po čipovnoj zalihi, ali svojim umećem stigao je do svoje prve UKIPT titule.
Eliminacije su išle prilično brzo a kada je ostalo 3 igrača koji su bili pretedenti za titulu, Simcoe raiseuje button sa
a Aido prati sa big blinda držeći
gledaju flop
. Aido checkira a Simcoe sve svoje čipove gura na sredinu, naravno Aido to prati. Turn
i
river ne donose spas za Simcoe koji završava na 3. mestu.
Aido je imao prednost od 2:1 nad Wardom pred heads-up duel. Krucijalni momenat bio je kada je Ward radio 5-bet preflop sa
što je navodilo Španca na all-in. Aido na kraju prati sa
i osvaja masivan pot sa ace-high. Ward je bio all-in odmah u sledećoj ruci, Aido je radio 5-bet sa
a Ward je ispratio sa
. Dolazi
na flopu za Aidoa apotvrdio je pobedu s još jednim
koji je pao na riveru.
Dva igrača su napravili dogovor pre početka heads-up akcije, Aido je do kraja osvojio £144,555, dok je Wardu pripalo £116,845 za drugo mesto. Aido je pobedom dobio i priliku da učestvuje na UKIPT Champions of Champions turniru, koji startuje u Ponedeljak, a na ovom turniru pobednik osvaja paket za sledeću sezonu UKIPT Main Eventova.
UKIPT London Main Event Rezultati Finalnog Stola
| Mesto | Igrač | Nagrada |
| --- | --- | --- |
| 1 | Sergio Aido | £144,555* |
| 2 | Thomas Ward | £116,845* |
| 3 | Patrik Simcoe | £63,560 |
| 4 | Philippe Souki | £44,870 |
| 5 | Wim Neys | £33,680 |
| 6 | Guy Goossens | £22,490 |
| 7 | Cesar Garcia | £15,050 |
| 8 | Chris Dowling | £12,691 |
*posle heads-up dogovora
Fotografija i podaci preuzeti su sa PokerStars Bloga
Ostanite u toku sa dešavanjima u poker svetu - pratite nas na Twitter-u i lajkujte na Facebook-u.