Chino Rheem je Osvojio 2013 World Poker Tour Championship za $1,150,297; Erick Lindgren 2nd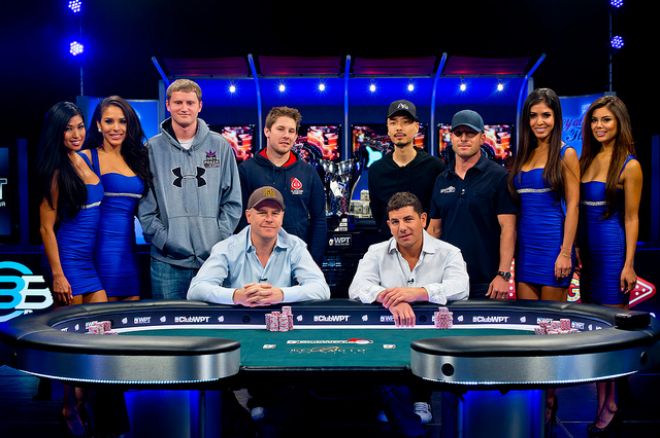 2013 $25,000 World Poker Tour Championship završeno je u Subotu u ranim jutarnjim časovima po lokalnom vremenu u Nevadi. David "Chino" Rheem je bio bolji od Erick Lindgrena u heads-up duelu za titulu i $1,150,297 za prvo mesto. Rheem je osvojio svoju drugu WPT titulu — a obe je uzeo u Bellagiu u Las Vegasu — i tako se pridružio Marvin Rettenmaier, Scott Seiver, David Williams, Yevgeniy Timoshenko i Carlos Mortensen pobednicima WPT Championshipa.
WPT Championship Rezultati Finalnog Stola
| Place | Player | Prize |
| --- | --- | --- |
| 1 | Chino Rheem | $1,150,297 |
| 2 | Erick Lindgren | $650,275 |
| 3 | Jonathan Roy | $421,800 |
| 4 | Matt Hyman | $289,988 |
| 5 | Brandon Steven | $223,203 |
| 6 | David Peters | $173,993 |
Rheem je započeo finalni sto sa velikom čipovnom prednošću nad rivalima, skoro duplo je imao od prvog pratioca Erick Lindgrena, ali Kanadski pro Jonathan Roy je imao najbolje otvaranje dana i igrač koji je bio kandidat za Season XI WPT Player of the Year eliminisao je David Petersa na šestom mestu odmah pošto je igra krenula. Roy je eliminisao zatim i Brandon Stevena na 5. mestu.
Roy je imao svoj show pa je eliminisao i Matt Hymana na 4. mestu. Hyman, je otvorio do 175,000 sa under the gun, Rheem 3-bet do 450,000 sa buttona, a Roy cold-4-bet do 1,025,000 sa small blinda. Hyman ide all in za 1,910,000, zatim Rheem tank-folda, a Roy calluje sa raketama. Hyman je našao loše vreme da dobije kraljeve, i na
boardu je eliminisan na 4. mestu za $289,988.
Roy gubi zatim masivan pot od Rheema. Na 60,000/120,000/ 20,000, Rheem raiseuje do 250,000 sa buttona, Roy re-raise do 670,000 sa small blinda, a Rheem prati. TFlop je
, i Rheem prati bet od 620,000 od Roya. Turn donosi
, i Roy opet ispaljuje, sada 1,310,000. Rheem je razmislio par minuta i odlučio se za call, i dobili smo pot od 5.3 miliona.
river, Roy ide all in za 2.7 miliona a Rheem snap-call sa
za nut flush. Roy je imao set osmica i do rivera bio bolji, ali nije ga pogledala sreća i on je uzeo $421,800 za treće mesto. Royovom eliminacijom Season XI Player of the Year titula pripala je Matt Salsbergu. Salsberg je slavio i zahvalio je Rheemu putem Twittera posle ove ruke.
Rheem je heads-up započeo sa prednošću od 3:1 nad Lindgrenom, ali trebalo je skoro dva sata i više od 100 ruku da se proglasi dvostruki osvajač WPT-a. Lindgren je u 259th ruci finalnog stola odlučio da isprati Rheemov all in preflop sa svojih 10 big blinda sa
. Rheem je imao
, okrenuo se prema prijateljima i rekao, "Imam ga."
Board donosi
, i daje Rheemu pobedonosnu ruku sa king-high kao i 2013 WPT Championship titulu. Sa dobitkom nagrade od $1.1 milliona Rheemu je ovo četvrta sedmocifrena nagrada u karijeri. Najveći dobitak imao je na2008 WSOP Main Eventu, za 7. mesto i $1,772,650. Zatim je sledila pobeda na 2008 WPT Doyle Brunson Five Diamond World Poker Classic u Bellagio za $1,538,730. Rheem je osvojio i Epic Poker Tour u 2011 za ravno $1 million.
U intervjuu posle pobede koji je radio WPT Matt Savage, Rheem je svoj heads-up meč sa Lindgrenom nazvao "beznašajnim" pošto su obojica imali konfuzni životni period iza sebe. Rheem i Lindgren bili su pod kritikom poker zajednice u proteklih par godina, alli Rheem je rekao da se fokusira na svoje odluke i da gleda da vrati svima za trenutke podrške kada mu je bilo najteže.
Evo šta je Rheem rekao:
Fotofrafija i podaci preuzeti su od WPT Live Updates team.
Ostanite u toku sa dešavanjima u poker svetu - pratite nas na Twitter-u i lajkujte na Facebook-u.