ISPT Buy-In Opcije i 'Last-Chance' Ulaz
PokerNews Staff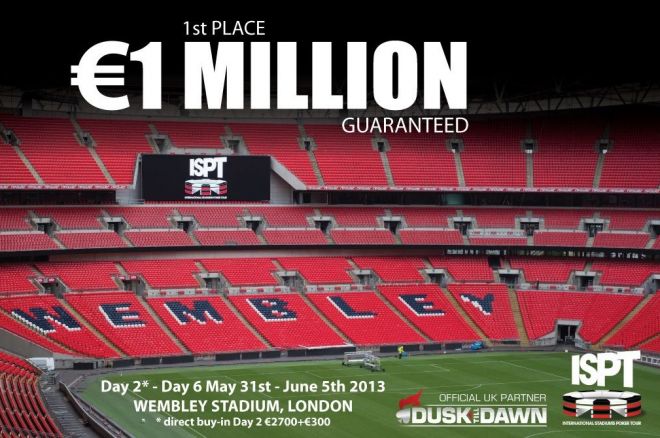 Visoko kotirani International Stadiums Poker Tour (ISPT) počinje za svega par dana, a PokerNews želi da sa vama podeli nekoliko načina za buy in na event na Wembley Stadionu.
Prvi, igrači mogu uzeti buy in direktno na Wembley stadionu i za to dobijaju average stack od 50,000 žetona. €3,000 (£2,600) buy-in može se izvršiti na sledeće načine:
Direktan buy-in na Wembley: Cash ili Debit Card
Direktan buy-in u Dusk Till Dawn Club: Cash ili Debit Card
Direktan buy-in u Palm Beach & Cromwell Mint Casinos: Cash ili Debit Card
Wire Transfer: Molimo pošaljite email na support@dusktilldawnpoker.com za bank detalje
Online Shop: Debit Card
Online Poker Software: UKash, Debit Card ili DTD Points
Biće i par 'last-chance' opcija da dodjete do svog mesta na eventu. Od Nedelje do Petka 4 p.m., 5 p.m. and 6 p.m., DuskTillDawnPoker.com i Genting Casinos in the U.K. biće 'last-chance' kvalifikatori.
Prvi, za €3 sa total od 100 €33 tokena guaranteed za iste večeri 7 p.m. mega satelit. Potom imate sledeće opcije:
Od Nedelje do Petka 7 p.m.: €30 Freezeout sa 50 €300 Day 1 token guaranteed (Token može biti iskorišnjen za bilo koji online ISPT Day 1)
Od Nedelje do Petka : €300 ISPT Day 1, 10% ide na Day 2 na Wembley
Na zahtev, Palm Beach Casino £300 sit-n-go sa jednim €3,000 Day 2 seat i £400 za drugo mesto
Četvrtak 30th at 8 p.m.: Genting Westcliff £50 rebuy sa tri €3,000 Day 2 seats guaranteed
Petak 31st at 5 p.m.: Wembley Stadium £200 one rebuy, one add-on sa 20 €3,000 Day 2 seats guaranteed
Za više informacija, posetite ISPT website ili Dusk Till Dawn website.
Ostanite u toku sa dešavanjima u poker svetu - pratite nas na Twitter-u i lajkujte na Facebook-u.