Kobe Bryant Otvorio je Event #23: $2,500 Seven-Card Stud na WSOP 2013 u Čast Jerry Buss-a, Pogledajte...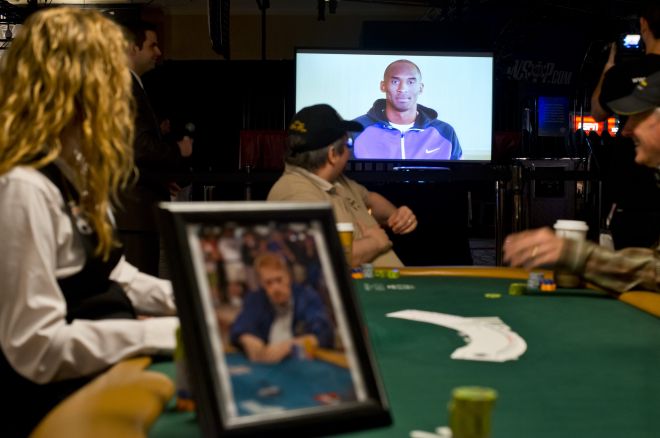 Mnogi NBA igrači oprobali su svoj kartaroški talenat na World Series of Poker. Paul Pierce, Shawn Marion, Jordan Farmar i Earl Barron samo su neki od njih, a vremešni Dr Jerry Buss, vlasnik Los Angeles Lakers, koji je nedavno preminuo, bio je regular u najboljem poker eventu na planeti, a jedan od omiljenih eventova bio mu je Seven-Card Stud na kome je 1991. godine zamalo došao do titule. Nažalost fanova, Kobe Bryant neće igrati WSOP Main Event kako je organizator imao želju, ali je u čast preminulog vlasnika Lakersa, otvorio pomenuti event putem video linka.
Prema Los Angeles Times, Bryant je bio pozvan na WSOP da zaigra u 2013 Main Eventu u čast Bussa, ali je odbio tu ponudu. Bryant je rekao kako je njegova povreda glavni razlog zašto ne može da se odazove pozivu i zaigra u eventu, pošto nije u stanju da provede više sati sedeći u istom položaju za poker stolom. 12. Aprila, 2013, Bryant je povredio Achillovu tetivu, zbog čega je okončao tekuću sezonu.
"@wsop Zahvaljujemo se na pozivu, puno ovo znači. Dok nije otišao. Biće prisutan duhom, i to nije bluff. Dr. Buss, najbolji gazda ikada." rekao je petostruki NBA šampion.
Pogledajte obraćanje Kobe Bryant za otvaranje Event #23: $2,500 Seven-Card Stud:
Vi pratite sve eventove koji vas zanimaju preko LIVE Reporta PokerNews Tima koji je oficijalna medija WSOP.
Ostanite u toku sa dešavanjima u poker svetu - pratite nas na Twitter-u i lajkujte na Facebook-u.