Online Izveštaj: Isaac Haxton Počistio $400/800 NLHE Stolove na Full Tilt Pokeru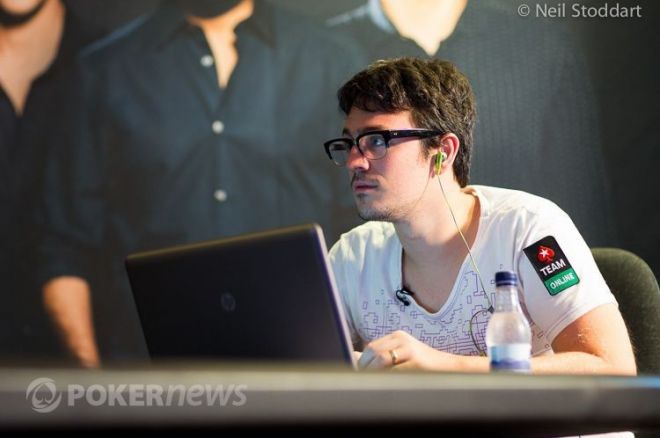 Pot-limit Omaha i no-limit hold'em stolovi na Full Tilt Pokeru privukli su neke dosta high-stakes akcije u Četvrtak, što je rezultiralo nekim velikim dobitcima odnosno gubitcima.
Hac "trex313" Dang je završio sa profitom od $297,179, a većina od toga $350,000 došla je posel pobedničke sesije protiv "RagingHeart" na $300/$600 PLO. RagingHeart je dosta izgubio i od "no_Ola" koji je dan završio kao drugi profiter sa $268,700. RagingHeart je imao jedno od najvećih gubitničkih sesija, i bio je u minusu $224,405.
RagingHeart je do kraja bio na putu i da bude u profitu posle pobedničke sesija na $500/$1,000 CAP PLO protiv Viktor "Isildur1" Blom. Blom je imao na početku prednost za $200,000, ali je RagingHeart uspeo da preokrene u svoju korist sa $600,000 u plusu, što je Bloma ostavilo za sat vremena u minusu od $400,000.
Pre duela sa Blomom, RagingHeart je bio u minusu od $350,000 posle poraza od Danga na $300/$600 PLO. Kada se malo povratio protiv Bloma, nastavio je i do kraja imao profit od $700,000 na $500/$1,000 stolovima. U kasnijoj sesiji, on je izgubio puno za $300/$600 PLO stolovima protiv Danga, no_Ola, i Ben "Bttech86" Tollerene. Tako je oko 4 sata ujutro svoj profit od $700,000 pretvorio u $700,000 minusa i tako imao swing od $1.4 miliona.
Posle pauze nakon duela sa RagingHeartom, Blom se vratio i u noćnoj sesiji nadoknadio $400,000 gubitak od RagingHeart i imao još profid od $200,000 na $500/$1,000 CAP PLO ring igri.
Dang je imao takodje minus ali je onda sa $800,000 koje je uzeo u sesiji sa RagingHeartom na $300/$600 i $200/$400 limits i takodje za $500/$1,000. on je počeo noćnu sesiju sa swingom od $1 million ali u većim igrama izgubio je C$400,000 za $500/$1,000 CAP PLO stolovima, i dan završio "samo" sa $297,000 profita.
No_Ola je dan počeo sa $400,000 downswingom kad je izgubio od RagingHearta na $300/$600 PLO heads-up meču. Zatim je prešao na $500/$1,000 ring games gde je imao šestocifreni profit posle duela opet sa RagingHeart na $300/$600 PLO. Njegov upswing je dostugao $1.2 million pre nego li nije izgubio deo tog profita u poslednjoj sesiji. Sve u svemu no_Ola je u plusu oko $700,000 za nedelju dana.
Isaac "luvtheWNBA" Haxton je uzeo prednost u retkoj gužvi za $400/$800 no-limit hold'em stolovima. On je svoje oduševljenje podelio i na Twitter:
Can't remember the last time there was so much 200/400+ NL action online. Have barely slept last few days.(ne seća se kada je bilo toliko puno online akcije na ovim limitima, i kaže da je jako malo spavao proteklih dana.)

— Isaac Haxton (@ikepoker)
Haxton je igrao četiri stola na $400/$800 i sesiju završio sa $382,400 u plusu, imao je profit od preko $300,000 posle pet sati sesije. U jednom od većih potova dana, akcija je bila na "Rhje" koji raiseuje $1,600 sa buttona. Haxton reraise do $7,200sa small blinda a "Denoking" sa big blinda je fold. Rhje je ispratio a flop je doneo
. Haxton ispaljuje $12,000 a Rhje prati. Turn je
a Haxton ispaljuje $33,200 i opet, Rhje prati.
upotpunjava board i Haxton shoveuje all in za $174,279. Rhje je ispratio all-in za $84,116 i dobili smo pot od $273,832. Haxton je pobedio sa
posle što je na riveru uhvatio flush sa kecom.
Za više o high-stakes akciji, potražite na HighStakesDB.com.
Ostanite u toku sa dešavanjima u poker svetu - pratite nas na Twitter-u i lajkujte na Facebook-u.