Zadnji je Dan da se Kvalifikujete na Finalni bet-at-home.com Bounty Brawl Freeroll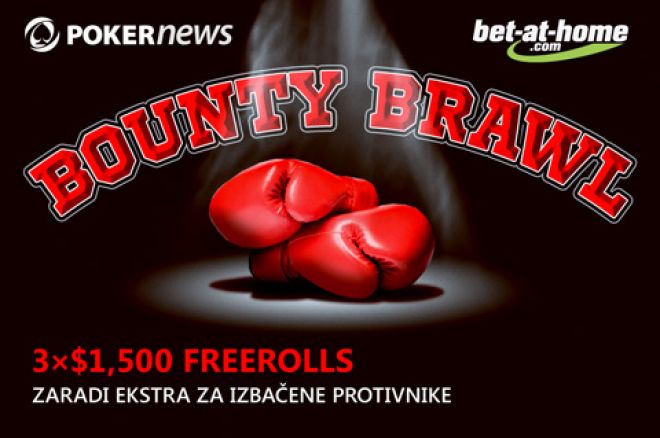 Sutra se igra poslednji $1,500 freeroll iz PokerNews bet-at-home.com Bounty Brawl Freeroll promocije a počinje u 14:00 GMT. A do 23:59 GMT večeras imate vremena još uvek da se kvalifikujete ako to niste učunili. Prionite na grindanje!
Poslednji $1,500 freeroll igra se 26. Juna od 14:00 GMT, a kvalifikacioni period otvoren je do 25. Juna 23:59 GMT.. To znači da do ponoći Utorka 25.-tog imate vremena da sekvalifikujete.
Da bi učestvovali u PokerNews Bet-at-home Bounty Brawl freeroll turnirima treba da uradite sledeće:
Napravite Download Bet-at-home pokera preko PokerNewsa.
Kreirajte vaš besplatni Bet-at-home račun.
Generišite 50 Frequent Player Poena (FPP) tokom kvalifikacionog perioda.
Uzmite svoje mesto na freeroll turniru.
Napadnite protivnike u cilju da ih što više eliminišete.
Napravite profit!
FPP poeni dobijaju se u ratama 1FPP za 0.25 u rake-u.
Freeroll turnir ima početni stack igrača od 3,000 čipova i trajanje blind nivoa od 15 minuta, a kreće se od 10/20, tako da ima dosta vremena da napravite pravu strategiju.
Pored PokerNews-ekskluzivnog Bounty Brawl freeroll turnira, PokerNews igrači imaju 100% do €1,000 kao bonus kada naprave svoj prvi depozit. Budite sigurni da ste upisali Bonus Kod "P1000" i bet-at-home će kroz bonus udvostručiti tvoj depozit do maksimalnih €1,000. Potom imate 60 dana da očistite taj bonus, pogledajte bet-at-home sajt za potpune uslove i pravila.
Turnirski raspored i kvalifikacioni detalji
| Turnir | Datum | Vreme(GMT) | Nagradni Fond | Kvalifikacioni Period |
| --- | --- | --- | --- | --- |
| PokerNews Bounty Brawl #3 | 29. Jun | 19:00 | $1,500 | 1. Jun 00:01 GMT – 26. Jun 23:59 |
Pogledajte na bet-at-home.com sajtu za potpune uslove i pravila u vezi sa bonusom.
Ako naidjete na neki problem sa ovom ili bilo kojom drugom našom promocijom, molimo vas da nas kontaktirate putem našeg Sistema Korisničke Podrške.
Ostanite u toku sa dešavanjima u poker svetu - pratite nas na Twitter-u i lajkujte na Facebook-u.