2013 WSOP Main Event Dan 7: JC Tran Predvodi Novembarsku Devetorku; Carlos Mortensen Bubble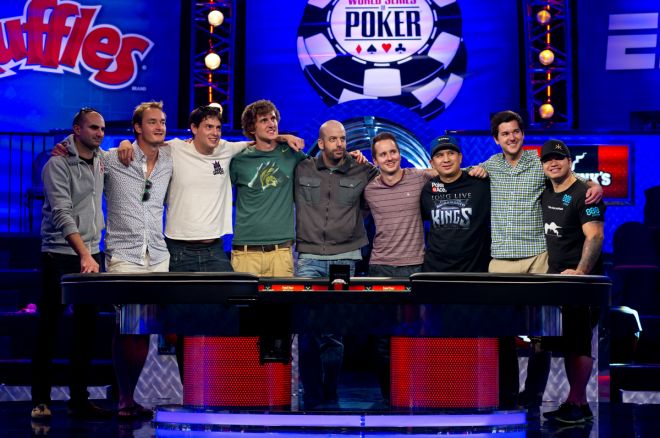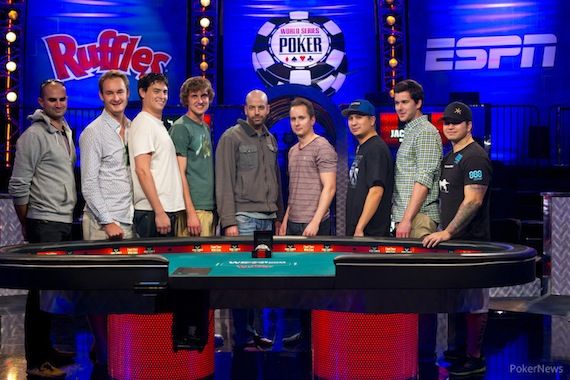 2013 World Series of Poker November Nine postavka je poznata. Punih deset dana igralo je od starta 6,352 igrača da bi konačno došli do finalnog stola, i sad je ostalo devet igrača koji će se boriti za prvu nagradu od $8,359,531 i prestižnu zlatnu narukvicu.
2013 WSOP November Nine*
| Seat | Player | Country | Chips |
| --- | --- | --- | --- |
| 1 | Sylvain Loosli | France | 19,600,000 |
| 2 | Michiel Brummelhuis | Netherlands | 11,275,000 |
| 3 | Mark Newhouse | USA | 7,350,000 |
| 4 | Ryan Riess | USA | 25,875,000 |
| 5 | Amir Lehavot | Israel | 29,700,000 |
| 6 | Marc McLaughlin | Canada | 26,525,000 |
| 7 | JC Tran | USA | 38,000,000 |
| 8 | David Benefield | USA | 6,375,000 |
| 9 | Jay Farber | USA | 25,975,000 |
*Za više informacija o ovogodišnjim November Nine kliknite ovde.
Vodeći je dvostruki osvajač WSOP narukvice i pobednik World Poker Tour World Poker Challenge JC Tran, koji je November Nine chip leader sa 38 milliona. To je sada fantastičan ishod sa obzirom na činjenicu da je Tran bio na samo 12,500 na 1,000/2,000 levelu na Danu 3. On je uspeo da se izvuče iz te situacije i dodje čak do Dana 7, a chip lead je preuzeo na Level 34 u ruci protiv Jay Farber, koji je isto na finalnom stolu.
"Bilo je stvarno, baš jako teško," Tran je rekao u intervjuu zaPokerNews. "Moja žena je bila apsolutno fantastična. Ona je trudna tako da je jako iscrpljena posle svega. Plus još imamo dvogodišnjeg klinca, tako da stvari mogu biti baš frustrirajuće, sa njene strane. Ali i pored toga ustajala je i spremala mi doručak, kafu, vozila me do sale, i susretala se sa mnom na pauzi za večeru. Sada joj nije baš najbolje ali se i dalje trudi da obavlja sve te stvari za mene. Rekao sam joj da se sada opusti. Kada se ovo završi svi ćemo uživati zajedno. Ja ću igrati samo $10 million guarantee (na Floridi) ali neću ići ni u Aziju ni u Evropu, to će biti to."
Tran će se za finalnim stolom naći sa igračima: 2011 WSOP Event #7 $10,000 Pot-Limit Hold'em Championship pobednikom Amir Lehavot; WSOP Circuit regularom Ryan Reiss; i online legendom i bivšim Ship It Holla Ballas David "Raptor" Benefield, kao i ostalim igračima.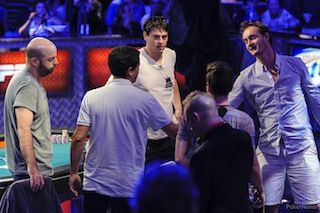 Mortensen raiseuje do 800,000 sa cutoff a Tran prati sa big blinda. Flop je
i Tran check-calluje 800,000 Mortensena i gledaju
turn. Tran shoveuje za 3.575 milliona i posle nekoliko sekundi, Mortensen prati za rizik da bude bubble boy.
Tran:

Mortensen:
Tran je na turnu spojio svoj straight, dok Mortensenu nije bilo spasa, diler je okrenuo
i Mortensen je eliminisan na 10. mestu za $573,204.
Sa ovime je bio zaključen 2013 WSOP Novembarski finalni sto.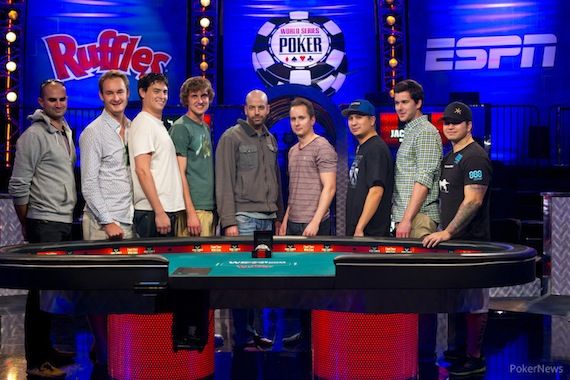 Šta vi mislite o Novembarskoj Devetorki? Koji je vaš favorit za pobedu? Pišite na Twitteru kao i u komentima ispod.
Ostanite u toku sa dešavanjima u poker svetu - pratite nas na Twitter-u i lajkujte na Facebook-u.