19-godišnji Adrian Mateos je Osvojio World Series of Poker Europe Main Event za €1 Milion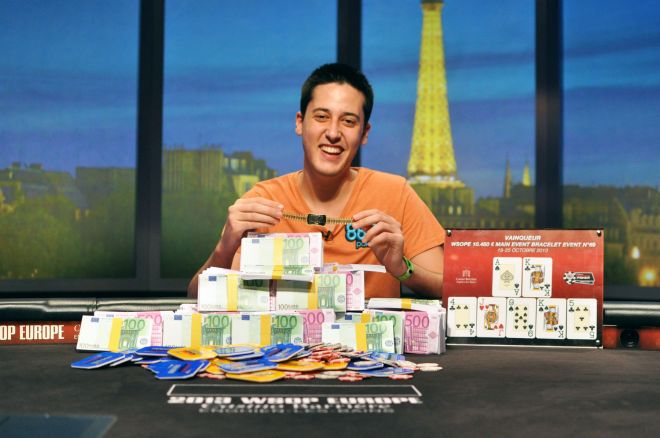 2013 World Series of Poker Europe u Petak je završen finalnim stolom Main Eventa, a poslednju narukvicu za ovu sezonu i €1 milion je osvojio Španac Adrian Mateos. Mateos, 19, je pobedio lokalnog favorita Fabrice Souliera posle maratonskog heads-up duela koji je trajao skoro pet sati.
"Sa više novca sada mogu igrati i više eventova," rekao je Mateos posle pobede. "Vidjaćete me sada više... Sledeće godine ne mogu još igrati u Vegasu ali ću biti i tamo."
2013 WSOP Europe Main Event Rezultati Finalnog Stola
Benny Spindler bivši PokerStars.com European Poker Tour London pobednik i World Series Asia-Pacific Main Event finalista imao je stack od 87 big blinda. Nažalost po Nemca nije mu prošao bluff protiv Jerome Huge za masivan pot.
Prema WSOP.com, u 32 ruci on je zvao raise Hugea, zatim ispratio bet od 45,000 na flopu
. Huge zatim liduje za 75,000 posle
na turnu, Spindler prati,
kompletira board. Huge ispaljuje i treći put za 100,000, Spindler odigrava zatim all in za oko 523,000, a Huge tankuje dosta i ipak radi-call. Spindler je bio u totalnom blefu sa
dok je Huge bio dobar sa
za dva para.
Spindler je par ruku potom ispao na 6. mestu. Bio je all in za tri big blinda sa
, a Mateos je ispratio sa
. Flop (
) turn (
) i
na riveru.
Amerikanac Ravi Raghavan je sledeći napustio turnir, kada je flopnuo royal flush draw protiv Mateosovih dva para.
Kao i Spindler, Huge je imao i svoj bluff tokom 4-handed igre koji nije prošao. Huge check-calluje bet od 75,000 na flopu
, zatim igra 200,000 posle
na turnu. Soulier radi call, a
kompletira board. Huge igra all in za 780,000, Soulier tank-calluje, a Huge okreće
za najmanji par. Soulier je okrenuo
i time je Huge eliminisan na 4. mestu za €251,000.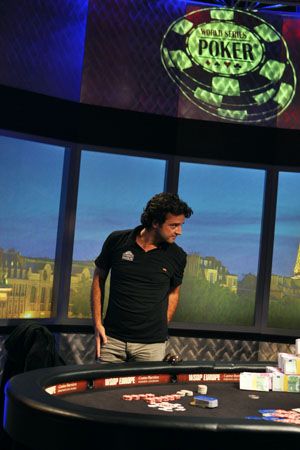 Dominik Nitsche je bio sledeći kome nije prošao bluff tokom 3-handed igre. Sa blindovima 20,000/40,000/4,000, Mateos openuje do 85,000 sa buttona a Nitsche radi 3-bet do 225,000 sa big blinda. Mateos prati i gledaju flop
, a Nitsche liduje za 180,000. Mateos call. Turn je
, Nemac ispaljuje 290,000, a Španac opet prati. River je
, Nitsche ispaljuje 400,000, a Mateos tankuje nekoliko minuta i odlučuje se da isprati. Nitsche je muckovao svoje karte, a Mateos je okrenuo
i pokupio je pot.
Šest ruku potom, Nitsche je eliminisan na 3. mestu. On je radio 3-bet all in za 23 big blinda sa
, a Mateos, originalni raiser, je ispratio sa
. Flop, turn, i river nisu ništa promenili i Nemac je eliminisan.
Mateos je heads-up duel počeo sa prednošću 4:1, i odmah je počeo da vrši protisak na Souliera. Francuz je medjutim nosio potove bez showdowna. U jednom od bitnijih potova, Soulier je flopnuo triling četvorki i naplatio lepo tu ruku.
Soulier je prešao u vodjstvo ali onda je došao red da uzvrati Mateos. Španac tada check-calluje bet Francuza sa top parom kečeva u 201st ruci finalnog stola i opet prelazi u vodjstvo.
Trebalo je da prodje još oko 100 ruku da bi sve bilo gotovo. U finalnoj ruci, Soulier ide all in sa
na flopu
, a Mateos tank-calluje sa
. Dolazi
na turnu, i donosi prednost za Mateosa, a sve je bilo gotovo kada je
došla na riveru.
Čestitke za Mateosa i osvojenih €1 milion i čekamo da ga gledamo u Vegasu 2015.
Ostanite u toku sa dešavanjima u poker svetu - pratite nas na Twitter-u i lajkujte na Facebook-u.