2013 WSOP Europe: Jackie Glazier je Osvojila Ladies Event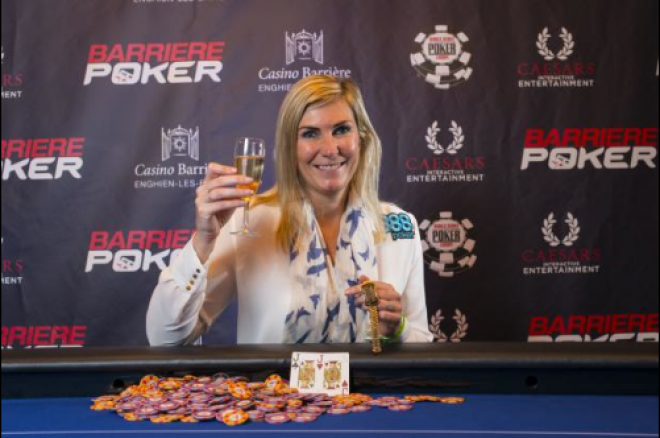 U Petak je počeo 2013 World Series of Poker Europe. Prvi event bio je €1,100 Ladies Event, a privukao je 65 učesnica. Jackie Glazier bila je ta koja je imala najviše žetona pred početk finalnog stola, a uspela je u Subotu uveče da dodje do titule i €21,850 kao i svoje prve WSOP zlatne narukvice.
Event #1: €1,100 Ladies Event
2013 WSOP Europe €1,100 Ladies Event Rezultati
| Place | Player | Prize |
| --- | --- | --- |
| 1 | Jackie Glazier | €21,850 |
| 2 | Maryline Valente | €13,500 |
| 3 | Laurie Bismuth | €8,950 |
| 4 | Celine Bastian | €6,330 |
| 5 | Nathalie Odet | €4,770 |
| 6 | Sherrie Lindsey-Jones | €3,800 |
| 7 | Gaelle Baumann | €3,200 |
Samo osam dama selo je za finalni sto na Dan 2, a jedna od njih morala je ipak da napusti salu praznih džepova, i tu je došlo do male kontraverze koja se desila na Dan 1.
Tokom Dana 1, ideja je bila da se od svake nagrade odvoji po €200 i da se od toga napravi fond za 8. mesto, i sve dame su pristale na to — sem Glazier. Ona je imala ogroman čip lid za finalni Dan 2, i po njenom mišljenju takva opcija bi pokvarila njenu agrasivnu igru nad short stackovima i ne bi mogla da vrši toliki pritisak u bubble fazi tokom 8-handed igre, i do kraja se pokazalo da je bila skroz u pravu.
Trebalo je svega 10 ruku da se dodje do prve eliminacije, prema WSOP.com live updates, Anais Lerouge je bila bubble eventa. Lerouge je dan započela kao peta po čipovima, ali ju je all-in konfortacija protiv Marline Valente poslao kući.
Lerouge radi raise do 1,225 preflop na blindovima 300/600/75, a Valente prati sa big blinda i gledaju flop
. Valente check, Lerouge ispaljuje 1,350, a Valente radi check-raise do 4,300. Lerouge re-raisuje all in, a Valente pravi brz call sa
za open-ended straight flush draw. Lerouge je imala
za donji par i nut flush draw.
turn daje prednost za Valente a
river je označava kao pobednicu u ovoj ruci. Lerouge je tako eliminisana i ostala je praznih džepova, dok su ostalih sedam dama bile u nagradama, a najmanja je bila €3,200.
Dve ruke potom, 2012 WSOP Main Event 10-plasirana Gaelle Baumann eliminisana je na 7. mestu. Baumann je bila all in za 3,800 sa rane pozicije a ispratila ju je Laurie Bismuth sa small blinda. Baumann je imala
a Bismuth
. Fop, turn, i river bili su
i doneli su pobedonosni par za Bismuth. Baumann je na sedmo mesto primila nagradu od €3,200.
Sledeća je eliminisana Sherrie Lindsey-Jones na 6. mestu za €3,800, a pratila ju je Nathalie Odet na 5. mestu (€8,950), Celine Bastian bila je 4.-ta (€6,330), a Bismuth je eliminisana na 3. mestu (€4,770).
Heads-up duel bio je izmedju Glazier i Valente. Glazier je imala 113,500 naspram 81,500 protivnice na blindovima 400/800/100.
Tokom prvih 20 ruku Valente je preuzela vodjsto, ali Glazier nije lako to prepuštala slučaju i uzvratila je, sve do odlučujuće Ruke #109 — finalne ruke turnira.
Na blindovima 500/1,000/100, Glazier otvara do 2,500 button, a Valente objavljuje svoj all in za oko 90,000 sa big blinda. Glazier snap calluje i okreće
, Valente je držala
. Board je doneo
, i tu je bio kraj. Valente je za runner up poziciju primila €13,500, dok je Glazier za prvo mesto uzela €21,850 kao i svoju prvu WSOP zlatnu narukvicu.
Fotografija je vlasništvo WSOP.com.
Ostanite u toku sa dešavanjima u poker svetu - pratite nas na Twitter-u i lajkujte na Facebook-u.