Martin Finger je Pobednik EPT10 London £50,000 Super High Rollera za £821,000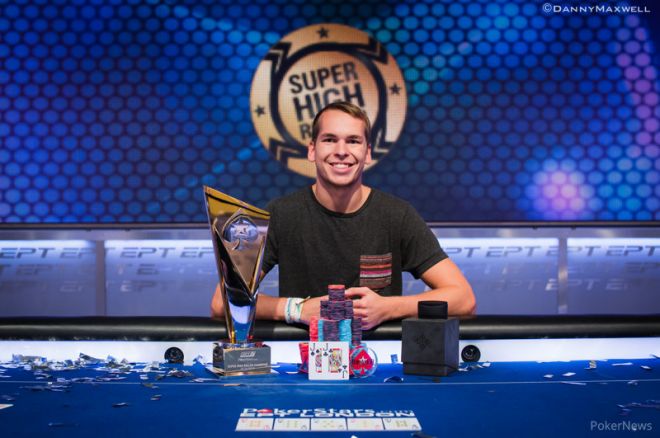 Posle tri dana igre Season 10 European Poker Tour London £50,000 Super High Roller završen je u Nedelju sa osam igrača koji su činili finalni sto od početna 57 ulaza. Posle pet nivoa igre Nemac Martin Finger je izašao kao pobednik za £821,000 prvu nagradu, Shamballa narukvicu (oficijalna sponzorska narukvica EPT Season 10 super high roller eventa), i svoju drugu super high roller titulu u sezoni.
£50,000 Super High Roller Rezultati Finalnog Stola
| Place | Name | Country | Prize |
| --- | --- | --- | --- |
| 1st | Martin Finger | Germany | £821,000 |
| 2nd | Tobias Reinkemeier | Germany | £593,900 |
| 3rd | Christoph Vogelsang | Germany | £383,200 |
| 4th | Bill Perkins | USA | £290,100 |
| 5th | Johannes Strassmann | Germany | £224,400 |
| 6th | Timothy Adams | Canada | £175,200 |
| 7th | David Benefield | USA | £139,600 |
| 8th | Patrik Antonius | Finland | £109,455 |
Prvi je eliminisam Antonius, koji se na turnir registrovao po novom pravilu koje je EPT odredio za kasne registracije a to je početak Dana 2, za 8. mesto pripalo mu je £109,455.
Na 7. mestu eliminisan je David Benefield, a sledio ga je Timothy Adams. Tako je Adams, kome je ovo treći uzastopni EPT super high roller finalni sto za 6. mestu primio nagradu od £175,200.
Perkins nije imao sreće kada je zajedno sa Johannes Strassmannom eliminisan. Kao short-stack Strassmann je bio all in sa buttona za 650,000 a Finger je ispratio sa small blinda. Perkins zatim objavljuje svoj all in sa big blinda a Finger je i to pokrio i dobijamo gigantski 3-way all-in pot.
Strassmann:

Finger:

Perkins:
Diler je okrenuo
flop i doneo Perkinsu top par, ali Finger je ostvario svoj set takodje. Niti
turn i
river nisu promenili ništa, i obojica Strassmann i Perkins su eliminisani na 5. i 4. mestu.
4th better than a sharp stick in the eye!!! Enjoyed it ...great venue and great game. @PokerNews #eptlive and big thanks to coach @Jgross5

— Bill Perkins (Guy) (@bp22)
Kada se igrao Level 21 (50,000/100,000/10,000), short-stack Christoph Vogelsang bio je all in sa small blinda za 1.3 miliona a Finger ga je ispratio sa big blinda.
Vogelsang:

Finger:
Board je doneo
i Vogelsang je eliminisan na 3. mestu za £383,200.
Finger je počeo heads-up duel sa debelom prednošću ispred Tobias Reinkemeiera, ali nije to bilo sve tako brzo završeno. Imali smo duel od skoro dva sata, a tokom tog vremena čipovno stanje skoro da se nije ni menjalo.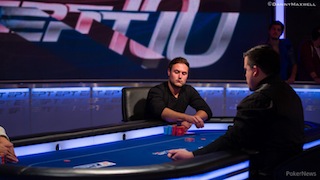 Konačno, na Levelu 22 (60,000/120,000/10,000)stvari su došle do svog kraja. Finger radi raise do 240,000 sa buttona a Reinkemeier uzvraća sa 3-betom do 600,000 sa big blinda. Finger vraća 4-bet do 1.05 milion, a Reinkemeier odlazi all in. Sledi brzi call Fingera.
Finger:

Reinkemeier:
Board je izašao
i Reinkemeier je eliminisan na drugom mestu. Sa ovim je Finger postao prvi igrač koji je pobedio i na EPT main eventu i super high rolleru.
PokerNews je završio sa praćenjem £50,000 Super High Rollera, ali sada sledie EPT London Main Event, koji je upravo počeo, a reporting se završava sa £10,000 High Rollerom kasnije tokom nedelje.
Ostanite u toku sa dešavanjima u poker svetu - pratite nas na Twitter-u i lajkujte na Facebook-u.