2013 World Series of Poker Main Event Član Novembarske Devetorke: Sylvain Loosli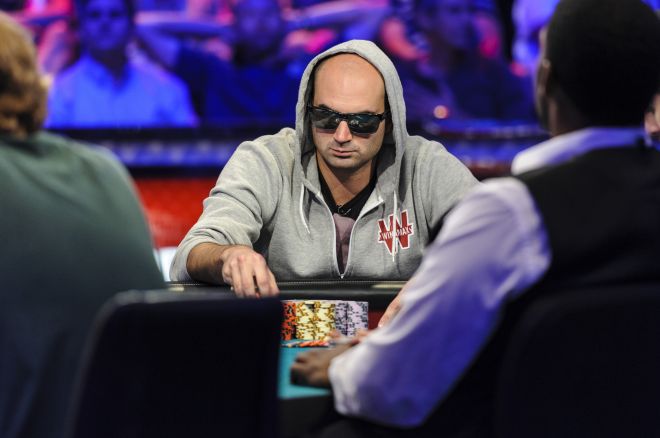 Sylvain Loosli, 26, predstojeći finalni sto 2013 World Series of Poker Main Eventa započeće kao šesti po čipovima sa 19.6 milion (49 big blinds). Ovaj Francuski online keš-game igrač, retko igra live turnire, a pre Main Eventa imao je samo jedno jedino keširanje i to $3,198, na side eventu Season 8 European Poker Tour Deauville. Na internetu, on ima preko $1 milion zarade u karijeri a regular je na $25/$50 limitu.
Loosli, koji se na Twitteru može pronaći kao @SylvainLoosli ima Masters iz Biznisa od obrazovanja a trenutno živi u Londonu zbog online gambling restrikcije u Francuskoj. Njegov cimer je takodje Francuz Bertrand "ElkY" Grospellier, koji je vodeći od Francuza na večnoj listi zarade, po Hendon Mobu ima $10.6 miliona zarade.
U intervjuu za ESPN kod Bernard Lee-ja, Loosli je potvrdio da mu je uspeh Francuskih igrača na Main Eventu povećao interesovanje za turnir.
"Svakako da kada vidite Antoine [Saout] sa tako velikim rezultatom, verujete da i sami do toga možete," rekao je Loosli za ESPN. "Bilo je čarobno videti ga kako ostvaruje taj fenomenalan rezultat... Prošle godine, takodje Gaelle Baumann. Na žalost ispala je na 10. mestu, ali zaista je sjajan osećaj biti na finalnom stolu. Za mene, moje prijatelje, za Francusku, i Francuski poker. Super osećaj."
Saout je završio kao treći na 2009 Main Eventu, za $3,479,670. Tokom 4 meseca pauze Loosli se zajedno sa kolegom Baumannom, priključio Timu Winamax. U Septembru on je igrao Winamax Poker Open u Dablini, Irska, gde je završio kao runner-up u 6-handed, €550 buy-in main eventu za €60,000.
Loosli je takodje bio na Enghien-les-Bains 2013 World Series of Poker Europe, ali nije uspeo da kešira niti na jednom od sedan eventova koji su se igrali za narukvicu.
Pred Main Event, Loosli je igrao nekoliko $1,500 i $5,000 buy-in turnira za narukvicu, ali nije ništa uradio na tim turnirima. Na Dan 1 Main Eventa, Francuz je bio sa 15,000 ali je uspeo dan da završi sa 46,000. Od tada, njegov stack nastavio je samo da raste, a na kraju Dana 6, on je krekovao Danard Petitove kečeve, za masivan pot od 14 miliona čipova.
Na blindovima 50,000/100,000/10,000, Marc McLaughlin raiseuje do 200,000 sa rane pozicije, Petit radi 3-bet do 425,000 na small blindu, a Loosli cold 4-bet do 975,000 sa big blinda. Petit je samo ispratio, a zatim čekirao flop
. Loosli je nastavio kontinuacijom od 950,000, a Petit radi check-raise do 2 miliona, što Loosli prati. Turn je
, Petit opet radi check, a Loosli objavljuje svoj all in za preostalih 4.045 milion. Petit je ispratio i okrenuo je
, koji su bili dobri za Loosliove
. Ali kako je to u pokeru,
je bio river, kojim je Loosli pokupio masivan pot.
Tokom Dana 7, Loosli je neko vreme bio i čip lider, ali Američki pro JC Tran ga je pretekao kao i ostale članove Novembarske Devetorke. Loosli je izjavio da su mu Tran i Ryan Riess bili najteži rivali tokom Dana 7, a dobra okolnost po njega je što ima poziciju nad Tranom za finalnim stolom. Riess, je tri mesta sa desne strane Francuza.
2013 WSOP Main Event finalni sto počinje u Ponedeljak, 4. Novembra od 5 p.m. u Las Vegasu po lokalnom vremenu, a vi sve možete pratiti live, hand-za-hand na PokerNews.com.
Ostanite u toku sa dešavanjima u poker svetu - pratite nas na Twitter-u i lajkujte na Facebook-u.