2013 World Series of Poker Main Event Član Novembarske Devetorke: Ryan Riess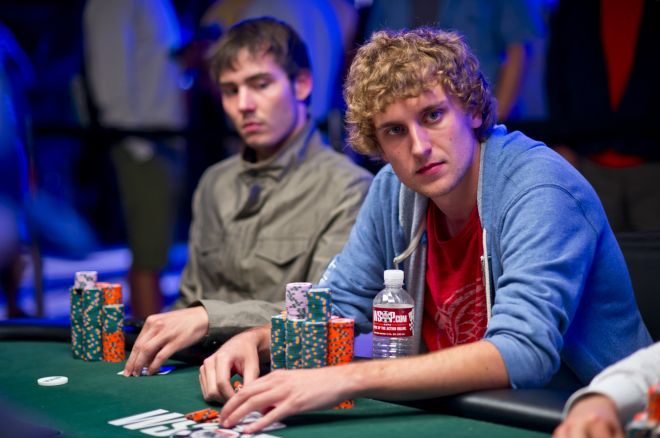 23-godišnjak koji je rodjen u Las Vegasu Ryan Riess startovaće 2013 World Series of Poker Main Event finalni sto sa 25,875,000 čipova, što ga stavlja na peto mesto po čipovima ali samo 4,000,000 čipova deli Riessa i tri igrača koji su bolji od njega. Jedan veći pot u njegovu korist na početku i Riess je medju vodećima.
Riess je zasijao na live poker sceni u Oktobru 2012 kada je završio drugi iza Joshua Williamsa u $1,675 buy-in WSOP Circuit Main Eventu Horseshoe Hammond. Ovej rezultat proslavio je ovog diplomiranog studenta Michigan State University — Riess ima diplomu iz biznisa — sa zaradom od $239,063 koja mu je donela osveženje za bankroll i mogućnost grindanja po WSOP eventima.
Tri keširanja na WSOP Circuit u Los Angelesu, svi u prvoj nedelji 2013, donelo je dodatno samopouzdanje i poboljšanje za njegov bankroll tako da ne čudi da je imao još pet keširanja do kraja Januara 2013, sve na eventima u L.A. Najveće od ovih keširanja je $7,650, a Riess je došao do toga za peto mesto u $340 buy-in eventu na 2013 L.A. Poker Classic.
Do početka 2013 WSOP, Riess je keširao još osam puta i u seriju je ušao velikog samopouzdanja, iako se tako nešto nije moglo očekivati i nije svojstveno tako mladim igračima kao što je Riess.
Dalek nastup u $1,500 Millionaire Maker (110th- $7,278) pa zatim 11. mesto na $1,000 eventu ($20,015) i 139. mesto na $1,500 buy-in turniru ($3,276). Zatim, Riess odlučuje da se oproba u turnirima sa većim buy-inom, i odlučuje se za $10,000 WSOP Main Event, i ispostavlja se da nije mogao bolju odluku da donese.
Riess je izabrao Dan 1a za svoj start Main Eventa, tog dana je od startnih 30,000 došao do 72,250. Dan 2a nije bio sjajan po Riessa i završio ga je sa 73,400 što je samo malo više nego sa koliko čipova je počeo dan. Malo po malo gradio je svoj stack a kulminiralo je na Danu 7 koji je bio njegov najbolji na Main Eventu kada je od relativno short stacka uspeo da čak sedam puta uveća svoju zalihu.
Pre početka WSOP Main Event finalnnog stola, Riess je odlučio da uzme pauzu. On ima samo jedno keširanje od WSOP Main Eventa, i to 68. mesto u World Poker Tour Borgata Poker Open za $8,828.
Kada je WSOP Main Event finalni sto odredjen, Riess je konstatovao da ima najgore mesto za stolom. Sa njegove leve strane su tri velika stacka koji će sigurno vršiti pritisak na vako njegovo odigravanje, dok su mu sa desne strane tri slabija short-stacka koji će opet gledati da sa all inom povrate što više žetona u svoju zalihu. Izvlačenje mesta i žreb nisu baš bili naklonjeni za Riessa, ali i on kao i ostali će imati publiku medju kojima će biti i njegov prijatelj WSOP Circuit grinder i WSOP pobednik Loni Harwood.
2013 WSOP Main Event finalni sto počinje u Ponedeljak, 4. Novembra od 5 p.m. u Las Vegasu po lokalnom vremenu, a vi sve možete pratiti live, hand-za-hand na >>> PokerNews.com.
Ostanite u toku sa dešavanjima u poker svetu - pratite nas na Twitter-u i lajkujte na Facebook-u.