Kvalifikuj Se na 2014 PokerStars Caribbean Adventure Main Event za Samo $1!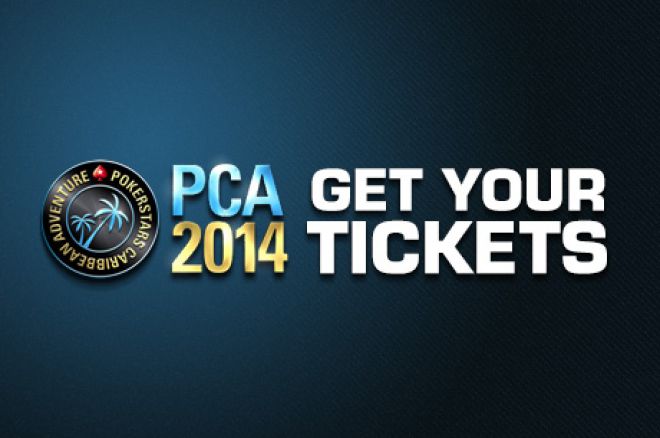 Uzbudjenje pred 2014 PokerStars Caribbean Adventure (PCA) raste. PokerStars daje priliku svojim igračima da učestvuju na ovom prestižnom eventu preko privatnog PokerNews turnira za koji treba izdvojiti $1.10 a imate još četiri šanse da zaigrate u PokerNews-ekskluzivnom privatnom turniru.
Svake Subote od sada pa do 23. Novembra od 14:00 ET, PokerStars domaćin je $1.10 turnira na kojima je pet mesta garantovano za $215 2014 PCA Kvalifikacioni turnir. Ova promocija ukupno će podeliti 25 tiketa za ovaj turnir kroz pet $1,10 turnira. To iznosi $1,075 u garantovanoj sumi po turniru a $5,375 je ukupna garantovana suma u ovoj promociji!
CherryBomb91, Kingsajz, LordWaza, Pawlos33, i weallin420 su dobitnici prvih pet tiketa za $215 kvalifikacioni turnir. Sa samo 287 igrača, turniru je dodato ekstra $788 u nagradni fond od PokerStarsa a PokerNews čitaoci pokušali su da izbore svoj put na Bahame!
Ove nedelje turnir obećava da će biti jači i uzbudljiviji. Možete pronaći preostale PokerNews-ekskluzivne turnire pod privatnim turnirima u lobiju i tražite potom PokerNews ili jednostavno ga nadjite preko ID broja koji su ispisani ispod.
| Datum | Tournament ID |
| --- | --- |
| Nov. 2 | 806681556 |
| Nov. 9 | 806681584 |
| Nov. 16 | 806681783 |
| Nov. 23 | 806681811 |
$215 tiket može se iskoristiti u bilo kom 2014 $215 buy-in PCA kvalifikatoru. A ako budete igrali dobro na tom turniru i osvojite ga možete ići na Bahame i zaigrati PCA Main Event od 5-14. Januara. Ovaj PCA paket uključuje $10,300 buy-in za PCA Main Event, smeštaj u 5-star Atlantis Hotel and Casino, i $1,005 džeparca što je ukupna vrednost od $15,468!
Prošlogodišnji pobednik, Dimitar Danchev, izašao je kao pobednik iz polja od 987 igrača i odneo je $1,859,000 dok je runner-up Joel Micka osvojio $1 milion!
Igraj na PokerStarsu već ove Subote i osvoji svoj put na Bahame sa šansom da postanete milioner! Za samo $1.10 može zaživeti tvoj najveći san!