The 2013 World Series of Poker Main Event Finalni Sto Počinje Večeras!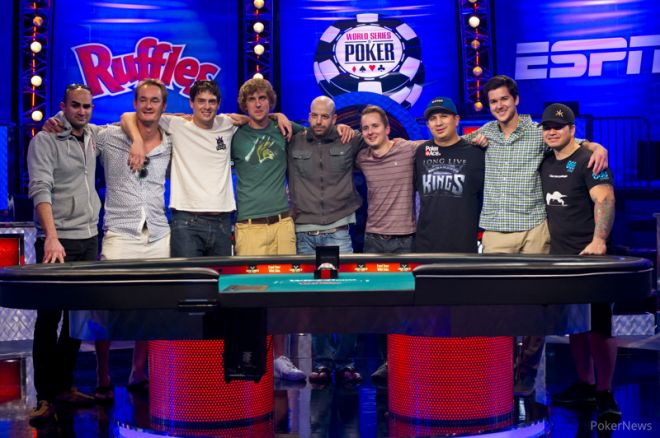 Pratite akciju hand-za-hand sa 2013 World Series of Poker Main Event finalnog stola na PokerNewsu.
pre nešto više od tri meseca devet igrača prošlo je polje od 6,352 igrača i ostvarili su finalni sto najprestižnijeg eventa na planeti, World Series of Poker Main Event. Večeras tih devet igrača-- November Nine — se vraćaju u Rio All-Suite Hotel and Casino i odlučuju o tome ko će poneti glavnu nagradu od $8.3 miliona, kao i ostala priznanja kao što su osvojili prethodnici Greg Merson, Phil Hellmuth, Doyle Brunson, Scotty Nguyen i ostali WSOP Main Event šampioni.
Dvostruki WSOP pobednik JC Tran drži vodjstvo na finalnom stolu. Tran je vodeći sa 38 milliona, u drži lepu prednost ispred prvog pratioca, takodje pobednika WSOP Amir Lehavota (29.7 million). Sa više od $8 million od zarade na live turnirima, Tran će gledati to da udvostruči i da se popne na šesto mesto zarade svih vremena od turnira — tačno iza bivšeg November Ninera Phil Iveyja.
Ali neki igrači neće biti raspoloženi za tu opciju. Uključujući Lehavota, ostalih sedam igrača takodje gleda da osvoji narukvicu, tu su Marc McLaughlin, David Benefield, Michiel Brummelhuis, Mark Newhouse, Sylvain Loosli i Ryan Riess.
Autsajderom finalnog stola smatra se Las Vegaski VIP domaćin Jay Farber. 28-dišnjak je jedini amater od devetorice a do sada ima svega $2,100 od live keširanja u ovoj godini pre Main Eventa, ali on igra na domaćem terenu sa velikom podrškom i svašta je moguće. Farber je blizak prijatelj sa November Ninersima Ben Lamb i Jesse Sylvia, kao i sa ostalim poker pro igračima i kako kaže svi su mu po malo pomogli oko finalnog stola.
Farber će sigurno imati "najludju" publiku večeras kako je rekao za PokerNews.
Evo kako će biti postavka na početku finalnog stola. Kliknite na svakog igrača da pregledate November Nine profil:
| Seat | Player | Country | Chips |
| --- | --- | --- | --- |
| 1 | Sylvain Loosli | Francuska | 19,600,000 |
| 2 | Michiel Brummelhuis | Holandija | 11,275,000 |
| 3 | Mark Newhouse | USA | 7,350,000 |
| 4 | Ryan Riess | USA | 25,875,000 |
| 5 | Amir Lehavot | Izrael | 29,700,000 |
| 6 | Marc McLaughlin | Kanada | 26,525,000 |
| 7 | JC Tran | USA | 38,000,000 |
| 8 | David Benefield | USA | 6,375,000 |
| 9 | Jay Farber | USA | 25,975,000 |
Očekuje se sjajna i glasna atmosfera u Penn & Teller Theateru večeras. Predstavljanje kreće od 4:30 p.m. PT, a prve karte po rasporedu će biti podeljene od 4:45 p.m. PT. A od 5 p.m. PT, akcija kreće na ESPN2 sa 15-minuta zaostatkom za pravim vremenom LIVE STEAMING, sa sve vidljivim kartama na kraju svake ruke.
Akcija u Ponedeljak se prekida kada ostane tri igrača u polju. Ta tri igrača zatim u Utorak nastavljaju sa igrom do konačnog šampiona.
PokerNews prenosi akciju hand-za-hand sa finalnog stola, kao i video i intervue koje radimo unutar Rio sale. Budite uz nas i proverite to na PokerNews.com!
Ostanite u toku sa dešavanjima u poker svetu - pratite nas na Twitter-u i lajkujte na Facebook-u.