World Poker Tour Caribbean Dan 2: Tony Dunst Cilja Prvu WPT Titulu Ostalo još 32 Igrača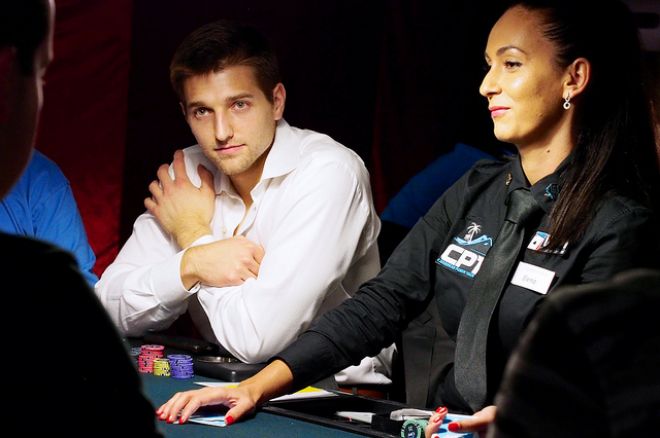 U Četvrtak World Poker Tour Caribbean na St. Maarten se nastavio sa akcijom na Danu 2 $3,200 Main Eventa. Dan je započeo sa 107 od ukupno 191 igrača koliko je započelo turnir, a posle odigranih šest nivoa od po 90 minuta, polje igrača svedeno je na svega 32 preostala koja će se boriti za prvu nagradu od $145,000.
Najbolje pozicionirani igrač za osvajanje titule posle Dana 2 je Thomas Laviano, koji je dan završio kao čip lider sa 402,000. Alo konkurencija uvek ima a ovaj put slede ga Dan Sindelar (398,000), Jean-Nicolas Fortin (361,500), i Christian Stallinger (306,000).
Evo top 10 čipovnih zaliha na kraju Dana 2:
| Rank | Player | Count |
| --- | --- | --- |
| 1 | Thomas Laviano | 402,000 |
| 2 | Dan Sindelar | 398,000 |
| 3 | Jean-Nicolas Fortin | 361,500 |
| 4 | Christian Stallinger | 306,000 |
| 5 | Tony Dunst | 282,000 |
| 6 | Viet Vo | 281,000 |
| 7 | Fedor Holz | 269,000 |
| 8 | Sean Jazayeri | 251,000 |
| 9 | Giacomo Fundaro | 237,500 |
| 10 | Bobby Oboodi | 236,500 |
Prema WPT live blogu, akcija je nastavila od Levela 9 (400/800/100) i odmah po startu eliminacije su počele da pljušte. U jednoj od njih, Giacomo Fundaro otvorio je za 1,700 under the gun a Micah Raskin radi 3-bet do 4,400 sa buttona. Paul Benichou zatim radi 4 four-bet all in za 20,500 sa big blinda, Fundaro folduje, a Raskin objavljuje call.
Benichou:

Raskin:
Bila je to loša situacija za Benichoua, ali
flop mu je dao nadu, i trebala mu je osmica za straight.
turn i
river nisu mu doneli potrebne oute. Raskin je tako eliminisao Benichou u prvom levelu dana.
Ne dugo potom, Ricardo Sousa raisuje under the gun i dobija 3-bet do 4,5000 od Tom Van Den Berga sa small blinda. Sousa objavljuje svoj all in za 23,000, a Van Den Berg prati sa
. Sousa je stidljivo okrenuo
. Flop je bio
i doneo je keca za obojicu ali Van Den Berg je imao boljeg kikera.
turn i
river nisu doneli potrebne oute Bergu.
Laviano koji je završio kao čip lider dana, najviše čipova osvojio je tokom Levela 12 (800/1,600/200) kada je eliminisao WPT Borgata Poker Open šampiona Anthony Zinnoa. Zinno je otvorio do 3,500, Laviano radi 3-bet do 12,000, a Zinno shovuje za preostalih 60,000. Laviano je ispratio i karte su okrenute.
Laviano:

Zinno:
Prema PokerNews Odds Calculatoru, Zinno je bio 71.56% favorit da se duplira a Laviano je imao 28.04% šanse da odnese ruku. Ali
flop doeno je Lavianu keca i sada je bio on u prednosti sa 57.07%; Zinno je imao i flush draw pored outa u kralju, i bio je na 42.93% šanse da odnese ruku.
turn je učinio Laviana 3-1 favoritom, a
mu je donela pot i eliminisao je Zinna.
Od ostalih poznatijih igrača koji nisu uspeli da prežive Dan 2 bili su Mike Watson, Mike Linster, Paul Newey, Marko Neumann, Manig Loeser, Tobias Reinkemeier, Will Failla, Victor Figueroa, Steve Gee, Stephen Bokor, Ken Aldridge, Casey Kastle, Fabian Quoss, Igor Kurganov, i Joe Kuether.
Sa druge strane neki poznatiji igrači još su u konkurenciji za najviši plasman, oni su Pim Van Wieringen (183,500), Marvin Rettenmaier (153,000), Ferenc Riech (118,000), Micah Raskin (101,500), Byron Kaverman (89,000), Youssef Bejjani (76,500), Justin Zaki (60,000), i Greg Vozel (19,500).
Poznati igrač Tony Dunst će nastupiti na Danu 3, kao peti po čipovima sa 282,000. Ovaj event još uvek nije uveo sve igrače u nagrade, pošto samo top 24 mesta plaćaju, Dunst je tako u sjajnoj prilici da dodje do svog šestog WPT Main Event keširanja. Najbolji nastup je imao u Aprilu 2012 kada je Dunst bio peti na WPT Jacksonvillu za $66,532.
Dan 3 počinje od 4 p.m. (3 p.m. ET/12 p.m. PT) sa poslednjih 32 igrača koji će igrati za bubble poziciju sve do finalnog 6-handed stola. PokerNews doneće vam akciju sa Dana 3.
Podaci i fotografija vlasništvo su WorldPokerTour.com
Ostanite u toku sa dešavanjima u poker svetu - pratite nas na Twitter-u i lajkujte na Facebook-u.