Derrick Rosenbarger je Pobednik partypoker World Poker Tour Montreal za $500,824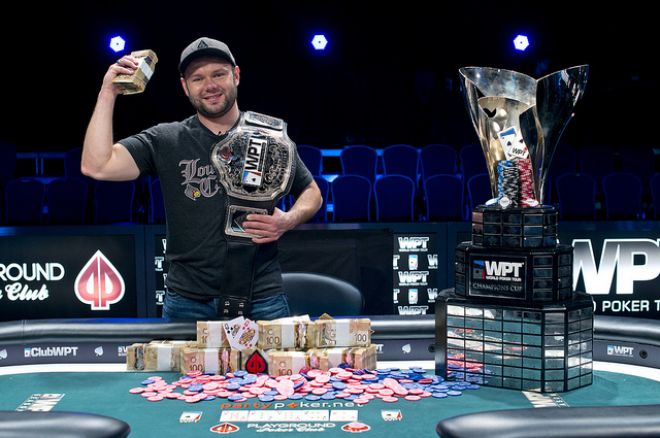 Momak sa Floride Derrick Rosenbarger imao je svoje drugo keširanje na live turnirima u karijeru, a to je pobeda na Season XII partypoker World Poker Tour Montrealu za $500,824, nije tako loše. Rosenbarger, koji je svoj jedini preostali keš osvojio na $1,000 buy-in eventu 2013 World Series of Poker, pobedio je Mukul Pahuju u heads up duelu. Pahuja, koji je bio treći na Seminole Hard Rock Poker Open $10 Million Guarantee za $872,625, ovoga puta osvojio je $340,928za drugo mesto a svoju zaradu od pokera povećao na $1.8 miliona, u karijeri na live turnirima.
| Finish | Player | Prize |
| --- | --- | --- |
| 1 | Derrick Rosenbarger | $500,824 |
| 2 | Mukul Pahuja | $340,928 |
| 3 | Serge Cantin | $220,170 |
| 4 | Sylvain Siebert | $162,936 |
| 5 | Lily Kiletto | $121,848 |
| 6 | Alexandre Lavigne | $98,574 |
Lily Kiletto, koji je bio runner-up na WPT Lucky Hearts Poker Open u Februaru za $191,880, počela je finalni sto samo sa šest blindova. Prema WPT Live Updates Team, ona je uspela da se diplira u šestoj i 14-toj ruci finalnog stola. U prvoj ruci je bila bolja sa
protiv Pahuja koji je imao
, a u drugoj je držala
protiv Sylvain Siebert
.
Kiletto je ostala ipak short stack i narednih 20 ruku, a bila je dobra i dodatnih $23,000 pošto je Alexander Lavigne eliminisan na šestom mestu. Lavigne, koji je dan počeo kao četvrti po čipovima sa negde oko 30 big blinda, radio je open-shove all in sa cutoff sa 11 big blinda. Serge Cantin je ispratio sa big blinda držeći
, koje su bile bolje od Lavignovih
. Board je bio
, i Lavigne je eliminisan.
Odmah u sledećoj ruci Kiletto je bila all in sa 6,5 big blinda sa cutoff, a obojica Siebert i Pahuja su ispratili. obojica su checkirali flop
, a Siebert lje betao 400,000 posle
turn. Pahuja fold.
Siebert:

Kiletto:
Kiletto nije imala outa kada je
kompletirao board.
Rosenbarger je kasnije bio na ivici eliminacije. On je ispred sebe imao otvaranje za 225,000 od Cantina sa blindovima 50,000/100,000/10,000, on je radio 3-bet all in za 1.14 miliona sa small blinda. Cantin je ispratio sa cutoff sa
, a Rosenbarger je bio iza sa
. Ali flop je došao
i dao prednost Rosenbargeru, turn i river doneli su
,
.
Cantin, koji je dan počeo kao drugi po čipovima, imao je oko 10 milliona,i bio je vodeći. Pahuja ga je pratio i razmeljivali su se njih dvojica u čip lidu. A onda se odigrao 9.3 milliona-čipova pot u kome su bili Rosenbarger, koji je radio 3-bet preflop a potom flopnuo set dama, i Siebert, koji je zvao 3-bet i radio shove na
flopu sa svojim četvorkama. Siebert nije imao outa kada je na turn
i
river kompletirali board. Rosenbarger je bio novi čip lider.
Cantin i Pahuja nastavili su sa nadigravanjem u 3-handed igri, i brzo se došlo do all-in pota kada su obojica držali
. A nekoliko ruku potom u preflop akciji još jednom su svi žetoni završili na sredini.
Pahuja:

Cantin:
flop doneo je Pahuji keca, ali Cantin je tražio svoj set i backdoor straight ili flush.
turn i
river i Cantin je eliminisan na trećem mestu za $220,170.
Pahuja je heads-up duel za počeo sa prednošću malo većom od 2:1, ali Rosenbarger se nije predavao. Pahuja je radio 4-bet all in na flopu
, a Rosenbarger je ispratio sa
. Pahuja jeimao živih karata sa
, ali turn i river doneli su –
,
. Posle ove ruke, Rosenbarger je imao prednost od 3:1.
Pahuja je dve ruke kasnije bio all-in i opet je ubrzo Pahuja držao prednost sa 2:1. Rosenbarger je potom uzvratio i šest ruku potom on je u prednosti sa 4:1.
Pahuja je bio na oko 10 million čipoba, a onda je došla ruka 65. heads-up duela, koja je bila finalna. Pahuja radi 3-bet shove sa
a Rosenbarger je ispratio sa
. Dominantnija ruka preživela je flop, turn, i river
, i Rosenbarger je poslednji član WPT Champions Club-a.
Čestitke finalistima. Sezona XII WPT serije nastavlja se u Petak sa Dan 1 Five Diamond World Poker Classic u Bellagiu.
Podaci i fotografija vlasništvo su WorldPokerTour.com
Ostanite u toku sa dešavanjima u poker svetu - pratite nas na Twitter-u i lajkujte na Facebook-u.