Fabian Quoss je Pobednik 2014 PokerStars Caribbean Adventure $100,000 Super High Rollera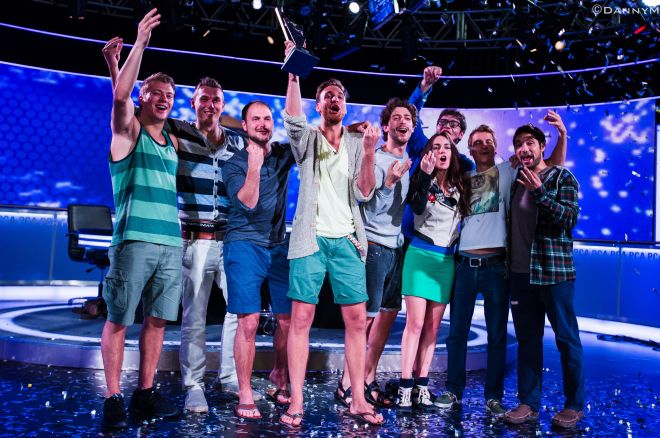 Dramatični prvi event na 2014 PokerStars Caribbean Adventure je zaključen. Iako je ovo nova godina, ipak se dominacija Nemaca nastavila pošto je Fabian Quoss uspeo da pobedi Dan Shaka u heads up duelu za titulu i $1,629,940 za prvo mesto.
Tipično, finalni sto European Poker Tour je 8-handed, ali pošto je bila dupla eliminacija na kraju Dana 2, ovaj finalni sto započeo je kao 7-handed. Shak je držao čip lid ispred Team PokerStars Pro Vanesse Selbst. Na finalnom stolu bili su još $1,000,000 Big One for One Drop šampion Antonio Esfandiari, 2013 One Drop High Roller šampion Tony Gregg, Matt Glantz, i 2013 Global Poker Index Player of the Year Ole Schemion.
Schemion i Gregg počeli su dan kao veoma short sa čipovima, a već u drugoj ruci obojica su eliminisani. Na 30,000/60,000/10,000, Schemion je bio na under the gun i openovao je sa svojim all inom za 260,000. Gregg je potom objavio svoj all in za 390,000. Quoss ih je ispratio a ostatak stola je foldao.
Quoss:

Gregg:

Schemion:
Niti jedan od short stackova nije ostvario svoju ruku na boardu
a Quoss je pokupio poslednje čipove od obojice igrača. Samo nekoliko ruku potom, short-stack Glantz je eliminisan. Glantz je poslednju ruku odigrao kada je Esfandiari openovao do 160,000 sa under the gun držeći
. Glantz igra all in za 320,000 total sa
a zatim sa small blinda Selbstova radi re-raise do 605,000 sa
a Esfandiari folduje.
Glantz nije našao spas na boardu
. On je osvojio $445,520 za peto mesto.
Posle uzbudljive 4-handed igre, meč je krenuo pa završnici posle duela Selbst i Esfandiari. Na 40,000/80,000/10,000, Selbst openuje sa raiseom do 160,000. Esfandiari radi 3-bet do 430,000, a Selbst ga 4-betuje sa svojim all inom za 1.9 milion. Esfandiari je ispratio i karte su okrenute a Madjioničar je bio na riziku od ispadanja.
Selbst:

Esfandiari:
Flop je bio
i Esfandiari je imao i dalje prednost. Selbst je medjutim na turnu pokupila svog
a
na riveru nije pomogla Esfandiariju koji je turnir završio na 4. mestu.
3-handed je doneo mnogo više drame pošto je u opticaju bilo mnogo čipova koji su menjali vlasništvo iz ruke u ruku. U seriji dramatičnih ruku, Selbst je izgubila veliku ruku od Shaka. Odmah potom, Selbst je uspela da nadje double up preko Shaka i predje u čip lidera.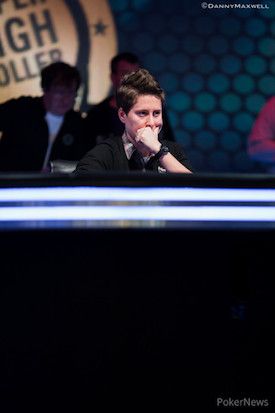 Potom, Selbst gubi veliki deo stacka kada je turnovala top dva para protiv Quossa koji je spojio svoj Broadway straight. Quoss je došao do dupliranja a Selbst je ostala short. Ubrzo je bila all in i svojih 2miliona čipova gurnula je sa buttona držeći
. Quoss je ispratio sa big blinda sa
a Super High Roller bio je pet karata udaljen od heads up duela. Board je doneo
i poslao je Selbstovu izvan turnira na 3. mestu za $760,640.
Quoss i Shak otišli su na večeru pre nego što su počeli duel za šampiona. Quoss je konstantno vršio pritisak kada je igra krenula i posle otprilike sat vremena svemu je bio kraj. U finalnoj ruci, Quoss limpuje button a Shak checkira i gledaju
flop. Shak check-calluje bet od 200,000 a
pada na turnu. Shak check a Quoss ispaljuje 425,000. Shak igra all in za 2.275 miliona a Quoss snap calluje.
Quoss:

Shak:
Quoss je bio ispred sa kentom i gledao je da izbegne osmicu ili kralja na riveru. Diler je okrenuo
kao finalnu kartu, a Shak je tako eliminisan kao runner-up. Quoss je poneo titulu Super High Roller šampiona!
PokerNews je ovime zaključio pokrivanje $100,000 Super High Rollera, ali akcija tek počinje na PCA. Budite sigurni da pratite dešavanja sa $10,000,000 Garantovanog Main Eventa a polje igrača je puno gladnih koji bi hteli da ponesu titulu PCA Main Event Šampiona.
Ostanite u toku sa dešavanjima u poker svetu - pratite nas na Twitter-u i lajkujte na Facebook-u.