Dominik Panka Pobedio je Mike McDonalda za Pobedu na 2014 PokerStars Caribbean Adventure Main Eventu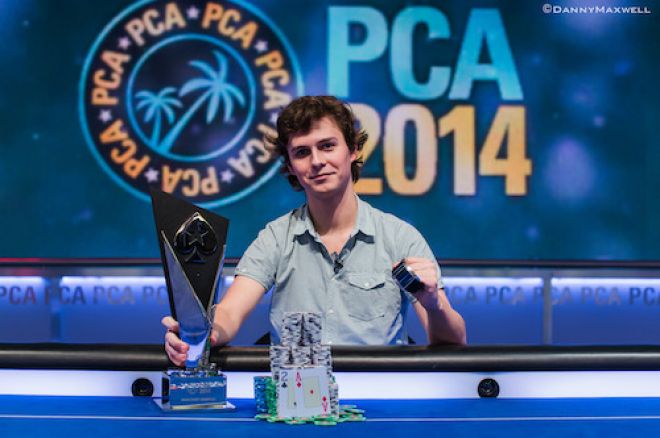 Posle 16 sati igre na poslednjem finalnom danu, konačno smo dobili pobednika Dominik Panka koji je šampion 2014 PokerStars Caribbean Adventure Main Eventa.
Panka, koji je sada vodeći Poljski igrač na večnoj keš-out listi, uspeo je u heads-up igri da pobedi Mike McDonalda, i tako Kanadjanina onemogući da dodje do svoje druge EPT titule.
U 95 stanica koliko je serija imala do sada, ni jedan igrač nije uspeo da osvoji dve EPT titule.
Panka i McDonald napravili su dogovor na 3-handed sa Amerikancem Isaac Baronom. Po dogovoru sva trojica osvojili su više od $1 milion. Panka je osvojio $1,423,096, zajedno sa "Steel and Black" design SLYDE satom koji ima vrednost od €5,550.
Rezultati Finalnnog Stola
| Finish | Player | Country | Prize |
| --- | --- | --- | --- |
| 1 | Dominik Panka | Poland | $1,423,096* |
| 2 | Mike McDonald | Canada | $1,094,865* |
| 3 | Isaac Baron | USA | $1,207,599* |
| 4 | Madis Muur | Estonia | $581,040 |
| 5 | Daniel Gamez | Guatemala | $447,040 |
| 6 | Shyam Srinivasan | Canada | $328,020 |
| 7 | Pascal Lefrancois | Canada | $242,020 |
| 8 | Fabian Ortiz | Argentina | $173,220 |
*posle 3-handed deal
Tokom prvih tri sata igre niti jedan od osam igrača nije eliminisan sa finalnog stola. McDonald je preuzeo čip lid od Muura a potom i povećao svoj stack kada je napravio prvu eliminaciju. Fabian Ortiz, koji je završio na 17. mestu na World Series of Poker Main Event ovog poslednjeg leta za $357,665, 4-bet šipovao je sa
, a McDonald koji je bio-betor, ispratio je sa
. Argetinac nije imao sreće i završio ja na 8. mestu.
Redom su potom ispadali Pascal Lefrancois, Shyam Srinivasan i Daniel Gamez da bi potom i
Muur 4-bet jamovao za 34 big blinda 30 minuta kasnije posle poslednje eliminacije sa
. Panka, koji je bio 3-betor, snap calluje sa
, koji su izdržali board do kraja. Estonac je osvojio $581,040.
Panka, Baron, i McDonald su potom odmah napravili pauzu kako bi se dogovorili o podeli nagrada, a 20 minuta potomsva tri igrača imala su garantovanih $1 milion zarade.
| Player | Prize |
| --- | --- |
| Dominik Panka | $1,323,096 |
| Isaac Baron | $1,207,599 |
| Mike McDonald | $1,064,865 |
Po pravilu, $100,000 ostavljeno je sa stane i za taj iznos i trofej je još igrano.
Panka je heads-up igru startovao sa prednošću, McDonald je zatim prvu ruku preuzeo vodjstvo a sve se završilo posle tri ipo sata. Kanadjanin je nastavio da povećava svoj stack ali potom gubi ogroman flip u poslednjoj ruci Levela 33. McDonald nije uspeo da se oporavi od te ruke, i u sledećem levelu radio je 3-bet all in sa
. Panka je ispratio sa
, a izgledalo je da će McDonald uspeti da se duplira kada je na turnu pala sedmica, ali ipak je kec kompletirao board na riveru.
Čestitke za Panka, prvog Poljaka koji je EPT šampion. On je osvojio $1,423,096, trofej, SLYDE sat, i mesto u poker istoriji.
Sezona 10 nastavlja za dve nedelje na EPT Deauville, a PokerNews doneće vam pokrivanje Main Eventa i High Rollera sa lica mesta. Hvala što imate poverenja u nas i što nas pratite, pozdrav sa Bahama!
Ostanite u toku sa dešavanjima u poker svetu - pratite nas na Twitter-u i lajkujte na Facebook-u.