Gus Hansen Optužio Online Poker Rivala "SallyWoo" za Korišćenje Zabranjenog Kompijuterskog Programa
Chad Holloway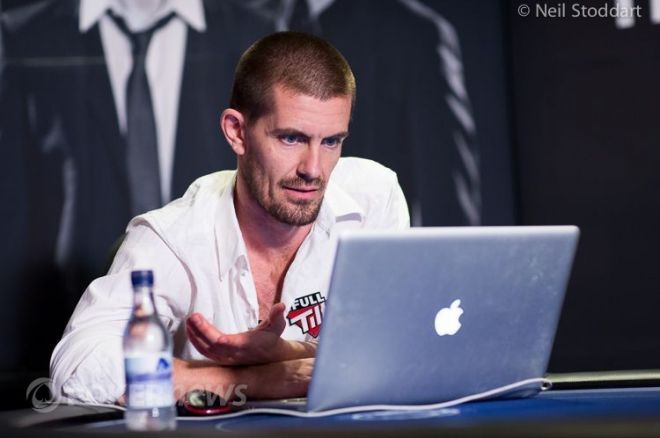 Tačno smo jednu nedelju u Novoj Godini, i već je ovo obećavajuća 2014 za igrača "SallyWoo," koji je neidentifikovani high-stakes online pro koji se iz Amerike preselio u Meksiko posle Black Friday. Omaha Hi/Lo (FLO8) specijalista je već u plusu $504,679 u 1,738 odigrane ruke u osam sesija.
Interesantno, "SallyWoo" je prijatelj sa Kyle "KPR16" Ray i Kyle "cottonseed1" Hendon. Kao i oni, "SallyWoo" se priključio tome da se objave rezultati dugog perioda koji su pratili igru, što je opisano u članku Problemi Online Trackinga(na engleskom).
Nedavno je još jedan high-stakes igrač, Gus Hansen, imao problem sa ovim novim trendom. Hansen, koji je završio 2013 kao najveći gubitnik sa minusom od $8.4 miliona igrajući online, napao je "SallyWoo" preko chat box-a tokom sesije na Full Tilt Pokeru uoči Nove Godine.
Hansen, koji je u plusu $155,111 u 4,485 odigrane ruke u 27 sesija u ovoj godini, nedavno se uzrujao kada je dobio 3-bet igrajući FLO8 i od jedan put bio diskonektovan. On je optužio "prijatelja" i tražio je od "SallyWoo" da mu vrati $4,000 koje je Hansen uložio pre nego što je bio diskonektovan. "SallyWoo" je rekao da su njih dvojica imali dogovor o tome ako se desi slična situacija, a potom je Hansen optužio pomenutog igrača da koristi zabranjeni kompijuterski program.
Pogledajte veći deo ove chat prepiske na engleskom jeziku:
SallyWoo: and this "friend" of yours told u i closed the table, when i didnt
SallyWoo: and i explained why, this "friend" should have also seen what happened
Gus Hansen: the computer program right by your side - could be slippery slope
SallyWoo: ?
SallyWoo: huh
SallyWoo: are you accusing me of cheating?
Gus Hansen: and funny enough all the guys taking about integrity is you KPR and Cotton like you have to prove something
Gus Hansen: nope I am not
Hattenford (Observer): confirmed Gus, i was here to, he didnt close it
Gus Hansen: accusing you of cheating
Gus Hansen: of course not
SallyWoo: you accused me of closing tables to pull and angle and then have a computer prgram next to me, thats out of line imo
Gus Hansen: Please tell me that will swear right hear that you dont have a O8 computer program
Gus Hansen: anyways - I dont have a case in court - but I doubt any poker player would rule that you should keep the 4K
SallyWoo: you really are accusing me of this gus?
Gus Hansen: do whatever you think is right
SallyWoo: tell me upfront
Gus Hansen: I am not accusing you of anythjing
SallyWoo: what was our deal with dc, i will always honor it now and in future
Gus Hansen: I believe you have an O8 program - thats all I said
SallyWoo: i thought deal was if either player dc we return btns (i have done that for u 30 times)
SallyWoo: and if guy dc we check it down
Gus Hansen: maybe 130
SallyWoo: but if he dc after we bet its on player?
Gus Hansen: 571
Gus Hansen: ok
SallyWoo: im honoring our deal, as i always have
SallyWoo: what is 130 and 571?
Gus Hansen: times you have paid me back after disconnect
SallyWoo: every time u have those short dc dont i always adjust btns for u?
Gus Hansen: I havent said you didnt
Gus Hansen: just enjoyed your exaggeration
SallyWoo: state the deal with dc and i will honor it, always have, but u were the one when we made deal that said if guy dc AFTER we bet its on him
SallyWoo: i remeber the conversation vividly
Gus Hansen: not sure we specifically said that
Gus Hansen: but this was preflop
SallyWoo: we did, ill ask FT to retrieve chat if they will, can u have them do it? i give you them and u permission to read it
Gus Hansen: whatever
Gus Hansen: since this was probably last time we played - I just wanna add it was funny you were so offended of me saying you have an O8 computer program - since obviously you do
SallyWoo: ohh lord gus, i dont cheat
SallyWoo: i did nothing wrong here, ill ask ft for our conversation about our deal and send it to u on twitter or something
Gus Hansen: lol - I guess you are trying to start a career as a politician, since you like to answer in east when the question came from west
Ova optužba člana FTP Professional je podigla priličnu prašinu po poker forumima, i mnogi su se oglasili povodom ovog slučaja. A većina uglavnom misli da je Gus preterao, i da je otišao daleko u optužbama.
"Gus je bio na tiltu kada je izneo ove optužbe, i one uopšte nisu osnovane. To je samo divlji izliv igrača na tiltu koji je izgubio milione i milione online igrajući igru u kojoj misli da je najbolji na svetu, ali realnost je sasvim drugačija," rekao je član HighStakesDB foruma"LostSam". " Sada ostali igrači mogu imati utisak da Sallywoo vara, iako nema nikakvog dokaza za tako nešto, jedino što se zna je da je jako dobar u igri koju igra uspešno već deceniju."
Bilo kako bilo, i da li će Hansen opet sesti da igra sa "SallyWoo" u 2014 videćemo. U medjuvremenu, "SallyWoo" je bio prilično zauzet i osvojio je $241,300 u Subotu, $151,000 od Viktor "Isildur1" Bloma na $2,000/$4,000 FLO8 stolovima u samo 26 ruke u 14 minuta i $89,700 od "Sanlker" u 288 ruke na $500/$1,000 CAP no limit hold'em.
Šta vi mislite o ovoj situaciji? Da li je Hansen preterao sa optužbama? Ostavite svoj komentar ispod.
Ostanite u toku sa dešavanjima u poker svetu - pratite nas na Twitter-u i lajkujte na Facebook-u.