Giuseppe Pilloni Osvojio Sharkbay ME u Novoj Gorici, Miković 4. Mesto!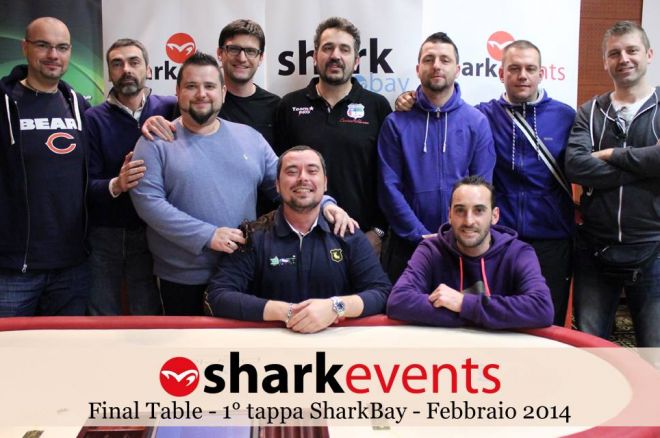 Bio je to veliki epilog za ovu prvu etapu SharkBay-a, sa jakim finalnim stolom koji je iskusio prilično emocija prošle večeri. Jurji Naponiello je počeo kao čip lider, ali su protivnici bili tough sa Alexanderom Brunello koji se dokazao duplirajući već drugu ruku. Philip Etna je konačno uspeo da udje na finalni sto ove kuće u društvu već "uobičajenog" prisustva našeg Marka Mikovića koji ne namerava da zaustavi svoj dobar run.
U igri je bio i Pilloni koji je došao "back to back" nakon njegovog finalnog stola na prvoj etapi Remida, zatim su se tu našli i poznati Alen Keser kao i naš Ante Milovac.
Početak finalnog stola je bio buran. Ante Milovac je prvi eliminisan nakon što je izgubio stack protiv Brunella (66 vs TT) na desetoj poziciji. Deveto mesto je pripalo Paul Armatu (55 vs AJ i dva J na board-u), dok je osmo mesto pripalo Andrea Bonarrigo-u.
Alen Keser nije imao sreće kada se približio sedmom mestu, ponovo osudjen od runner runner boje svog protivnika (Naponiello u ovom slučaju) kao što se dogodilo i na sredini bubble faze. Ovo nije bio njegov sastanak sa pobedom ali je kao i uvek pokazao odličan poker.
Suprotno od trenda za George Battaglinia koji je počeo sa računicom od šest miliona čipova, a onda forsiran da napusti igru na šestom mestu u samo nekoliko ruka. Prvo je nagradio Etnu sa dupliranjem, a zatim se suočio sa Mikovićem u monster potu koji je Srbin vrlo pažljivo odigrao (AQ Miković koji betuje tri streeta što Battaglini stalno call-a, board donosi 7 Q 4 4 4 za muck) i italijan je OUT.
Marko Miković u ovoj fazi definitivno nije imao sreće, i u samo nekoliko ruka gubi svoj plasman. Prvo AK vs Q7, zatim AJ vs A9 ( split), pa 66 vs AJ ( na riveru izlazi A),onda AJ vs QJ sve gubi u preflop all inu. Sledi straight vs straight na flopu, takodje promašaj za Marka i na kraju eliminaciona ruka Marko sa KK vs 99 koje je držao Pilloni se našao u allinu ponovo u preflopu da bi videli 9 na riveru i za Marka Mikovića se ovde turnir završio na 4. mestu, respektivno.
U završnoj fazi postojala je apsolutna stabilnost i na kraju su odlučile male razlike da bi pobedu odneo Buiseppe Pilloni, ispred Naponiella na drugom i Brunella na trećem mestu.
Evo i finalnih rezultata Sharkbay ME Finalni Sto:
1° Giuseppe Pilloni
2° Jurji Naponiello
3° Alessandro Brunello
4° Marko Mikovic
5° Filippo Etna
6° Giorgio Battaglini
7° Alen Keser
8° Andrea Bonarrigo
9° Paolo Armato
10° Milovac Ante
Ostanite u toku sa dešavanjima u poker svetu - pratite nas na Twitter-u i lajkujte na Facebook-u.