Russ Dykshteyn Osvojio World Series of Poker Circuit u Palm Beach Kennel Clubu za $202,335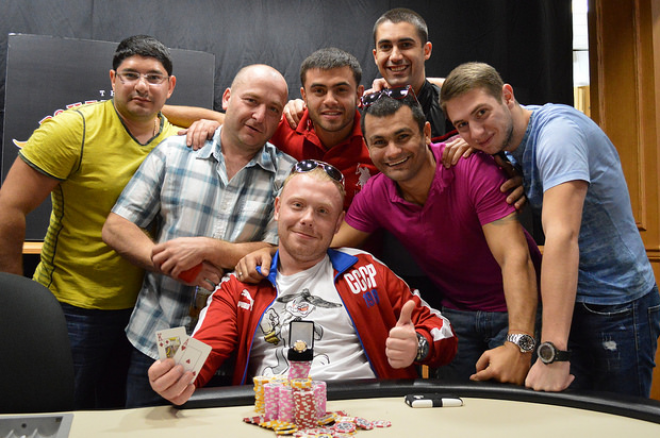 14. stanica 2013/2014 World Series of Poker Circuit rasporeda je imala i svoj $1,675 Main Event u Ponedeljak u Palm Beach Kennel Clubu na Floridi.
Popularna turnirska stanica je privukla 658 igrača i kreirala prize pool od $987,000. Nakon tri dana igre, Russ Dykshteyn je otišao sa $202,335 nagradom za prvo mesto i mestom za 2014 National Championship.
Rezultati Finalnog Stola
| Place | Player | Hometown | Prize |
| --- | --- | --- | --- |
| 1st | Russ Dykshteyn | Brooklyn, NY | $202,335 |
| 2nd | Vincent Maglio | Revere, MA | $125,201 |
| 3rd | Richard Kirsch | Ft. Lauderdale, FL | $91,830 |
| 4th | Joseph McKeehen | North Wales, PA | $68,291 |
| 5th | Ian Ohara | Boca Raton, FL | $51,472 |
| 6th | George Lampert | Naples, FL | $39,312 |
| 7th | Josh Kay | West Bloomfield, MI | $30,419 |
| 8th | Luke Graham | Port St. Lucie, FL | $23,846 |
| 9th | Fadi Massaad | Austin, TX | $18,931 |
Poznati finišeri: Makul Pahuja (11. - $15,220), Aaron Massey (12. - $15,220), Claudia Crawford (15. - $12,387), Josh Arieh (17. - $10,206), Jordan Cristos (25. - $6,129), Will "Monkey" Souther (38. - $3,652), Everett Carlton (43. - $3,652), Cory Waaland (69. - $2,764)
Prema WSOP Live Blogu, akcija na Dan 3 se nastavila na 26 Nivou (15,000/30,000/5,000) sa Vincent Maglio koji je držao skoro trećinu čipova u igri medju osam preostalih igrača. Nije trebalo mnogo vremena za prvu eliminaciju dana – samo 15 minuta u principu – i to se desilo kada je Joe McKeehen raise-ао sa rane pozicije i zatim call-ao kada je Luke Graham 3-betao all in za 525,000 sa small blinda.
Graham:

McKeehen:
Grahamu je trebala pomoć, i našao je par osmica na
flopu. Medjutim, trebala mu je još jedna osmica ili kec da bi ostao u životu.
na turnu ga ne spašava, niti
na riveru. Graham je eliminisan sa turnira na osmom mestu za $23,846.
Josh Kay i George Lampert su bili sledeći koji su izleteli na šestom i sedmom mestu, a zatim ih je Ian Ohara ispratio ka vratima na petom. To se desilo na nivou 27 (20,000/40,000/5,000) kada je Maglio otvorio za 80,000 samo da bi video kako Ohara 3-betuje do 190,000. Maglio odgovara sa all inom i Ohara nije gubio vreme za call.
Maglio:

Ohara:
Oba igrača su držala kečeve, što je značilo da je kralj kojeg je držao Maglio bio dobar kicker. Flop
uparuje kickera za Ohara, ali takodje Magliu sastavlja par kraljeva.
na turnu ne menja ništa, što je značilo da Ohara treba jednu od dve preostale Q na riveru da bi ostao živ. Dealer je spalio poslednju kartu i okrenuo
. Ohara je promašio i eliminisan je na petom mestu za $51,472.
Na Niovu 28 (25,000/50,000/5,000), akcija je foldala do Dykshteyna i on je limpovao small blind. McKeehen je isprobao svoju ocpiju sa big blinda sa raise-om do 150,000, a onda je gurnuo all in kada se Dykshteyn probudio sa check-raiseom do 450,000. Dykshteyn call-a i karte se okreću.
Dykshteyn:

McKeehen:
McKeehen je uleteo kao dominantni favorit, ali ga je pogodila katastrofa kada je izašao flop
i doneo Dykshteynu set. McKeehen je vidno bio razočaran i bespomoćno je gledao
na turnu i
na riveru. Dvostruki osvajač prstena je morao da se zadovolji sa četvrtim mestom i nagradom od $68,291.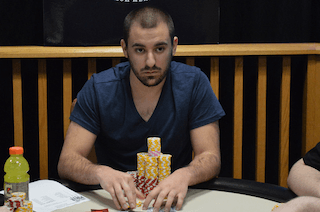 Nakon toga Richard Kirsch je pao na trećem mestu za $91,830, Dykshteyn i Maglio su ostali da se bore u HU meču, što je ispalo kao kratka afera. U finalnoj ruci, na Nivou 29 (30,000/60,000/10,000), Dykshteyn raise-uje button samo da bi dobio 3bet od Maglia sa BB. Dykshteyn odgovara sa all-inom i Maglio calla za 5.5 million.
Dykshteyn:

Maglio:
Maglio je bio na zvezdanoj stazi, ali nije uspeo nakon što je izašao board
. Maglio je morao da se zadovolji kao runner-up sa $125,201 nagradom, dok je Dykshteyn ulovio West Pam Beach titulu i $202,335 nagradu za prvo mesto.
2013/2014 WSOP Circuit se nastavlja u Caesars Palace od 20. Feb. -3. Marta. Naravno, bićete u mogućnosti da nadjete pregled sa Main Eventa nakon njegovog završetka i to upravo ovde na PokerNews.com
*Zahvalnost za fotografije i podatke pripadaju WSOP.
Ako želite da učestvujete u poker akciji na Eureka Poker Tour-u ili ostalim velikim Live turnirima, pristupite najvećoj online poker sobi na svetu, PokerStarsu, i kvalifikujte se preko raznovrsnih satelita. Napravite Download PokerStarsa preko PokerNewsa i omogućite sebi 100% do $600 bonus na prvi depozit kao i ulaz za ekskluzivni PokerNews $20,000 freeroll turnir. Pri tom ne zaboravite da upišite bonus kod "STARS600" i marketing kod "POKERNIKA" kako bi pored bonusa za prvi depozit sebi omogućili učestvovanje na ekskluzivnom $20,000 PokerNews Freeroll turniru ali i drugim vrednim promocijama koje zajedno priredjuju PokerStars i PokerNews.