Dominik Osvojio 2014 World Series of Poker National Championship za $352,800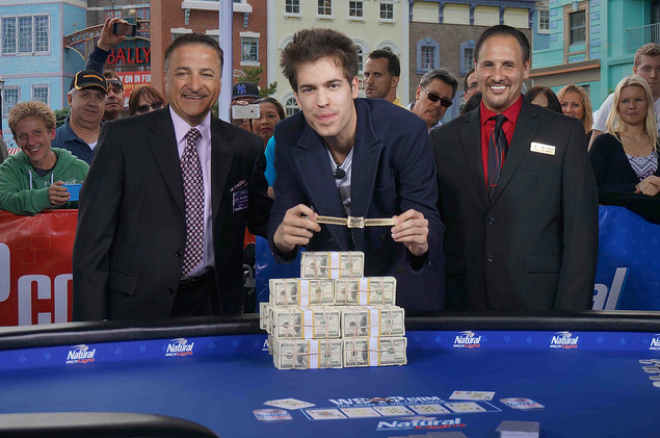 U subotu, 2014 World Series of Poker National Championship je došao do svog kraja kada je finalnih šest igrača od 126-igrača u polju napravilo legendarni Atlantic City Boardwalk igrajući do pobednika. Trebalo je manje od pet sati igre da Dominik Nitsche izadje kao pobednik i osvoji $352,800 nagradu za prvo mesto, titulu Nacionalnog Šampionata, i drugu zlatnu narukvicu.
Nitsche, koji je osvojio 2012 WSOP Event #59 $1,000 No-Limit Hold'em za $654,797, je bio jedan od top 100 na WSOP World Rankings i plaćen $10,000 buy-in za event.
Rezultati 2014 National Championship Finalnog Stola
| Seat | Player | Chips |
| --- | --- | --- |
| 1 | Dominik Nitsche | $352,800 |
| 2 | Athanasios Polychronopoulos | $218,056 |
| 3 | Matthew Ashton | $157,399 |
| 4 | Chris Bibb | $115,655 |
| 5 | Tracy Doss | $86,461 |
| 6 | Andrew Robinson | $65,734 |
Prema WSOP.com, akcija se nastavila sa 47 minuta preostalih na Nivou 20 (6,000/12,000/2,000), i trebalo je samo devet ruka da dodje do prve eliminacije. To se desilo kada je kvalifikator Andrew Robinson gurnuo all in sa buttona za 105,000 i Athanasios Polychronopoulos call-ao sa big blinda.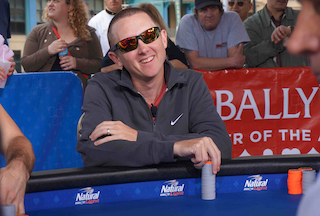 Robinson:

Polychronopoulos:
Prema PokerNews Odds Calculatoru, Robinson je bio u zaostatku 43.21% šansi za preživljavanje dok je Polychronopoulos imao 56.27% za pobedu u tom trenutku.
flop nije bio pomoć za Robinsona, i on je gledao njegove šanse kako opadaju na 23.33% dok su Polychronopoulosu skočile na 75.76%.
na turnu ih dovodi do toga da Polychronopoulos postaje masivni favorit sa 86.36% dok Robinsonu trebaju ili osmica ili šestica za pobedu, što bi se desilo samo 13.64% puta.
na riveru sastavlja dva para na boardu, što je značilo da je Polychronopoulosov kec napravio svu razliku. Robinson je izašao na šestom mestu i zaradio $65,734 za svoj trud.
Trebalo je još 50 ruka do sledeće eliminacije, i to kada je Tracy Doss, koji je osvojio svoj ulaz na National Championship osvojivši WSOP.com Nevada KO Freeroll, raise-ao do 50,000 samo da bi Nitsche 3-betao do 155,000 sa small blinda. Doss 4betuje all in za oko 400,000, Nitsche call-a, i gledamo showdown.
Doss:

Nitsche:
flop je bio užasan za Dossa jer je Nitscheu sastavio set, i
na turnu ga ostavlja drawing dead.
"Lagao bi ako bi rekao da sam razočaran, " rekao je Doss, vlasnik picerije. "Bilo je prilično zanimljio, napeto... Lepo je to, odlična šansa i svako to može. Možete doći ovde, kao ja, i igrati protiv najboljih na svetu."
U ruci #74 za finalnim stolom, Chris Bibb je otvorio za 50,000 sa UTG i sastao se sa 3betom do 120,000 od Nitschea na small blindu. Bibb je na to gurnuo all in za ukupno 230,000 i Nitscheu nije trebalo mnogo za call sa
, koje su bile prilično u prednosti naspram Bibbovih
.
na flopu Bibbu daje vodjstvo, ali samo na trenutak jer je diler spalio kartu i okrenuo
što je sastavilo flush za Nitschea. Beznačajna
је izašla na riveru, i poslednji WSOP Circuit kvalifikator je eliminisan sa turnira na četvrtom mestu za $115,655.
To je ostavilo tri WSOP pobednika sa narukvicama u borbi za titulu, da bi jedan od njih pao već u ruci #82. To se desilo kada je Polychronopoulos otvorio za 70,000 na buttonu, Matthew Ashton 3-betuje all in sa small blinda za 760,000, i Nitsche 4-betuje all in preko big blinda. Polychronopoulos folda i još jedan flip.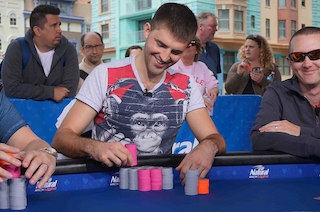 Ashton:

Nitsche:
Ashton, 2013 WSOP $50,000 Poker Players' Šampion, je bio u prednosti, i još je ojačao svoju poziciju kada je pogodio set na flopu
. Nitsche je trebao runner runner, a
na turnu je bila upravo jedna od njih za flush draw. Nažalost po Ashtona,
se pojavila na riveru da bi sastavila flush za Nitschea. Ashton, koji je počeo finalni sto kao chip leader, zaradio je $157,399 za treće mesto.
Nitsche je počeo heads-up igru sa više od 2-1 vodjstvom u čipovima naspram Polychronopoulosa, i trebalo je 31 ruka da zatvori deal. U finalnoj ruci Nitsche je otvorio za 70,000 a zatim gurnuo all in nakon što je Polychronopoulos 3betovao do 190,000. Polychronopoulos call-a i našao se u pravom momentu za double.
Polychronopoulos:

Nitsche:
Nitsche je bio srećan sa runner runner flushem da bi eliminisao Ashtona, i imao je sreće ponovo kada je sišao flop
. Ni
na turnu niti
na riveru menja stvar, i Polychronopoulos je završio kao runner up za $218,056 dok je Nitsche postao 2014 WSOP Nacionalni Šampion.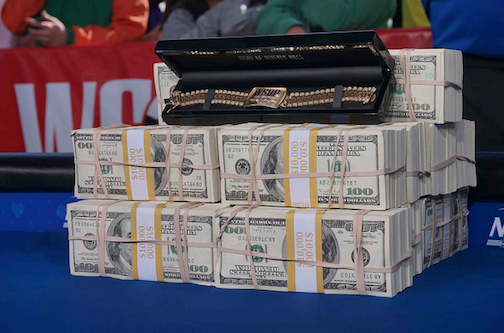 To je to oko 2014 National Championship. Početkom u Utorak, PokerNews će vam doneti detaljan live update sa 2014 WSOP u Las Vegasu. U medjuvremenu, možete pratiti live update sa Hollywood Poker Open Columbus tako što ćete kliknuti ovde.
*Zahvalnost za fotografiju pripada WSOP.com.
Ostanite u toku sa dešavanjima u poker svetu - pratite nas na Twitter-u i lajkujte na Facebook-u.