Smith, Mercier, Marchese, i Somerville Chopovali Bellagio $100K za Preko $1 Milion Svaki
PokerNews Staff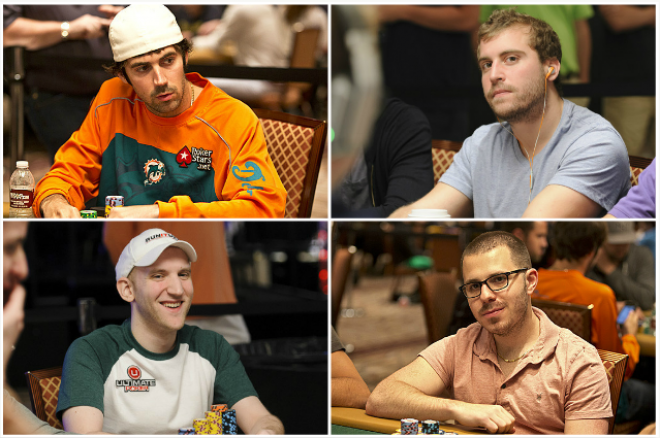 Sedamnaest časova nakon početka 2014 Bellagio $100K Summer Super High Rollera, turnir je došao do svog kraja kada su poslednja četiri igrača odlučila da chop-uju preostali nagradni fond prema sumama predloženim spram ICM (Independent Chip Model) Dan Smith, Jason Mercier, Tom Marchese, i Jason Somerville — poslednji preživeli — se odlučuju da podele ceo preostali nagradni zadržavajući odredjeni iznos za koji će igrati kako nisu igrali za trofej.
Kako nije bilo trofeja, ipak je bilo Global Poker Index poena za razmatranje. Taj problem je lako rešen kada su igrači rešili da zauzmu mesta prema količini čipova koje imaju. Tako da "zvanične" čestitke idu Dan Smith-u koji je zahvaljujući najvećem chip stack-u u tom momentu postao zvanični pobednik turnira.
Originalno po rasporedu je trebao da bude $10K event,grupa igrača je ubedila turnirsko osoblje da ako bi ga promenili u "super high roller" sa $100K buy-inom, da bi dobili bolji ishod — i odličan ishod su upravo i dobili. Kako su igrači i medija uzeli Twitter, priča se raširila i mnoga velika imena su dojurila u Bellagio da bi ušli u akciju.
Ukupno 66 igrača je na kraju ušlo na turnir sa 21 od njih koji su napravili re-entry. 87 ulaza ukupno je kreiralo nagradni fond od $8,613,000 sa $2,842,290 koji su prvenstveno bili po raspodeli za pobednika.
Put do finalnog stola je bio pun agresivne igre i dosta akcije. Nekoliko poznatih igrača se pojavilo u Bellagio-u ali nisu bili plaćeni za svoj trud Phil Hellmuth, John Juanda, Phil Galfond, Brian Rast, Sorel Mizzi, Daniel Alaei, Fabian Quoss, Martin Finger, i Philipp Gruissem.
David "Doc" Sands ($172,260) i Pratyush Buddiga ($172,260) su bili eliminisani na 11. i 10. mestu, respetkivno, da bi postavili zvanični finalni sto koji uključuje Chris Klodnicki, Gabe Kaplan, Doug Polk, Adam Bilzerian, Matty Hyman, Somerville, Marchese, Merciera, i Smitha.
Prva dva igrača koja su eliminisana sa finalnog stola su Klodnicki, koji je zaradio $172,260. On je prilično oštećen nakon 4-way all-ina i eliminisan je nedugo posle:
4-way all in: Matt Hyman (nines), @ChrisKlodnicki (kings) Adam Bilzerian (aces) and @GabeKaplan (tens). Hyman gets quads. No elimination.

— Kim Yuhl (@KimYuhl)
.@ChrisKlodnicki eliminated in 9th for $172,260 when his jack-deuce couldn't improve against @DougPolkPoker's queen-jack. #Bellagio100K

— Kim Yuhl (@KimYuhl)
Došlo je vreme da se oprostimo sa Gabe Kaplanom ($258,390):
Matt Hyman and his nines eliminate @GabeKaplan holding ace-king in 8th for $258,390. Hyman sits with 2.2M. #Bellagio100K

— Kim Yuhl (@KimYuhl)
Adam Bilzerian je bio sledeći igrač koji je izašao ($344,520):
Adam Bilzerian eliminated in 7th for $344,520. Both Bilzerian and @DougPolkPoker had an ace but Polk's kicker played. Polk sits with 4.2M.

— Kim Yuhl (@KimYuhl)
Matt Hymanovo vreme je isteklo sledeće ($430,650):
Matt Hyman eliminated in 6th place when his ace-ten failed to improve against @JasonSomerville's fives. Somerville has ~4.1M. #Bellagio100K

— Kim Yuhl (@KimYuhl)
U ovom momentu je prvi put diskutovano o pokušaju choppa nagradnog fonda ali je Polk odlučio da ne napravi dogovor i igra se nastavila. Nažalost za Polka, on je bio sledeći koji je izleteo napolje ($602,910):
.@dansmithholla (queens) eliminates @DougPolkPoker (ace-four clubs) in 5th place. Smith has ~10M. The players are now looking at numbers.

— Kim Yuhl (@KimYuhl)
Odmah nakon Polkove eliminacije, igrači su se dogovorili da svo četvoro dobiju po sedmocifrenu sumu za isplatu. I baš tako, turnir je bio gotov. Evo finalnog turnirskog rezultata:
| Mesto | Igrač | Nagrada |
| --- | --- | --- |
| 1 | Dan Smith | $2,044,766* |
| 2 | Jason Mercier | $1,622,181* |
| 3 | Tom Marchese | $1,465, 451* |
| 4 | Jason Somerville | $1,347,352* |
| 5 | Doug Polk | $602,910 |
| 6 | Matt Hyman | $430,650 |
| 7 | Adam Bilzerian | $344,520 |
| 8 | Gabe Kaplan | $258,390 |
| 9 | Chris Klodnicki | $172,260 |
| 10 | Pratyush Buddiga | $172,260 |
| 11 | David "Doc" Sands | $172,260 |
*označava 4-handed deal podele preostalog nagradnog fonda
Kako PokerNews nije imao u rasporedu da isprati ovaj event, odlučeno je da se napravi live updates. Ako ste zainteresovani za pregled Twitter feed-a za ovaj turnir, potražite pod #Bellagio100K.
Ostanite u toku sa dešavanjima u poker svetu - pratite nas na Twitter-u i lajkujte na Facebook-u.