Simon Deadman Osvojio 2014 HPO Championship Main Event
Aaron Hendrix
PokerNews Staff
AAlex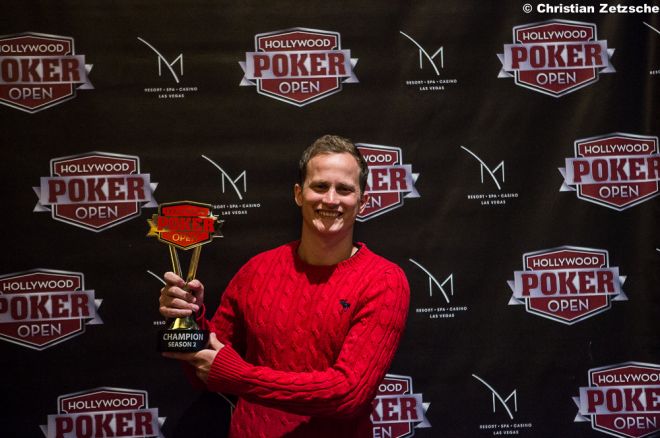 2014 Hollywood Poker Open Championship Event je privukao rekordno polje igrača od 692 ulaza, što je kreiralo ogroman nagradni fond od $1,560,460. Nakon tri duga dana igre, Simon Deadman je izašao kao pobednik nakon što su njegove
nadigrale
Michaeal Wanga u heads-up igri. Kao dodatak $351,097 prvoj nagradi, Deadman je odneo kući HPO Šampionski trofej i čast da postane drugi ikada Hollywood Poker Open pobednik Šampionata, pridružujući se inauguralnom pobedniku Ani Marquez u knjizi rekorda.
Rezultati Finalnog Stola
| Place | Player | Prize |
| --- | --- | --- |
| 1 | Simon Deadman | $351,097 |
| 2 | Michael Wang | $216,904 |
| 3 | Kitty Kuo | $141,158 |
| 4 | Martin Godsk | $98,777 |
| 5 | Elliott Zaydman | $71,781 |
| 6 | Robbie Bakker | $55,708 |
| 7 | Bradley Yazici | $46,814 |
| 8 | Damian Salas | $39,012 |
| 9 | Mike Sowers | $31,209 |
Deadman je završio kao runner-up već šest puta od početka 2014 — impresivno, ali isto tako razočaravajuće.
"Bilo je bolno propuštati trofej," otkrio je Deadman nakon turnira." Uvek se šalim okolo sa finišom na drugom mestu ali želim ovo da osvojim stvarno jako.."
Deadman je imao podršku iza raila prilično brojnu koja ga je bodrila do pobede. "Bilo je odlično što su me vozali od početka do kraja. Stvarno to cenim."
Kao za ostale planove, Deadman će učestvovati na Main Eventu na World Series of Poker, ali će za sada on uzeti slobodan dan. "Znajući mene, uskočiću pravac u mixed-max sutra."
Finalni dan počeo je sa 23 igrača u povratku i nije im trebalo duo vremena dok ne stignu do finalnog stola. Eliminisani rano u akciji su imena kao Andy Spears (21st - $10,299) koji je izgubio sa dva para protiv seta. Kasnije Kitty Kuo eliminiše dvoje jednim potezom da bi redukovao turnir na 13.
Brian Hastings (11th - $24,031) gubi trku protiv Michael Wanga da bi ostao kratak za finalni sto, i Chris DeMaci (10th - $24,031) pada od Kuo u cooler ruci koja je ostavila proa zaprepašćenog. Još jedan pro Mike Sowers (9th - $31,209), je takodje eliminisan u šokantnom stilu kada je Elliott Zaydma pogodio flush na riveru da bi slomio Sowersove kraljeve.
HPO Regionalni Šampionski pobednik Bradley Yazici (7th - $46,814) je preživeo nebrojene double-upove, ali je njegov san bio da kući odnese titulu mada ostaje kratak kada njegovi žandari natrčavaju na kečeve koje je imao Robbie Bakker. Bakker (6th - $55,708) će naučiti kako je to kada se naleće na kečeve kada su njegove dame naletele na rakete Martin Godsk da bi bio eliminisan.
Nakon Zaydmana (5th - $71,781) i Godsk (4th - $98,777) eliminacija, turnir je postao Deadman šou kada je preuzeo kontrolu sa ogromnim double upom protiv Kuo što je pomerilo Kuo sa čip lider pozicije na shortstack kada njen triling kraljeva pada od full house-a. Ona izlazi već u sledećoj ruci protiv Deadmana na trećem mestu za $142,158.
Bilo je dosta poznatih igrača medju 63 koji su ušli u plaćene pozicije uključujući Rens Feenstra (58th - $5,618), Michael Katz (55th - $5,618), Bruno Lopes (51st - $6,086), Greg Ostrander (50th - $6,086), Chris Hunichen (41st - $7,178), i Andrew Lichtenberger (32nd - $8,583). Mnogi su izleteli praznih ruku uključujući HPO ambasadora Chris Moneymakera, Lauren Kling, Jacob Bazeley, Amit Makhija, Jared Jaffee, Aaron Massey, Guillaume Darcourt, i 2013 November Niner Michiel Brummelhuis.
U ime PokerNews, želeli bismo da zahvalimo svima za praćenje našeg prenosa 2014 sezone Hollywood Poker Opena i krunisanje šampiona sezone, Simona Deadman, kao Šampiona Main Eventa.
Ostanite u toku sa dešavanjima u poker svetu - pratite nas na Twitter-u i lajkujte na Facebook-u.